Industrial organization & resource-based models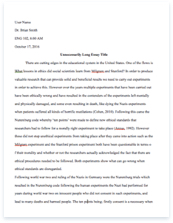 The whole doc is available only for registered users
Pages: 5
Word count: 1234
Category: Model
A limited time offer! Get a custom sample essay written according to your requirements urgent 3h delivery guaranteed
Order Now
The value chain describes the internal activities a firm engages in when transforming inputs into outputs.23 Each activity the firm performs along the chain adds incremental value—raw materials and other inputs are transformed into components that are finally assembled into finished products or services for the end consumer. The value chain concept can be applied to basically any firm, from those in old-line manufacturing industries to those in high-tech ones or even service firms. Primary and Support Activities.In the value chain perspective, resources and capabilities are needed to perform the firm's activities. While the RBV model helps to identify the integrated set of resources and capabilities that are the building blocks of core competencies, the value chain perspective helps managers to see how competitive advantage flows from the firm's system of activities. In the value chain perspective, the distinct activities a firm engages in are therefore the basic units of competitive advantage. It is important to note, however, that competitive advantage at the firm level is the outcome of the interplay among all of the firm's activities, not just a selected few. To create competitive advantage, a firm must be operationally efficient and also able to leverage its unique system of activities. Michael Porter emphasizes that the essence of strategy is to choose what activities to engage in and, more importantly, what not to do.24 Companies that attempt to be too many things to too many customers often will be at a competitive disadvantage.
The goal is to combine activities into a complex system that creates competitive advantage and also protects from imitation. As an example, let's again look at the question, "What core competency underlies Southwest Airlines's superior performance?" To answer that question through the lens of the value chain perspective, we need to identify (1) a set of activities and (2) how SWA coordinates and orchestrates them to form a coherent low-cost strategy. SWA uses activities such as frequent and reliable departures, limited in-flight passenger service, low ticket prices, short-haul point-to-point flights using secondary airports, flying only one type of aircraft (which reduces pilot training time and maintenance cost), high aircraft utilization, and a lean, highly productive, and highly motivated ground and gate crew. Each core activity, in turn, is supported by a number of other activities. For example, the core activity of a lean, highly productive, and highly motivated ground and gate crew is supported by stock compensation plans and flexible contracts and work hours. Ideally, the activities pursued are consistent with one another, and complement and reinforce one another. The interconnected system of a firm's activities is more than the sum of its parts.
Competitive advantage, therefore, can be embedded in a complex system of value-adding activities. A strategic activity system conceives of a firm as a network of interconnected activities.25 Strategic activity systems are socially complex. While one can easily observe several elements of a strategic activity system, the capabilities necessary to orchestrate and manage the network of activities cannot be so easily observed and therefore are difficult to imitate. Let's assume firm A's activity system, which lays the foundation of its competitive advantage, consists of 25 interconnected activities. Attracted by firm A's competitive advantage, competitor firm B closely monitors this activity system and begins to copy it through direct imitation. Moreover, firm B is very good at copying; it achieves a 90 percent accuracy rate. Will firm B, as the imitator, be able to copy firm A's activity system and negate its competitive advantage?
Far from it. Firm A's activity system is based on 25 interconnected activities. Because each of firm A's 25 activities is copied with a 90 percent accuracy, firm B's overall copying accuracy of the entire system is 0.9 × 0.9 × 0.9…, repeated 25 times. The probabilities quickly compound to render copying an entire activity system nearly impossible. In this case, firm B's "success" in copying firm A's activity system is 0.925 = 0.07, meaning that firm B's resulting activity system will imitate firm A's with only a 7 percent accuracy rate. Thus, the concept of the strategic activity system demonstrates the difficulty of using imitation as a path to competitive advantage. Dynamic Strategic Activity Systems
In order for a firm to sustain competitive advantage, strategic activity systems need to evolve over time. This is because the external environment changes and also because a firm's competitors get better in developing their own activity systems and capabilities. Managers need to adapt their firm's strategic activity system by upgrading value-creating activities that respond to changing environments. To gain and sustain competitive advantage, managers may add new activities, remove activities that are no longer relevant, and upgrade activities that have become stale or somewhat obsolete. Each of these changes would require changes to the resources and capabilities involved. For an example, let's look at The Vanguard Group's strategic activity system.26 Vanguard is one of the world's largest investment companies, with about $1.4 trillion of assets under management. It serves individual investors, financial professionals, and institutional investors such as state retirement funds.
Vanguard's mission is "to help clients reach their financial goals by being the world's highest-value provider of investment products and services."27 Since its founding in 1929, Vanguard has emphasized low-cost investing and quality service for its clients. Vanguard's average expense ratio (as a percentage of total net assets) is 0.20 percent, generally the lowest in the industry.28 Vanguard pursued its mission in 1997 through its unique set of interconnected activities depicted in Exhibit 4.7. The six larger (blue) ovals depict Vanguard's strategic core activities: strict cost control, direct distribution, low expenses with savings passed on to clients, offering of a broad array of mutual funds, efficient investment management approach, and straightforward client communication and education. These six strategic themes were supported by clusters of tightly linked activities (smaller brown circles), further reinforcing the strategic activity network.
The needs of Vanguard's customers, however, have changed since 1997. Exhibit 4.8 shows Vanguard's strategic activity system in 2011. Again, the large ovals symbolize Vanguard's strategic core activities that help it realize its strategic position as the low-cost leader in the industry. However, the system evolved over time as Vanguard's management added a new core activity—customer segmentation—to the six core activities already in place in 1997 (still valid in 2011). Vanguard's managers put in place the customer-segmentation core activity, along with two new support activities, to address a new customer need that could not be met with its older configuration. Its 1997 activity system did not allow Vanguard to continue to provide quality service targeted at different customer segments at the lowest possible cost.
The 2011 activity-system configuration allows Vanguard to customize its service offerings: It now separates its more traditional customers, who invest for the long term, from more active investors, who trade more often but are attracted to Vanguard funds by the firm's high performance and low cost. The value chain transformation process is composed of a set of distinct activities, shown in Exhibit 4.6. The value chain is divided into primary and support activities. The primary activities add value directly as the firm transforms inputs into outputs—from raw materials through production phases to sales and marketing and finally customer service. Other activities, called support activities, add value indirectly. These activities—such as research and development (R&D), information systems, operations management, human resources, finance, accounting, and general management—support each of the primary activities.
Related Topics