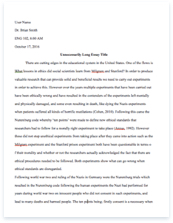 The whole doc is available only for registered users
Pages: 8
Word count: 1998
Category: Child
A limited time offer! Get a custom sample essay written according to your requirements urgent 3h delivery guaranteed
Order Now
Principles For Implementing Duty Of Care In Health, Social Care Or Children's and Young People's Setting CT236 1.1 Explain what it means to have a duty of care in own work role. The overall purpose of my job role is to provide high quality care and learning through safe play opportunities for children aged 2-4 years. I am encouraged to contribute in the planning of activities for individual children, in order to help them develop their developmental growth and improve skills they may be lacking in. Part of my role is to ensure the playgroup complies with health and safety hygiene standards both inside and outside the playgroup (carrying out daily risk assessments on all activities). I also encourage positive relationships amongst the children in a caring, loving and safe atmosphere which will hopefully enable the children to become confident, happy and comfortable within our setting. As well as building and maintaining positive relationships amongst the staff and parents.
Also I have to ensure any children's records I am responsible for e.g. key children are kept up to date. Finally I am expected to have a sound knowledge and understanding of the welfare standards and safe guarding children policies including knowing who to go to if I suspected any misconduct within our setting. 1.2 Explain how duty of care contributes to the safeguarding or protection of individuals. Duty of care within all childcare settings contributes to the safe guarding and protection of individuals in the following ways; Vigilance – Attention to the children at all times keeps them safe. For example, carrying out risk assessments in the setting will help to eliminate possible dangers which could lead to the children harming themselves through accidents. Staff should always be aware of protecting themselves by working in an open and transparent way, so as to ensure members of staff are not completely alone and out of sight with a child. Immune systems – Social interaction with other children and adults helps the child to boost their immune systems.
For example, children coming into contact with a sniffle. However, we have a duty to be vigilant in order to help stop the spreading of serious infections such as chicken pox or scabies. Standards of behaviour – Setting in place clear boundaries and expectations for the children's behaviour. Actively discouraging any behaviour amongst the children which may cause harm to another child, this could in turn lead to distress and impede on that child's development. Staff need to be aware of their own actions as they could influence the children in the way they behave towards each other. Developmental delay – It is important staff observe and continuously assess the children's development. If they suspect any child is not reaching the progress expected for a child of their age, parents and other professionals could then be alerted and action taken.
How to recognise the signs of abuse – All practitioners have a duty of care if they suspect a child may be suffering from any form of abuse within or without of their care setting, to report this. Commons signs include; a child being withdrawn, unexplained bruising, aggression towards other children or fear of physical contact e.g. flinching when approached or touched. All of the above strategies including ensuring a child is always listened to and taken seriously should help to alert any practitioner to problems or concerns that may need addressing, and should contribute towards the sage guarding and protection of all individuals. 2.1 Describe potential conflicts or dilemmas that may arise between the duty of care and an individual's rights. As with all children it is their parents/ carer who have the main responsibility or duty of care towards them.
Although practitioners also have a duty of care they must remember it is not their job to take over as they only play a temporary role in the child's life, where as it's the parents/carer's responsibility for life. Although children, parents/carer's have individual rights these sometimes come into conflict with a practitioner's duty of care. The children act 1989 states 'it is the child's welfare that is paramount, and sometimes where there is conflict between duty of care often the law gives priority to the children's rights over riding the parents'. When a practitioner exercises a duty of care they have to ensure they look at sensitive ways of intervening, as this could have a major impact on the lives of the children and families. For example; Children have the right to have experiences which challenge them and encourages their learning and development. They need an element of risk in order to be able to learn risk assessment for themselves. However, if a parent is over protective and instructs a practitioner not to allow their child to partake in a particular activity.
It then becomes a duty of care for the practitioner to intervene if they believe the activity has been risk assessed and deemed to be suitable for the child's development. Another area in which there could be conflict between the duty of care and individuals rights may be associated with a child who has a disability. All children with a disability have the right to join in with indoor and outdoor activities. If a child is unable to do this they may feel isolated and distressed. It is the practitioner's duty if they feel their care setting's practice is preventing the child from joining in activities to raise the matter with the practice manager, even if this might cause a conflict. Confidentiality may be another of potential dilemma. Settings must always keep sensitive information about children and their parents confidential. Any information sharing should only be undertaken with the permission of parents. However, as always the child's welfare must be paramount in a professionals care.
For example, when endeavouring to safe guard a child from abuse. In this instance a professional would sometimes consult other professionals without consulting a parent/carer first. 2.2 Describe how to manage risks associated with conflicts or dilemmas between an individual's rights and the duty of care. There are a number of ways to manage risks associated with conflicts or dilemmas these include; Allowing children to explore freely with guidance. For example, allowing a child to move freely from one park equipment to another but staying within the perimeter of the play area whilst staying within view or parent/carer. Empowering children with a sound knowledge of potential dangers and hazards. For example, don't talk to a stranger, or get into a car, or go off with anyone you don't know. Children can only acquire life skills through learning how to cope with risky situations. For example, learning how to cross the road. Staff ignorance – Lack of knowledge regarding policies and procedures.
Risk of threatening abuse, intimidation or actual physical harm towards staff by parents who may have been reported to social services. Every adult who cares for a child has the responsibility to guide, correct and socialise them toward appropriate behaviours even when this may cause conflict. 2.3 Explain where to get additional support and advice about conflicts and dilemmas. There may come a time within any care setting where a practitioner may have to seek additional support and advice concerning conflicts and dilemmas. Within my own work setting we would always follow the policies and procedures. For example, initially seeking support through another member of staff or taking the matter straight to the manager if the conflict was between members of staff. If the issue is not resolved then advice may be sought through the settings committee. In the case of conflict between parent and setting advice may have to be sought from outside agencies. For example; Local safe guarding children's board, Ofsted or The child protection team.
3.1 Describe how to respond to complaints. At some point during a practitioner's employment a concern or complaint may arise. It is important that such an issue is never ignored. Issues of this nature should be handled sensitively to ensure that the child, parent, staff or volunteer's rights are properly adhered to. The policies and procedures within the setting should be followed to letter. However, as always the setting should remember the Child's safety is paramount. 3.2 Explain the main points of agreed procedures for handling complaints. It is important that complaints are never ignored. All work settings should have a planned procedure for handling complaints in the correct manner. The EYFS Statutory Framework requires settings to have a written complaints procedure. The complaints procedure within in my own work setting.
Aim; We aim to bring all concerns about the running of playgroup to a satisfactory conclusion for all of the parties involved. Methods; To achieve this, we operate the following complaints procedure. How to complain; Stage one – Any parent who is uneasy about an aspect of playgroup's provision, talks over, first of all, his/her worries and anxieties with playgroup's supervisor. Stage two – If this does not have a satisfactory outcome, or if the problem recurs, the parent moves to stage two of the procedure by putting the concerns or complaint in writing to Playgroup's supervisor and the chair of the management committee. Most complaints should be able to be resolved informally at stage one or at stage two. Stage three – The parent requests a meeting with the playgroup's supervisor and the chair of the management committee. Both the parent and supervisor should have a friend or partner present if required. An agreed written record of the discussion is made. All of the parties present at the meeting sign the record and receive a copy of it.
This signed record signifies that the procedure has concluded. Stage four – If at the stage three meeting the parent and playgroup cannot reach agreement, an external mediator is invited to help to settle the complaint. This person should be acceptable to both parties, listen to both sides and offer advice. A mediator has no legal powers but can help to define the problem, review the action so far and suggest further ways in which it might be resolved. Staff or volunteers within the Pre-school Learning Alliance are appropriate persons to be invited to act as mediators. The mediator keeps all discussions confidential. She/he can hold separate meetings with the playgroup personnel (Playgroup Supervisor and chair of management committee) and the parent, if this decided to be helpful. The mediator keeps an agreed written record of any meetings that are held and if any advice she/he gives.
Stage five – When the mediator has concluded his/her investigations, a final meeting between the parent, the Playgroup Supervisor and the chair of the management committee are held. The purpose of this meeting is to reach a decision on the action to be taken to deal with the complaint. The mediator's advice is used to reach this conclusion. The mediator is present at the meeting if all parties think this will help a decision to be reached. A record of this meeting, including the decision on the action to be taken, is made. Everyone present at the meeting signs the record and receives a copy of it. This signed record signifies that the procedure has concluded.
The role of the Office for Standards in Education, Early Years Directore (Ofsted) and the Area child Protection Committee Parents may approach Ofsted directly at any stage of this complaints procedure. If a child appears to be at risk, our Playgroup follows the procedures of the Area Child Protection Committee in our local authority. In these cases, both parent and the Playgroup are informed and the Playgroup Supervisor works with Ofsted or the Area Child Protection Committee to ensure a proper investigation of the complaint followed by appropriate action. Records A record of complaints against our Playgroup and/or the children and/or the adults working in our Playgroup is kept, including the date, the circumstances of the complaint and how the complaint was managed.
Related Topics