Imperfection and Uniqueness in "Good Country People"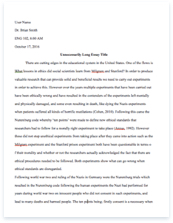 The whole doc is available only for registered users
A limited time offer! Get a custom sample essay written according to your requirements urgent 3h delivery guaranteed
Order Now
In "Good Country People," Flannery O'Connor writes a story that compares and contrast different ways of living one's life. Through the story O'Connor shows that an unnatural decision to chose atheism and nihilism over a common sense approach of accepting life and living it to the best of one's ability will lead to an unhappy fulfilled life.
The main character is Joy Hopewell. Joy is a thirty-two year old single woman who lives with her mother. At the age of ten, Joy loses her leg in a hunting accident. This accident plays a pivotal role in Joy's live. As a result of the accident, Joy becomes imperfect, not only physically which can minimized with a wooden leg, but in her personality. Joy is rude, self-centered, and uses her disfigurement to turn inward away from others.
She lacks self-confidence and common sense. She studies philosophy at university and is awarded a PhD in philosophy. When Joy turned twenty-one, she legally changed her name to Hulga, a name she chooses because it sounds ugly to her. Clearly she no longer has any joy. Hulga claims to be an atheist, but in reality she is more of a nihilist. She doesn't believe in God, but she doesn't seem to believe in anything at all.
Hulga/Joy has a weak heart that she claims prevents her from teaching philosophy at a university where people will understand what she is talking about. Given the sedentary nature of being a philosophy professor, this "reason" seems more of an excuse that allows her to wallow in her unhappiness. Although Hulga physically has a weak heart, she has one figuratively as well. She has never been able to give her heart to anything or anyone, so she has given it to nothing.
Hulga has emphasized the intellectual side of her life at the expense of the emotional and physical. What she can't deal with she turns away from. She abandons the physical part of her life when her leg is destroyed, she abandons the emotional side when refuses to give herself to anything. Nonetheless, it is clear that Hulga longs to be one of the "Good Country People." Given the opportunity to walk out with the trickster Bible salesman Manley Pointer, she quickly decides to go. She imagines that she will seduce Manley and be in control of him.
When the encounter develops differently than she expected, with Manley gaining control over her, Hulga feels lost. None of education helps her. Hulga loses her wooden leg and glasses and is, temporarily unable to walk or see. Interestingly, as Zaharick points out this incident calls to mind the Bible verses in Matthew 5:29-30 (Zaharick). Hulga's life has been hampered by her nihilistic beliefs caused by her reading of philosophy and the loss of her leg has caused her to turn away from society.
"If your right eye causes you to sin, gouge it out and throw it away. . . . if your right hand causes you to sin, cut it off and throw it away." By losing her glasses (her eye) she is unable to read the philosophy she has clung to. By losing her wooden leg, (her hand) she has lost the excuse she has used for her behavior. She is in fact left as the plain Joy Hopewell, given the opportunity to save herself. She change her life by using her wooden leg and education as tools to help her build a new life with the possibility of Joy, or she can return to her old ugly life as Hulga.
The remaining characters who appear or are mentioned in the story each represent an aspect of what is missing in Hulga's nihilist life. Each of them seem happier and lead a more fulfilling life than Hulga.
Mrs. Hopewell, Hulga's mother lacks the academic training Hulga has had, but she gets by and deals with those things that happen to her. She often speaks in cliché's, much to the annoyance of Hulga, but she gets more value and use of her clichés than Hulga does from her entire formal education. Mrs. Hopewell accepts the loss of Hulga's leg and raises her daughter as well as she can. When her marriage no longer works, she divorces her husband and continues to operate the farm. When she hires people to work on the farm that don't quite fit in, she learns to use their faults as tools to the advantage of Hulga, the farm, and herself.
Mrs. Freeman is a lower class, poor women who has learned to make do with what she has. Her eighteen year old daughter Glynese is attractive, has many boys interested in her and has lots of commonsense. Carramae Freeman appears to lack commonsense since she is married and pregnant at fifteen, but she is happy to be married and, except for the chronic vomiting, happy to be pregnant. Hulga has none of these traits.
The final character, Manley Pointer is a slick Bible salesman and con artist. He is physically lacking and has street smarts, but lacks formal education. Of all of the characters, he seems to fit in best with his flexible ethics and his feckless approach to life. He most clearly points out Hulga's failure to live a full life because she has hidden in academia when he leaves her with the comment, " You ain't so smart, I've been believing in nothing ever since I was born!" (Flannery Page number no comma).
O'Connor seems to be saying in "Good Country People" that honest self-awareness, acceptance of one's abilities, and being a part of society are more likely to bring happiness than the affected attempts to hid from the world by trying to be something one is not. This is remarkably refreshing when so many people these days spend so much time trying to look like, act like and live like the current fashionable pop idol.
Works Cited
O'Connor, Flannery. "Good Country People." Name of book story is located in italics. Ed. Editor's name or names for more than one editor. Place of Publication such as Toronto: Publisher, year of publication, pages of story.
The Holy Bible New International Version. Grand Rapids, Michigan: Zondervan Publishing House, 1996.
Zaharick, John. "A Leg to Stand on: Symbolism in O'Connor's "Good Country People."" Universal Journal The Association of Young Journalists and Writers. 28 August 29, 2006 < http://ayjw.org/articles.php?id=694945>.
Note to client:
Everything that appears in red in the text needs to be corrected by you.
Since I don't have the book you used for this book, I was unable to provide a complete "Works Cited" page. You will need to fill in those areas that are in red type above.
In the text you will need to put the actual page numbers from the text you use. When I say (Erdrich page number no comma) I mean for you to, assuming the page is 151, type (Erdrich 151)
Naturally, if you have any questions let me know.
Related Topics