The impact of ICT on an adult in employment, including the effects on his/her working style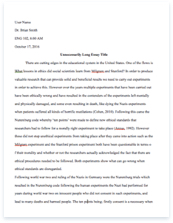 The whole doc is available only for registered users
A limited time offer! Get a custom sample essay written according to your requirements urgent 3h delivery guaranteed
Order Now
Mr Nash uses a Nokia 6220 to make calls and text contacts when necessary. Texting is an excellent feature as it means that he is able to contact someone without disturbing them. Likewise, it is easy for Mr Nash to receive texts whilst he is at school teaching, rather than disturb a meeting or class to receive a call. This feature helps Mr Nash meet his social and work-related needs.
The second feature of the mobile phone is being able to access the internet. However, this does not meet any of his needs efficiently as it is more expensive and slower than a LAN internet connection for a computer. He rarely uses this feature because of these drawbacks and a more efficient internet connection on his phone would drastically improve the ease with which his mobile phone can help him meet all of his needs.
However, a feature of the Nokia 6220 that Nr Nash does take advantage of is the calendar. This allows him to organise his daily life, particularly reminding him of events i.e. birthdays, meetings, home deliveries etc (using the alarm function) and taking note on special occasions by recording them in the calendar. The feature is efficient, simple to use and means that he does not forget important dates in all forms of his life. It helps Mr Nash to meet his personal, social and work-related needs.
The final feature that Mr Nash uses is one that helps to meet his social and work-related needs. He can change between modes on his mobile phone e.g. "silent", "vibrate" with the press of a button. This means to can set the phone to a different mode depending on whether or not he wants to be disturbed. He can be contacted discreetly when he is in a meeting or can be contacted easily when he is one the train. This feature is simple yet is one of the best features of his mobile phone.
Mr Nash uses email to keep in contact with friends and family, especially ones who live abroad. He can also use this to send and receive digital photographs by attaching them to emails. Mr Nash can also send documents to his colleagues in the same way. He takes advantage of all of these things often and they help him to communicate with people and transfer documents quickly and safely.
He also uses the address book function in order to store the email addresses of all his contacts. This allows him to quickly and efficiently select the email of the desired recipient and swiftly send the email. This cuts priceless time from his busy schedule and means he does not have to remember the email addresses of all his friends, family and work colleagues. However, there is one problem with Mr Nash's email account. It has a limited amount of memory storage. If he did want a greater memory capacity, he would have to pay �14.99, something that he does not think would be worthwhile. Despite this, the many features of his email account succeed in meeting his social and work-related needs.
To meet his personal needs, Mr Nash uses the internet through his laptop regularly. He uses a 46.6bps connection through vispa.com. Although the internet connection speed if relatively slow, it is good enough for what he uses it for. He makes use of the school broadband whilst at work and uses this when needing a faster connection. He also makes use of the wireless internet connection whilst on the train to and from work, extending the time in which he can work and allowing his working hours to be more flexible. Mr Nash believes that if he were to purchase broadband at home, if would not be worthwhile as he would not use it frequently enough for it to be worth his hard earned money.
Mr Nash uses his various internet to carry out many jobs, such as purchasing CD's via amazon.co.uk, buying food from asda.com and accessing his email account. He is able to buy the desired products cheaper at amzon.co.uk. It also allows him to purchase the items in the comfort of his own home and save time. Mr Nash uses Asda.com to do his weekly grocery shopping. He is able to search through items and select exactly which items he wishes to purchase. He can also conveniently select a time for the food to be delivered straight to his door. All of this allows him to save time and to either relax with friends or get on with some work. The disadvantage of shopping online and having it delivered is that he relies heavily on Asda and Amazon staff to do everything exactly as he asked. Many items have been delivered damages or incorrectly in the past, a problem which would not occur if he shopped in the supermarket.
Mr Nash also uses the internet to help him with one of his personal needs. He uses it to do internet banking on the Barclays website. It enables him to check his balance, pay his bills and altogether manage his finances. Whilst Mr Nash used to have to visit a branch to carry out these tasks, he can save time and effort by simply going online and doing what he needs to do at his convenience.
Mr Nash uses an MP3 player to meet his personal needs. He has an iRiver iFP-300 MP3 player which he uses to play music which is MP3, WMA or ASF format. Mr Nash can store roughly 60 CD singles on his iRiver. The iRiver also comes with it's own computer software called iRiver Music Manager. This allows him to create his own playlists using his computer and enables him to download and transfer music from his Laptop to his iRiver. This is an excellent feature as it is simple to use and allows him to personalise his MP3 player, making it unique.
Another very good feature of the MP3 Player is the fact that Mr Nash is able to see what he is listening to on the GUI (Graphic User Interface) LCD screen. This allows him to search through the iRiver and select exactly what he wants to listen to.
The only negative of the MP3 player is that it only holds approximately 60 singles. This is not enough for Mr Nash and he believes an MP3 player that could hole more songs would further enhance the effect of ICT on his everyday life and would meet his personal needs better. Although the MP3 player has a relatively small memory, it is very small and compact and so Mr Nash is able to use it whilst at the gym. He has explored the possibility of purchasing an iPod which can hold a lot more songs but felt it was too expensive and bulky for taking to the gym. So at the moment, Mr Nash's iRiver is more suitable than and iPod for meeting his personal needs.
Mr Nash uses a PDA (Personal Digital Assistant) to help with his work-related needs. It is a handheld computer that can run standard computer software packages such as word processing, internet and spreadsheet programs. He uses it at school to create documents which he can then transfer to any computer via Bluetooth or email. He can also access information stored on a computer by synchronizing with it. This can also help to avoid the loss of stored data.
There are several other functions of Mr Nash's PDA that help him to meet his Work-related needs. The PDA has a calendar that allows him to plan schedules for days at school well in advance. There is also an alarm on the calendar which reminds him when he needs to be in a meeting or when he needs to be at a special school event. In addition, there is a hand writing recognition and memo writing software on the PDA. These programs enhance his teaching and the professional tasks that his job entails.
The only disadvantage of Mr Nash's PDA is that it has a short battery life and the power will run out very quickly unless it is connected to the mains or a computer. This is inconvenient and is the only feature of the PDA that prevents it from fully meeting Mr Nash's personal needs. A PDA with a longer battery life would hugely enhance the impact of ICT on his everyday working life.
In conclusion, Mr Nash, as an adult in employment uses a large variety of ICT in order to meet his personal, social and work-related needs. Although some of his devices has slight drawbacks, they are the best that he wishes to buy and they all enhance the effect of ICT on his everyday life. They all succeed in meeting the demands of an adult in employment. Only with a lot more money would Mr Nash be able to improve the effect of ICT on his everyday life.
Related Topics