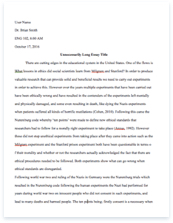 The whole doc is available only for registered users
Pages: 6
Word count: 1284
Category: Disorder
A limited time offer! Get a custom sample essay written according to your requirements urgent 3h delivery guaranteed
Order Now
Denise Gilmartin is a 26-year-old college educated, intelligent, and attractive woman possessing great promise.  She has never been wed and is not currently in a relationship.  She has no children and lives in the downtown area close to the city's nightlife  4.   Though Denise has no children or other major expenses, she has had some repeated, lavishly inflicted financial troubles.  She is emotionally distant but not socially so when referring to individuals outside of the immediate family unit.  She has difficulty forming lasting friendships and romantic relationships.  Pursuing what she believed was a life-long dream, immediately following college Denise worked in marketing for a time and then in the legal profession as a paralegal until deciding that she would rather be a waitress, the profession within which she works currently.  Denise has no expressed hobbies outside of nightclubbing.
Diagnosis
Miss Gilmartin appears to be suffering from a combination of bipolar disorder and monophobia with the repeated occurrence of self-mutilating behaviors.  Though she does not always display suicidal ideations Miss Gilmartin did attempt suicide during the earlier months of treatment.  Miss Gilmartin expresses that the sheer thought of being alone is "terrifying [and makes her] feel so empty. ..like [she doesn't] exist."  With this being the case Miss Gilmartin fills her free time with frivolous social relationships from what I would relate as "instant friendships" and extremely casual, oftentimes sexual, relationships.
            Miss Gilmartin has not yet made the connection between her troubled childhood and present emotional state though she has been in treatment for nearly two years now.  She is not aware of what makes her fearful of being alone or why she has such difficulty sustaining relationships for any substantial amount of time.  She expresses the haunting events of her childhood and is able to pinpoint when her self-destructive behaviors began, but has yet to ascertain the connection between her suffering and parasuicidal conduct.  She feels that her mood swings are beyond her control and that she only engages in parasuicidal, self mutilating behaviors because it makes her feel better.  Denise reports that engaging in such behaviors as cutting herself, "brought a strange relief from the intolerable despair and rage she felt".
            Miss Gilmartin intentionally gets herself into undesirable situations as a result of her manic episodes, when those episodes return to their depressive counter-states Miss Gilmartin is emotionally and mentally tormented by her position, which leads back into her cycle of self-mutilation.  Miss Gilmartin often blames others for the consequences of her actions and the self-destructive choices that she makes, like informing others of her injurious behaviors with statements like, "look what you drove me to" or "how could you do this to me?"  Her mood varies tremendously, characterized by  extreme depressive states that are at times suddenly lifted, and she is left feeling driven by "high energy and unexplained rage".  Miss Gilmartin often engages in risky, impulsive behaviors, including shoplifting and heavy binge drinking.
            Miss Gilmartin's self-perception has been drastically altered by the effects of her past and is further impaired by her depressive and self-mutilating acts.  She appears to look at herself as a fun-loving failure with a not-so-perfect carefree lifestyle.  This negative self image coupled with the psychosocial issues from which Miss Gilmartin suffers promotes her self-destructive life cycle.  She attempts to pull herself out of her depressive state by meeting new people and forming new relationships but the cycle further perpetuates itself when those relationships don't last or don't go the way that Miss Gilmartin expects, making her feel worse and encouraging her destructive cycle of behaviors.
            Her patterned psychosocial disturbances have caused Denise to emotionally distance herself from her peers and all those around her, founded on the fact that her mistreatments were suffered at the hands of those people who were closest to Miss Gilmartin, giving her the thought that she should never allow anyone to gain such closeness to her again, thinking that the same foul things will befall her at the hands of others.  Miss Gilmartin has subconsciously convinced herself that it was her actions or some aspect of her personality that caused her family to treat her in the manner that they did.  She feels that she must have been lacking in some vital trait that must have resulted in her abuse and neglect.
Etiology
Miss Gilmartin's psychological disorders have an apparent psychosocial foundation.  There is no known genetic predisposition to bipolar disorder or monophobia, but Miss Gilmartin suffers from these illnesses as a direct result of her treatment as a child.  Because Miss Gilmartin was often sexually molested when left alone with her older brother, she now fears being alone.  Because her mother neglected her during her earlier developmental stages she has grown to feel as if she possess inadequacies that she cannot pinpoint and thus cannot correct.  There is no known genetic predisposition to bipolar disorder but the behaviors of her father do suggest that bipolar tendencies may have been present – the unexplained rages coupled with more loving and upbeat behaviors could, to some, suggest bipolar or sociopathic tendencies.  Thus, this is not to say that there are no underlying biological factors, but to express that there are none that we have been made aware of up to this time.
Interventions/Preventions
Especially when illnesses like bipolar disorder are involved, there is much more to treatment than medication.  Bipolar disorder is a chronic and recurring illness.  Having suffered with these issues for so long, medication alone cannot cure or effectively treat Miss Gilmartin's bipolar disorder.  It is a complex condition that can only be improved by treating the individual as a whole. Miss Gilmartin will have to make some very intricate changes in her lifestyle starting by increasing the frequency of her therapy sessions.  We must start by treating the underlying cause; Denise will need to tap into the connection between her mental instability and her past.
            I believe that it would be largely beneficial to release include her family in some of her therapy sessions so that they are aware of how their actions affected Denise in the long-term.  Denise will need to evaluate why her relationships don't last and disengage from her frequent and extremely dangerous behaviors to include her self-mutilation, binge drinking and promiscuity.  Miss Gilmartin may need medication to help stabilize her moods, but the key to her recovery will be facing her demons and overcoming her past.  Once whatever relationships that can be repaired are repaired in Miss Gilmartin's life that will make it easier to get Denise moving on the right track.
Prognosis
Miss Gilmartin's unresolved issues with her childhood and family prevents her from fully recovering and thus overcoming the issues that prevent her from achieving sound mental health.  I am pleased to report that Miss Gilmartin is on the road to a full recovery.  Her mother has agreed to attend some therapy sessions and the relationship there is being mended.  The relationship with her father has met with great resistance as he refuses to assist in his daughters' recovery based on his failure to admit that his actions have ill affected her.  The issues that Denise has with her brother Andrew remain unresolved as well.  Although Denise refuses to have any contact with her brother, I am pleased to report that she has come to a point where she understands how her past has effected her and is making leaps and bounds in her recovery.  She now has the tools she needs to build and sustain a lasting relationship and can now live her life happily without the hauntings of her past.
Related Topics