I Stand Here Ironing, A Worn Path, and One Child of One's Own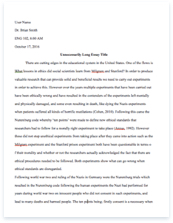 The whole doc is available only for registered users
Pages: 6
Word count: 1376
Category: Child
A limited time offer! Get a custom sample essay written according to your requirements urgent 3h delivery guaranteed
Order Now
Introduction
            In spite of the fact that different kinds of literature are mostly fictional, it served as the mirror of the society where every aspect of human life can be seen and justified. Authors or writers of the stories that we read in the academe or even in our daily living can affect us personally because it happened within our environment. It shows that literature can be said as imaginary world of the reality. From the three stories that this paper will discuss which are "I Stand Here Ironing," "A Worn Path," and "One Child of One's Own," we can identify the reasons and process of relationship between the parent and the child. Through this, we can also understand the certain aspects that manifests on how parents served as the guide and light to their child during the critical period of their growth. Therefore, the purpose of this paper is to give us relevant situations or scenarios that parent and child went through as they develop their relations not just between parent and child but also as friends and enemies.
Discussion
            Tillie Olsen's story entitled "I Stand Here Ironing" speaks about the situation of the girl named Emily through the perspective of her mother. The mother as the narrator illustrates the life of Emily from her babyhood until she grows up and become independent. Emily was the first baby. She thought that she will be the first and the last baby that her mother could have because her mother and father separated during her childhood, but it was not. Her mother married another man who is a soldier. She also had brothers and sisters that became the reason why her mother could not able to give her much attention. As Emily grows old, she became more aloof and independent. When the time she needs her mother, she was not there to give her comfort because she was busy taking care of Emily's younger siblings. In the latter part of the story, Emily developed her talent as a comedian that her other was not able to perceive during her childhood. It became the manifestation of Emily's independence and loneliness, which became an irony of her situation.
            Eudora Welty's "A Worn Path" merely discussed how the old woman takes her journey to the clinic to get some medicine for her grandson who is terribly sick. She became the mother and the father of her grandson. Her love towards her grandson can be said as a tremendous effort that is recognizable and undeniable. Her long journey to the clinic gave her different kinds of situation that made her stronger each day she travels. Her name as Phoenix also signifies strength and uniqueness in personality and conviction. For her, it is better to walk a long way rather than to see her grandson suffer from its illness without doing any action to at least minimize the pain. At the end of the story, old Phoenix succeeded. Aside from the medicine, she was also given some pennies. These pennies were still for her grandson without thinking about her hunger and thirst.
            Alice Walker's story "One Child of One's Own" explained Walker's perspective on the difference between on raising a child and children. For her, a mother who raises a child thinks more on the future of the child rather than the perspective of having many children or "happy family." Because of this, the relationship between the child and the parent more often the mother became stronger and intact than having more children. Like being a teacher with many students, the teacher could not provide greater attention to all the students because they are large enough to be covered and to be taught by one teacher. This is the perspective of Walker. For her, it is better to have one child rather than more children especially if the parent could not able to divide its attention to all the children especially during critical period of the child. She also gives example of one woman who has many children but could be able to make her life easier for her because she could be able to go out and meet her friends. It was illogical for Walker because it should be not the idea of a mother who has many children because she should be at home to nurture her child and not her own self. Through this, Walker recognized the fact that parents could not give more attention to their children as what those children expect them to be because these parents have their own life to go through and many children to nourish. Therefore, children could not have strong attachment and closeness to their parents.
            Walker's narrative and Olsen's story is the same in terms of their attack to show the readers the reasons and manifestations or results of having many children. However, walker attacked the readers or the concerns to what she is trying to imply in her text while Olsen simply described the manifestations and common justifications of having many children. "Let her be. So all that is in her will not bloom – but in how many does it? There is still enough left to live by. Only help her to know – help make it so there is cause for her to know – that she is more than this dress on the ironing board, helpless before the iron," (Olsen 1961). Emily in Olsen's story symbolizes all the children who used to ignore by their parents. If they were not thoroughly ignored, they were suffering from incomplete attention that they need during their critical period as a child. The mother in Olsen's story can also be seen through Walker's text because the mother is comfortable that she could raise her children with the help of her new husband that led her to isolate her eldest daughter Emily to a lonely and aloof world. "For those of us who both love and fear The Child – because of the work we do – but who would be lovers only; if we could, I propose and defend a plan of life that encourages one child of one's own, which I consider a meaningful…" (Walker 140). Walker perceived the same scenario that is why by giving example she recognized the result of parents' incapability of giving much time to their child.
            On the other hand, Welty's story illustrated the passionate love and concern of Phoenix as the grandmother who seemed to be the mother of her grandchild. From the beginning of the story, she already explained how Phoenix made her way to go to the clinic and save her grandchild from its illness. The love is undeniable and fun at the same time because old Phoenix went through different conflicts that she passed through due to her determination to go to the clinic. Moving slowly and from side to side, she went into the big building, and into a tower of steps, where she walked up and around and around until her feet knew to stop," (Welty 1941). It showed that the connection between her and her grandson could not be eliminated by anyone within their surroundings because Phoenix will make her own way to make the relationship between her and her grandson will continuously become intact.
Conclusion
            The three narratives showed the different angles and situations of parent-child relationship. They have also discussed in their text the results and manifestations of being far from the child when they needed their parents as their guide and light during a terrible and fearful day and night. These stories also showed that when the child had its own way of realizing its own sense as a person, they would not need their parents, which is more breakable for the parents who tried to regain the lost love and intimacy that they used to have with their children.
Works Cited
Olsen, Tillie. 1961. "I Stand here Ironing." 2 February 2008. http://www.mullenhigh.com/academics/faculty/teachers_web/tohilbert/pdf/I%20Stand%20Here%20Ironing.pdf
Walker, Alicia. "One Child of One's Own." Mother Reader. Ed. Moyra Davey. Seven Stories Press, 2001 p. 139-154.
Welty, Eudora. 1941. "A Worn Path." 2 February 2008. http://www.moonstar.com/~acpjr/Blackboard/Common/Stories/WornPath.html
Related Topics