Human Trafficking in the Tampa Bay Area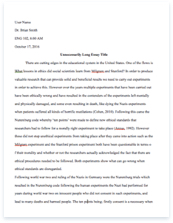 The whole doc is available only for registered users
A limited time offer! Get a custom sample essay written according to your requirements urgent 3h delivery guaranteed
Order Now
The City of Tampa our beloved home where we should feel safe and together as one community. No matter which gender, race or age you are, living in Tampa overall portrays to be a peaceful city where families can stabilize their life and grow with successful opportunity. Tampa is home to multiple suburban communities where kids are raised with their neighbors and play together in their parks. However, when you sit on the park bench and lose sight on your child in the playground, you would not first think your child was being kidnapped and thrown into a 2.5-million-dollar ahuman trafficking business. You quickly run around the park, screaming his or her name, with no clear sight of your child's happy face. When we think of problems in the Tampa Bay area, I immediately reflect on homelessness, traffic, urbanization, the list goes on. In spite of, all these social issues we see every day, the extensive issues are the ones chained up and locked behind closed doors…living, breathing humans.
The top three states common for human trafficking begin with California, New York and Florida. According to the Florida Dream Center, The Tampa Bay area including Pinellas County is one of the greatest problem areas in the state. According to the Polaris Project, Human trafficking is the fastest growing and 3rd largest organized criminal activity behind drug and arms trade. $32 billion dollars are generated by an annually rate in the United States; specifically, $28 billion dollars of that is due to sexual exploitation. Over 2.5 million dollars are contributing to Tampa's economic factor all due to human trafficking. So why is Tampa affiliated in this modern-day slavery? How is action being taken to terminate such malicious crime? Along with, how are so many men/woman and children getting manipulated into becoming labor/ sex slaves?
Human trafficking is the business of stealing freedom for profit. In some cases, traffickers' trick, defraud or physically force victims into providing commercial sex. In others, victims are lied to, assaulted, threatened or manipulated into working under inhumane, illegal or otherwise unacceptable conditions. It is a multi- billion-dollar criminal industry that denies freedom to 24.9 million people around the world. There are various kinds of slavery from forced labor, to sex trafficking to bonded labor etc. Slavery has existed along various spans from many cultures, nationalities and religions. From the ancient times, to present day; however, the social, economic and legal positions of slaves have rapidly evolved over time. The idea of stealing one's freedom for repeated use is much larger than drug or arms trading, you can sell the drug or weapon once and they're gone. A human body can be used and abused repeatedly for exceeding profit. The life expectancy of a person taken into sex trafficking alone is reported to be seven years. Due to malnutrition, overdose, suicide, brutal physical abuse, HIV and other sexually transmitted diseases.
There are three stages that take place in slavery: domination, social death and dishonored and degraded. Slavery is a form of ones' complete gain in power vs. the powerless victim. Social death comes from sociologist Zygmunt Bauman, who declares this idea of complete separation from society as a whole. Where no social interaction is being stimulated.
The degraded service is the final stage when the powerless, unsocialized victim is now becoming weaker- decaying feeble and fragile. Observing C. Wright Mills sociological imagination: we must link our personal lives and experiences with our social world (Social Problems pg.5). If you never have been kidnapped or enslaved, you are probably taking your life for granted. We have to remember these are real men, woman and child whose freedom has been taken away and can happen to anybody. Their lives are placed in the hands of the traffickers against their will. Because human trafficking is viewed as an "individual issue", yet, according to Mills we must connect individual problems with a greater social issue in order to create changes that would solve the problem as in human trafficking. The spread of diseases poses a threat on a larger scale that can affect the country's population. Not only nationally but internationally. Florida is filled with numerous ports cites with Tampa being one of them. Ports allow access for these kingpins to import immigrants from all over the world. A mixture of races from Asia and Europe are all smuggled into the United States, to be sold off for labor or sex. Millions are dragged into human trafficking, sexually integrating with Americans. Spreading the diseases of HIV and AIDS to a large national population.
Many are promised paid work oppournity and freedom from their country. Due to the language and education barrier, these people get fooled and pressured into wearing lingerie, or forced labor for exactly no pay. Business such as a sex brothels and Asian massage spas are disguised in these money laundering crimes. This can easily affect a wife, whose husband has been cheating on her with a sex trafficked victim in one of these sex brothels. Then the STD cycle continues spread across the United States and borders.
In agreement to, Karl Marx's conflict theory human trafficking is a perfect example on how the wealthy control the poor and weak. Conflict theory explains how over the struggle of power leads to a struggle for control. (Social Problems pg. 14-15). In this case the traffickers vs. the victims that are being trafficked. This also shows how the overall reason for these woman and child to be trafficked is to generate the economy.
As we continue to fight this demon in the Tampa Bay Area, resources and action teams need to be available for these slaved victims to be rehabilitated back into society. Anna Rodriguez, founder of The Florida Coalition Against Human Trafficking has made a promised mission to "improve and provide outreach services to victims of human trafficking throughout Florida". The FCAHT has developed support programs, coalition buildings, training, service delivery and referrals to victims in need.
Thankfully to FCAHT they work with trafficking victims and provide rehabilitation services such as: emergency food, shelter, medical/ psychological treatment all in order to restore their lives and regain their freedom. FCAHT also provides training to multiple agencies to law enforcement, medical facilities, faith based civil and community organizations to bring awareness and recognition to the signs and symptoms of Human Trafficking. FCAHT has assisted in the coordination of funded/unfunded human trafficking task forces throughout the state of Florida and across the Nation as well. FCAHT has also assisted in the creation of new human trafficking laws within the State of Florida as well as overseas.
Tampa is beyond blessed to have someone like Anna Rodriguez who from personal experience in working a domestic violence case, was inspired to provide the resources and funds to create an organization. However, when researching other human trafficking organization, they were rare and scarce to find. We need more people like A. Rodriguez to take a stand and nourish these kidnapped souls. In order to, really make a statement in the Tampa Bay area with rescuing these trafficked victims, I believe we need to host frequent charity galas for the higher class to donate to this cause. More safe houses need to be built and more resources like apparel, medicine and food need to be donated. We also need more doctors investing their free- time with these people who suffer from PTSD and need mental health assistance.
In some cases, other states have better rehab programs and more available resources like California or Texas; Florida has a booming economy and a mixture of different demographics. However, when you analyze the chances of being human trafficked in Kansas to Florida is a substantial difference. The different populations in each state is the risk of you being dragged into human trafficking. Demographics where homelessness is a higher percentage is the area you will find more human trafficking common. An area with high children runaways is a higher percentage of that child being tricked into having a "safe home" with the kidnapper. So many factors contribute to a person being draw into human trafficking. But this is why we need to keep our eyes open all around our surrounding area. Along with, looking out for possible victims that are trapped. Everyone can save a life, we just have to be on alert.
Related Topics