Housekeeping Common Mistakes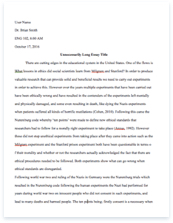 The whole doc is available only for registered users
Pages: 4
Word count: 970
Category: Hygiene
A limited time offer! Get a custom sample essay written according to your requirements urgent 3h delivery guaranteed
Order Now
Housekeeping has a schedule to keep and a goal to reach. But they must remember this is their schedule, not the guest's. A pet peeve of Hoteliers is when cleaning staff is too quick to enter the room. According to the Hospitality School, it is important to knock and wait 10 seconds (10 Mississippi's) for a response, then knock again announcing who you are. Open the door slightly to make sure the coast is clear. If your staff heeds this rule of thumb, they won't find themselves, the hotel, and the surprised guest in an awkward predicament. • Cleanliness of Linens and Towels
Our beloved hotel properties are not held accountable to the same standards as healthcare facilities; however, through the CDC (Center for Disease Control) there are clear recommendations when dealing with bedding. For example, the need for water temperatures to exceed 70 degrees Celsius, the use of chlorine bleach, required high heat drying and or pressing, and the need to monitor cleaning agent residues. This detail aside, no one wants to come into their hotel room to discover stained linens or towels. Overlooking the obvious, the guest will have a strong perception to the rest of the establishment's standards toward cleanliness that cannot be easily swayed. •Security of Personal Effects
It is no secret that there is a certain level of fear that exists when leaving your items in a hotel room. Precautions should always be taken with valuables such as using the in-room safe. Nothing undermines guest trust more with an establishment than missing items. Peace of mind should be a given. Hotels need to create and circulate strict rules that guard against employees stealing from guests. For guest property found after checkout, a defined procedure of how to track lost items puts both guests and staff more at ease. Hotels can deter theft by making it clear they'll fire and press charges if a housekeeper is found at fault for stealing from guests. • Housekeeping Ignoring the "Do Not Disturb" Sign
This item is a bit touchier than the #1 Mistake on our list. A guest taking the time to put out a "Do Not Disturb" sign is directly requesting privacy. Housekeeping staff usually work in shifts. They really only have a limited window of time to clean their full room quota. It is a regular occurrence for guests to leave the room, forgetting to remove the sign from the door. If it is past a certain time of the day, it is acceptable for housekeepers to knock and identify themselves as they enter the room to see if it is indeed still occupied. In a situation where the room must be flipped and the guest has missed their check out time, housekeeping, with management approval, may discretely enter a room to not only check to see if the guest has left but possibly remind them of the hotel's check out time policy. • Re-stocking of Room Toiletries and Towels
Most housekeepers are required to restock rooms with fresh soaps, linens and towels on a daily basis. Discontent can arise for guests if housekeepers cannot keep up with room demands or they forget to stock rooms with certain items. • Loss or Mismanagement of Controls
When housekeeping enters a room they are renowned for adjusting controls for their own enjoyment. Changing the room temperature, turning the radio to their favorite station, and turning every light on. Not only do these items need to be readjusted to hotel standards upon their departure, they also should be checked upon departure from each room; particularly, that the alarm clock is not set to any ungodly hour, shooting the guest out of their sleep with blasting tunes. • Non-Existent Quality Checks
Thin towels, holey sheets, cracked windows, broken radio speakers, missing remotes, et cetera, all change the guest experience. The hotel is at the mercy of housekeeping staff regularly checking and reporting any damages or quality issues. Poor quality on a few items actually spreads to a sense of poor quality of the overall brand.
• Unresponsive to Further Requests
Today, housekeeping is expected to do and does much more than just clean rooms. They are called upon to support guest needs in a variety of other ways. If they do not act like a gracious host or in-house concierge by immediately and effectively fulfilling requests, it reflects poorly on the whole property. Going above and beyond with exceptional customer service in general will strengthen a guest's affinity for the brand. • Appearance Can Go a Long Way
How your staff presents itself speaks volumes about the standards you set. If their hygiene, uniform, trolley and demeanor are in poor condition, how can your guests expect their rooms to be any different? Do a pre-shift huddle to inspect what you expect. Write down not only dress code, but even more detailed expectations and refer to them readily as well as post them in a common area for housekeeping staff to view. Using visuals is the most powerful tool to communicate your message clearly. • Make Sure You Put Quality Standards into a Procedure
This item is paramount. With this in place you can lessen the probability of all the above mistakes manifesting themselves in your property. Putting quality standards into a procedure ensures everyone knows what is required when cleaning guestrooms. Within this outline it is appropriate to explain the differences between cleaning an occupied dirty room versus a vacant dirty room. This will ensure that when it comes to flipping the room, there is not a lot of additional cleaning to do. Creating a checklist not only helps improve the quality in which your rooms are cleaned and turned over, but also will help your staff improve its efficiency.
Related Topics