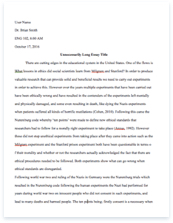 The whole doc is available only for registered users
A limited time offer! Get a custom sample essay written according to your requirements urgent 3h delivery guaranteed
Order Now
Chronic Traumatic Encephalopathy most commonly known as CTE and is relatively new in the medical world. In the sport of football, CTE was discovered about ten to fifteen years ago. Chronic Traumatic Encephalopathy is a progressive degenerative brain disease, and it shows similar symptoms as Alzheimer's disease such as memory lost, mood swings, difficulty of concentrating, and developing into progressive Dementia. The major difference is that CTE symptoms tend to begin much earlier in life closer to the age 30 rather than 60 years of age. As of now there is no known cure for this disease.
There is only one way to get CTE and that is repeated hits to the head. In the Journal of the American Medical Association (JAMA), they have found in 99 percent of the brains obtained from the Nation Football League (NFL) players, as well at 91 percent of college football players and 21 percent of high school players (Moran). The researchers began with the donated brains of 202 football players. Of the 202 brains studied the group diagnosed 177 with CTE, including 110 of 111 from the NFL players (99 percent); 7 of 8 from the Canadian Football League (88 percent); 9 of 14 semi-professional players (64 percent); 48 of 53 college players (91 percent), and 3 of 14 high school players (21 percent) (Moran). The data that was collected in the sample, shows a possible correlation between players who are playing football are at risk of developing CTE.
The science behind the development of Chronic Traumatic Encephalopathy, is a protein called the tau protein, it is released from the pit of the stomach straight to the brain. With a normally functioning brain it will process the protein out, but if the brain is damaged the tau protein will sit and began to deteriorate the brain cells. The human brain has 2 large lobes which is the left and right. Right in between the 2 lobes there is a fibrous sheet of tissue called the falx. It runs from the front to the back of the head and it is stiff. At the bottom of the fissure there is wiring of the brain that connects the left and right lobes together called corpus callosum. When someone gets struck in the head, the head rotates in a left-right direction and forces are transmitted directly to the center of the brain. As the forces move down and strike the corpus callosum, it causes dissociation between the right and left lobes which explains the symptoms of a concussion such as dizziness, blacking out, and light headaches.
Some of the most common symptoms for CTE includes loss of memory, not being able to control erratic behavior, overly aggressive, depression, difficulty with balance, and suicidal thoughts. Larry Johnson, a former NFL running back that is 39 years old believes that he is living with CTE. He has light headaches frequently. He believes his anxiety is level is through the roof due to being in a certain place for to long triggers his anxiety and make his heart beat rapidly. He is forgetful more than usual. Johnson was diagnosed with bipolar disorder as well, but he believes that he was misdiagnosed because of his headaches and sensitivity to light and noise. Zac Easter was a star linebacker who played varsity football for Indianola Highschool in Iowa. He had suffered major concussions in his high school career. Every experience with his concussions, he has blacked out completely. As time went by, he noticed that he had headaches after every practice and after every game, and had trouble remembering things day to day. His family and friends noticed a change in his attitude and that was not like him. One moment he was up in spirits and the next he is down and depressed. Zac suffered with anxiety, loss of self-identity, angry outbursts, and depression. Zac soon after shot himself to death in the chest and wished for his brain to be donated to science to begin research on how to cure CTE.
Unfortunately, doctors say the only way that they can diagnose a player with Chronic Traumatic Encephalopathy will be after death. There is not a cure for CTE, but there is treatment for people who have the symptoms that include: behavioral therapy that could help with mood swings, avoid repeated head injury activities, rehab in reference to balancing exercises and sight, prescribed medication for anxiety and depression, and consult with others before making decisions.
Due to so many cases in athletes that believes to have CTE, the rules for football in general are changing some rules in reference to what is illegal hitting, the proper protocol for someone who gets a concussion., and even the age that some are suggesting that kids should participate in certain sports. The football leagues have implemented more strict return-to-play guidelines for players who suffer concussions, and each team must consult with an independent neurologist whenever there is a head injury before returning to the game. The leagues are doing research on how to make an inherently dangerous game become safer. The NFL have added rules to prevent "defenseless" players from taking shots above their shoulders, and when a player loses his helmet, the play is immediately whistled dead. The revised rule prohibits a player from launching himself off the ground and using his helmet to strike a player in a defenseless posture in the head or neck. The same rule applied before, but it only applied to receivers getting hit; now this rule applies to everyone. If a play breaks the rule there will be a penalty for unnecessary roughness which will result in a loss of 15 yards and an automatic first down. The player may only also be disqualified if the action is judged by the officials.
Football players are not the only ones who suffer from Chronic Traumatic Encephalopathy, boxers, soccer players, and military personnel's do as well. As of now, the only way to keep CTE to a minimum is to contain to educate one another and continue to invent more protective equipment.
Works Cited
Moran, Barbara. "BU Researchers Find CTE in 99% of Former NFL Players Studied." Family and Medical Leave Act (FMLA) | Human Resources, www.bu.edu/research/articles/cte-former-nfl-players/.

"New NFL Rules Designed to Limit Head Injuries." NFL.com History, National Football League, 26 July 2012, www.nfl.com/news/story/09000d5d81990bdf/article/new-nfl-rules-designed-to-limit-head-injuries.

"NFL Video Rulebook." NFL Football Operations, operations.nfl.com/the-rules/nfl-video-rulebook/defenseless-player/. 
Related Topics