History of Nursing Research Worksheet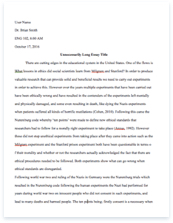 The whole doc is available only for registered users
A limited time offer! Get a custom sample essay written according to your requirements urgent 3h delivery guaranteed
Order Now
There have been many influential publications, agencies, and people in the field of nursing research. Write 1–3 sentences in each cell of the table below to describe the importance, goal, or influence of each item.
Publications
First publication date and importance:
Nursing Research
First published: 1952
Importance: This journal was the ANA's first official journal for reporting nursing and health research. It is a highly respected publication that includes articles on quantitative and qualitative studies. The goal of the journal is to provide the high quality research and report findings and their impact on therapeutic actions and nursing systems. Sigma Theta Tau Journal published by this organization is now called Image—The Journal of Nursing Scholarship First published: 1967
Importance: The mission of the journal's official society is to provide key elements to better the field of nursing, ultimately to achieve a world of healthier people. The Image helped communicate findings when communicating research results were a challenge. The focus was to support the conduct, communication and the use of research. The core topics focused on research methodologies Research in Nursing and Health
First published: 1978
Importance: It is a peer-reviewed journal that has an extensive range of research and theory that places emphasis on advising the practice of nursing and other health disciplines about research in health care. RINAH is devoted to publishing research and theory on health and nursing and other health disciplines. Western Journal of Nursing Research
First published: 1979
Importance: Offers students, nurse researchers, and clinical practitioners the ability of continuing scholarly discussion. The goal is to broaden clinical research through commentaries and authors' responses. It provides a pioneering setting for nurse researchers and students. Scholarly Inquiry for Nursing Practice
First published: 1987
Importance: This journal provides results to advance nursing practice, education, and patient outcomes. It also covers testing theory and research findings on nursing. Applied Nursing Research
First published: 1988
Importance: This publication presents original, peer-reviewed research results clearly and directly for clinical applications in all nursing specialties. The purpose is to bring research into practice. Some features are: research briefs, clinical methods, book reviews, news and announcements, and an editorial section. Nursing Science Quarterly
First published: 1988
Importance: The main purpose of this journal is to publish original manuscripts concentrating on nursing theory development, and quantitative and qualitative research. Conduct and Utilization of Research in Nursing
First published: 1982
Importance: The purpose of this was to develop research-based protocols for clinical practice. Five components of the model are: The identification of research studies and establishment of a research base, transformation of findings into research-based protocols, transformation of protocols into precise nursing interventions, clinical trials in the practice setting, and the evaluation of the research-based practice. Annual Review of Nursing Research
First published: 1983
Importance: The purpose of this review is to critically study the full scope of literature on key topics in nursing practice, including nursing theory, care delivery, nursing education, and the professional aspects of nursing. These reviews are informative on current research. The goal is to encourage the use of research in the nursing environment. Agencies
Establishment date and goal or function:
American Nurses' Association (ANA) Council of Nurse Researchers Established: 1896
Goal: Goals of the ANA are: representing the interests of the nation's registered nurses, advancing the profession by fostering high standards for practice, promoting the rights of nurses in the workplace, projecting a positive and realistic view of nursing, and by lobbying the Congress and regulatory agencies on health care issues affecting nurses and the public. National Institute for Nursing Research (NINR)
Established: 1985
Goal: The goal of NINR is to stimulate and advance the health of all people. It supports and conducts clinical and basic research and research training on health and illness throughout the entire lifespan to build a scientific foundation for clinical practice, prevent disease and disability, manage and eliminate symptoms caused by illness, and improve palliative and end-of-life care. Agency for Health Care Policy and Research (AHCPR)
Established: 1989
Goal: The goal of AHCPR is to improve the quality, appropriateness, and effectiveness of health care services and access to these services. The agency accomplishes its goal by conducting and supporting general health services and research. Research that AHCPR supports includes medical effectiveness research, facilitating development of clinical practice guidelines, and disseminating research findings and guidelines to health care providers, policymakers, and the public. Agency for Healthcare Research and Quality (AHRQ)
Established: 1989
Goal: The AHRQ goal is to yield evidence to make health care safer, achieve higher quality, be more accessible, be equitable, and affordable. AHRQ works within the U.S. Department of Health and Human Services and with other partners to make sure that the evidence is understood and used. Functions: Conducts and supports research, demonstration projects, evaluations, guidelines development, and dissemination of information on health care services and delivery systems. Department of Health and Human Services (DHHS) Health People 2010 Established: 1980
Goal: The U.S. Department of Health and Human Services (HHS) serves as the nation's principal agency for protecting the health of all Americans, and providing essential human services. Its main responsibilities include administering Temporary Assistance to Needy Families, state-federal welfare program that succeeded the Aid to Families with Dependent Children program, and the Medicare and Medicaid health-care programs. Sigma Theta Tau
Established: 1992
Goal: The mission of the Honor Society of Nursing, Sigma Theta Tau International, is advancing world health and celebrating nursing excellence in scholarship, leadership, and service. Sigma Theta Tau International's vision is to be the global organization of choice for nursing. People
Contribution to the field of nursing research:
Florence Nightingale
Contribution: Florence Nightingale is at the beginning of what we practice in nursing to this day. Her research and observations have been saving lives since the Crimean War. Nightingale laid the foundation of professional nursing with the establishment of a nursing school. Nightingale was an extraordinary writer. She published work concerning spreading tremendous medical knowledge. Nightingale was a pioneer in visual presenting information using graphs. She was a pivotal woman in the role and lives of all professional women during her time and still is. Florence Nightingale's eternal contribution is founding the modern nursing profession. She set an example of compassion, commitment to patient care and diligent and thoughtful hospital administration. William Roper
Contribution: William Roper was an advocate for disease prevention. His work kept the country moving toward new areas of disease prevention and reinforcing existing programs. He worked with multilevel governments to improve the nation's public health system for all ages and walks of life. He was an expressive spokesman for the need to include prevention as a key element in health care reform. Roper was a leader in health care financing and played a key role in the Medicare Physician Payment Reform enacted by Congress in 1989. His contributions related to research helped establish the basis for the Medicare payments to physicians. Roper stressed the need to judge medical care on its effectiveness. That reform is still improving the quality of medical care.
Related Topics