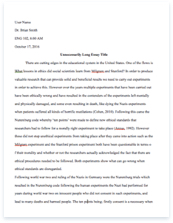 The whole doc is available only for registered users
A limited time offer! Get a custom sample essay written according to your requirements urgent 3h delivery guaranteed
Order Now
Slide 1: Cover Slide
Slide 2: Agenda
Slide 3: Michael J. Fox and Parkinson's Disease
Slide 4: Parkinson's Disease
Slide 5: Behaviors displayed following diagnosis
Slide 6: Deficits as a result of Parkinson's Disease
Slide 7: Treatments that Michael J. Fox was seeking
Slide 8: Research implications
Slide 9: Understanding how the brain works
Slide 10: References
MICHAEL J. FOX AND PARKINSON'S DISEASE
Born in 1961
Was first known for his role in Family Ties
Diagnosed with Parkinson's Disease 1991
Announced in late 1999 that he had been battling Parkinson's Disease
In May of 2000, Michael launched the
Michael J Fox Foundation for Parkinson's research
PARKINSON'S DISEASE
Fairly common agerelated and progressive disease of brain cells.
Affects movement
Loss of muscle control and balance
First symptoms include a tremor
BEHAVIORS DISPLAYED BY MICHAEL
FOLLOWING HIS DIAGNOSIS
DEFICITS AS A RESULT OF
PARKINSON'S DISEASE
Bilateral tremors
Difficulty sleeping and fatigue
Oily skin and dandruff
Speech change
Constipation
Mental changes
Swallowing problems
TREATMENTS THAT MICHAEL J. FOX
WAS SEEKING
Deep brain motivation
Thalamotomy
Stem cell study
Sinemet
Symmetrel
Eldepryl
RESEARCH IMPLICATIONS OF THE
CASE STUDY AND UNDERSTANDING
THE DISEASE
UNDERSTANDING HOW THE BRAIN
WORKS
Parkinson's disease is usually slowly progressive over time (years). Theadvancement is assessed by the symptom severity and other
measures such as mental function, behavior, mood, motor functions, and the ability to complete daily activities (self-maintenance, independence) as measured by the Unified Parkinson's Disease Rating Scale. These evaluations give physicians clues as how to best manage and treat the individual (Michael Andrew Fox, 2014).
REFERENCES
Betty, M. (n.d.). Parkinson's Disease, Michael Fox, MS and the Aspartame Story. Retrieved from http://www.rense.com/general21/parkinsonFox.htm
Davis, C.P. (June 14, 2013). Parkinson's Disease Symptoms, Stages, and Treatment. Retrieved from http://www.medicine.com/Parkinsons_disease_Picture_slideshow/articles Emma, B. (2009). It's the gift that keeps on taking. Retrieved from http://www.guardian.co.uk/lifeandstyle/2009/apr/11/michael-j-fox-parkinsons Mary, K. (2005). Michael J. Fox and Parkinson's Disease. Retrieved from http://rarediseases.about.com/od/rarediseasesp/a/060700.htm
Mehmet, Dr. (2009). Michael J. Fox's Personal Battle. Retrieved from http://www.oprah.com/entertainment/Michael-J-Foxs-Life-with-Parkinsons-Stem-Cells-Optimi sm-and-More/3
Michael Andrew Fox. (2014). The Biography. Retrieved from
http://www.biography.com/people/michael-j-fox-9542279
Michael J. Fox has Parkinson's Disease. (2004). Retrieved from http://www.medicinenet.com/script/main/art.asp?articlekey=7579 Michael J. Fox and Parkinson's. (n.d.). Retrieved from
http://www.pwc.k12.nf.ca/projects/b2201/assignments/parkinsons/michael.html
Related Topics