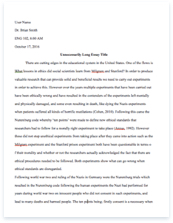 The whole doc is available only for registered users
A limited time offer! Get a custom sample essay written according to your requirements urgent 3h delivery guaranteed
Order Now
Recommend the redesign of Hershey's performance management system to appeal to the diverse groups it employs. To redesign Hershey's performance management system, a special appeal needs to be made where the system is picked apart looking for areas that will offer immediate improvement and opportunities. Hershey should emphasize the importance of working together, encouraging employees to share new ideas amongst the tenured and newer employees. One way this can be done is through employee empowerment which "means giving employees responsibility and authority to make decisions regarding all aspects of product development or customer service" (Noe, 2011). Every employee wants to feel like they are part of a bigger picture in regards to the amount of success their organization strives to achieve. Hershey can also embrace some of the effects the workforce has seen based on globalization and an influx of older adults looking for part-time jobs, a new career or even temporary work.
For continued success, this company must literally find a place for everyone where Hershey's needs are being met and their employees, young, old, tenured and new, are valued. Redesigning the performance management system will produce an end result that increases employee morale, makes room for individual as well as team recognition for exceeding organizational expectations. The HR team within Hershey will want to try a few things out before making any solid choices on how to implement these changes. Getting feedback from employees or even conducting small meetings to discuss a new program, will prove to be a useful tool as well has keep employees thoughts present during the change.
If you were a Hershey's employee, analyze how you would interpret the values that Hershey embraces in relation to your role. As a Hershey employee for many years now, I have a special affinity to this organization. Their continued presence in my community deserves much applause. The plant that I work for "provides good-paying jobs for a work force of 1,000 full-time employees and 100 part-timers. These jobs require significant additional training, and a better- trained work force is good for the company and is the best kind of job security for employees" (Intelligencer, 2012). You can ask any Hershey employee and almost always here the same, company values play out in all our positions and each of us feels a sense of ownership and pride working here. My peers and I appreciate the diversity that is both present and yet to come.
To me, having a diverse workforce presents opportunities for learning about different cultures and then having all of us work together for Hershey where our ideas and thoughts are heard and respected. Hershey has fueled my desire for growth and knowledge. Each of us plays our motivations out daily which can be seen in our work performance. Hershey's company culture of teamwork runs deep and can be reflected in our work ethic towards achieving company goals head-on. Our company values and beliefs that we can make a difference in the world encourages us all to give 110% for Hershey and others who lives we will reach in charity. Maybe you have already heard how Hershey gives back through the Milton Hershey School as well as "Dollars for Doers" program (Noe, 2011) . It took no one person to make Hershey an international success but it will take a multitude of different individuals to keep us revered as a successful company. "We are One Hershey, winning together while accepting individual responsibility for our results" (Noe, 2011).
In terms of the trends identified in this chapter, describe which one may impact Hershey the most. One trend within Human Resources that will impact the Hershey's is the aging of the labor force. As baby boomers approach retirement age, it is crucial that their experiences and knowledge be used to guide younger and newer employees. Globally speaking, the economy is not doing well enough for some that fall into this group, to retire. This means they will need to work much longer than originally anticipated. A good HR team will appeal to them by offering flexible work schedules and benefits. Coming in on a common ground started with and understanding on the differences in generations which Hershey addressed by holding training in characteristics of the different generations of workers (Noe, 2011). Hershey is committed to embracing diversity to create highly functional teams that will achieve company goals.
Another trend is downsizing. In September of 2012 Hershey a $300 Million expansion of their chocolate plant in Dauphin County, PA. Although this expansion translated into great new for the state of Pennsylvania, the community and Hershey, 500 employees lost their jobs. This was Hershey's answer to changes in technology and outsourcing. Technology allowed for some company changes that increased efficiency but required less human interaction and instead of sending labor overseas, they cut a few jobs here in the states. All in all, "its leaders chose instead to preserve as many U.S. jobs as it could while still preserving the company's ability to compete and grow. In difficult times, the Hershey Company made sound choices. They preserved an enormously important manufacturing operation and the thousands of jobs on its payroll and the payrolls of its many suppliers" (Intelligencer, 2012).
Describe the effects that mentoring could have on integrating values into the Hershey culture. In short, mentoring is a volatile tool used in organizations that draws on a mixed bag of talent combined with experience. Mentoring creates a sense of peer camaraderie offering a non-managerial support system for new and learning employees. Older employees are given the opportunity to show their skills and share their job knowledge with other employees that will later see it as a benefit to becoming acclimated to the organization. For example, millennia's value creating friendships and networks at work (Thurston, D'Abate, & Eddy, 2012).
Persons in the aging workforce find personal satisfaction in leaving behind a legacy of excellence so mentoring offers something personal and satisfy their need to share their knowledge with younger colleagues (Noe, 2011).Mentoring serves as a way to integrate new employees into a unyielding company culture, value system and solid work ethic. Using a long time employee who embraces company values as a mentor, will likely produce a benefit to another employee by teaching them to embrace those same values. Hershey has many key factors incorporated in its culture and value system. These factors include an enthusiasm towards diversity, growth of diverse teams, a mentoring system that supports its' newer employees and empowers its' older employees and a sturdy base of social/community responsibility. Hershey is a company that has succeeded in providing quality human resource management so their employees can work for an organization that puts them first, want to see them flourish and be the best employees they have the potential to be.
Bibliography
Intelligencer, P. (2012, September 26). "EDITORIAL: Hershey Plant: How Sweet It Is.". McClatchy – Tribune Business News. Noe, R. A. (2011). Fundamentals of human resource management (4th ed.). New York, NY: McGraw-Hill. Thurston,
P. W., D'Abate, C. P., & Eddy, E. R. (2012, july). Mentoring as an HRD Approach: Effects on Employee Attitudes and Contributions Independent of Core Self-Evaluation. Human Resource Development Quarterly, pp. v23(139-165).
Related Topics