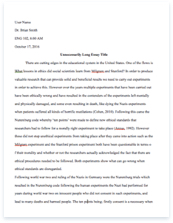 The whole doc is available only for registered users
A limited time offer! Get a custom sample essay written according to your requirements urgent 3h delivery guaranteed
Order Now
In this movie, Morgan Spurlock studies the world of marketing by attempting to sell brands a chance to be apart of the film. The movie gives you an in depth look inside the business of advertising by showing the steps and decisions involved. Whether people are turned on or off by this film, it should help viewers gain knowledge on the reality of today's society at large. The key steps such as brand selection for the movie, product placement, and other related topics help to thoroughly understand what Morgan Spurlock had to achieve in order to make the Greatest Movie Ever Sold.
Brand selection for this movie is ultimately the most important aspect of this film because in the end, the sponsors paid for this movie. There wasn't one distinct process Morgan had to overcome to find sponsors. First and foremost, Spurlock had to get these sponsors to listen to his sales pitch. During these meetings, Morgan had many ideas in regards to how each brand would be used in the film. For example, POM Wonderful was the biggest investor in the film, which gave them a lot of attention including the headline of the film. Also, their executives shut down Morgan's ideas and came up with the competitor approach with Minute Maid.
Also, he had the idea of having actual commercials inside of this movie, which was appealing to many of these sponsors. I think these brands wanted to be in this movie because it's different than the average film and it was significantly cheaper. Also, I think it was important that many of these sponsors had a say in some of the decisions regarding brand positioning. Some of the sponsors include POM Wonderful, Sheetz, Merill, Mane N'Tail, Mini Cooper, Jet Blue, Hyatt, and Old Navy. There were many brands that rejected opportunity to invest in the film such as Nissan, Volks Wagon, and Nintendo.
I think these brands turned down the movie because they didn't want their brand positioned poorly. Also, many people found Morgan Spurlock's movie called Super Size Me, to be offensive and off-putting, which could have played a large role in the decision process. Morgan's "brand," for those who have seen the movie Super Size Me, might not like the fact that he was incredibly biased toward fast-food restaurants.
Also, this "brand" he portrays in the past could've been seen as unethical to those prospect sponsors, which would influence their decision to say no. In the beginning, Morgan talked about hitting all different brands in regards to food, clothing, travel, and etc. He made sure that there was enough of a variety in terms of brand selection that could show viewers all different forms of positioning. The brands that he chose fit a distinct way of advertising in which Morgan had to successful come up with.
Product Placement is incredibly important because it can make or break a brand's success. In this film, Morgan talks to Robert Weissman, the President of the consumer advocacy group, Public Citizen. He says they should have "simultaneous labeling that people are being hit with an advertisement, the moment they are." This has to do with all the clutter on the screen while watching something. I personally don't like this idea because I don't want to be warned when an advertisement is taking place. As a consumer, I believe it's my job to understand when an advertisement is taking place whether I like it or not. The issue between movie directors and brand sponsors highlights the fact that each party involved wants to dictate how the brand will be positioned.
Some brand sponsor's might have influence on how the movie is made due to the amount of money they invest. Also, brands tend to dictate emotion and feeling, which could play a pivotal role in a specific scene of a movie. It's especially important for brands to protect themselves because once a specific brand is portrayed in a negative way it's incredibly hard to climb out of that hole. The issue in regards to banning billboards has to do with the fact that companies/businesses have to take on a whole new form of marketing. Most of these businesses have to rely heavily on referrals and word of mouth activity.
I'm indifferent when it comes to this idea because I see both positive and negative outcomes. I like how the people wanted to see more of the beauty of the land and nature instead of billboards. Being that I'm interested in business, I would have a hard time finding ways to market my brand/business without using billboards and other forms of advertising. Quentin Tarantino talked about the brand Denny's and how they said "no," because it would be too obvious and break the reality of the movie. There aren't many legal issues that Morgan has to worry about according to one New York City attorney.
The word that was introduced in this meeting is called "faction," which is the process of combining historical information with speculation of fiction. Later in the movie, Morgan met with faculty from a school that advertises due to tight budget constraints. He ended up purchasing a couple banners, school bus and truck signage. I liked this idea because it was a unique way to get the movie out to the general public. The topic I wanted to touch on has to do with some of the brands and their relative position in this movie.
POM Wonderful was positioned as a healthy drink with 100% real pomegranate juice. I thought it was very smart to compare it to Minute Maid's drink, which had a third of one percent of pomegranate juice. Also, they were smart by comparing specific numbers in the commercial. Hyatt hotels brand positioned themselves as a high quality and luxurious hotel, which was portrayed effectively by Morgan. This movie positioned Jet Blue as being an enjoyable travel company with excellent customer service.
I liked how Morgan and his son had a scene with the two of them playing with action figures in a Jet Blue plane, which portrayed their position. Sheetz was positioned as being a friendly atmosphere where you can enjoy a sandwich or something to drink. The movie portrayed this by holding different interviews or conversations at the pump or in one of the booths. In conclusion, this movie represents the world of marketing as it relates to brands and their specific product placement.
I believe this film should help consumers understand that advertising is found anywhere and everywhere. I agree with Morgan's statement, "I'm buying in, not selling out" because he's doing this while holding true to his integrity and morality. This movie wasn't done for a personal gain; it was made to show consumers the process of marketing brands and positioning them in movies, etc. According to Ralph Nader, "the only place you can hide from advertising is when you're sleeping."
Related Topics