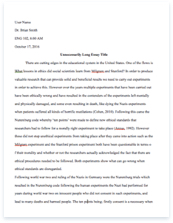 The whole doc is available only for registered users
A limited time offer! Get a custom sample essay written according to your requirements urgent 3h delivery guaranteed
Order Now
I am honored to stand and speak to you this evening. I am very proud to be a part of the first graduating class for the Gaylord Heritage school. We thank the staff at the Heritage school, the Gaylord Tribes, our families and our community.
I thought about what I would say for a long time and than I remembered what my grandparents taught me about life.
My grandparents and family talked to me about education. My dad told me a story about an elder who was very proud of his new toolbox filled with tools. Every day his children would ask to use the tools in his box and he said: "No, not today, I am saving these for a special occasion." As his children grew older they continued to ask for the tools but again he said: "these tools were being saved for the right occasion." Finally the children gave up asking for the tools. One day many years later, the grandfather thought that it was time to open the box of tools and use them. As he opened the box, with children and now grandchildren looking on, he saw that the tools were rusty. He picked up the wrench but it crumbled in his hands.
This story symbolizes to me a lesson: of how if we don't share our knowledge -our tools – and pass that knowledge on, then we have all lost the gift in our hearts. And the tools will rust and crumble in our own hands, never to see the light of day again.
So let's share all of our tools and pass them on to the next generation so they can work on our house when we get old, and maybe even pay the rent.
There are prophecies from many different tribes that speak of the seventh generation. This prophecy states "from the time of the coming of the non-natives, the seventh generation will be the ones that will see the big changes that are coming. This is the seventh generation coming up, and these are the people we must teach so that they do things right this time, so they will keep in mind what they will leave for the next seven generations that will follow them. This is how we are taught to live on this earth: we should look to how our decision and actions will affect the seventh generation to come."
The class of 2006 is part of that seventh generation. We are proud to be graduating from the Heritage School. We have been taught at our school and in our community to respect. Respect all people and living things, to have a strong sense of family and community, caring, and sharing and encouraging each other. We have been taught about our culture and language. We are proud to stand before you and we remember our heritage and who we are as First Nations peoples. Our goal is to use education to give us the knowledge and skills to build a better future for ourselves, our children, and the next seven generations. We will not forget who we are or where we came from.
Though we may not know what the future holds, we can be assured that somehow this school that we are now leaving has prepared us for whatever the future has in store. Congratulations to the Class of 2006. Thank you.
Your Gift of Learning, Our Tool for Nation Building or Ang Alay Ninyong Kaalaman, Gamit namin sa Pag-unlad ng Bayan" Graduation Speech 2012
By ANDEA, ISIDRO JR. B. Success depend on the hands of the person who seized the right opportunity that comes along in his way. One of the greatest achievement of success in the field of learning is Graduation Day in which we give honor to the person who is one way of molding and influenced us towards success in our academic aspects, recognizing the fruit of sacrifices of our parent who suffered the searing heat of sun in order for us to sent in school, to be proud of our effort and sacrifices that we spent along the way to reached another ladder of success in educational arena through dedication and being responsible student in class.
Graduation is a meaningful, momentous occassion in which we give emphasis to the achievements of a better person and to look forward for reaching the things that lie ahead. With my great desire, to be one of the guest speaker at today's event; I accept the invitation of the teaching staff of this institution to challenge everyone today!. A warmest greetings to all of you!.
I am proud to salute and congratulate you all as the elite corps of successful graduates this school year 2011-2012. It is a hot and sizzling event despite all the struggles that you encountered in the past years of your student life and now you are in your best wishes to wear your graduation outfit which indicate your prosperity towards success, receiving your medals and diploma, being inspired of the person behind your achievement and giving thanks to your omnipotent master which he gives you hope and strength to move on and be rewarded of your sacrifices.
My task here is to encourage everyone and help you cope hope to Dream Big!. Dream is priceless, a thing that cannot be sold of something. It is not a thing that can be burrowed and paid of someone else, it is worthless. But it is a simple way to "change your life". " A man without a dream is just a wishful thinker". There is no impossible dream if you deserve to have it. Dream is a powerful imagination which we speculate to happen in reality and that is possible. I will tell you on how to dream and might be true!. Who among you here have a dream in life? If you set all your dreams start to set your goals now, But goals are set to be fulfilled not only to dreamt. If you set immediately your goals? Plan what to do and make an actions!. No more excuses, "change your mind and attitude"
The role of an individual is to fulfill the task given to our life. Goals in life give us a specific direction on how we can achieve our dreams. Sometimes opportunity comes along in our way and knocks only once, some of us take advantage while others ignore it. Right opportunity comes with the right decision, depends on how you will take the risk. Strong personality make us a better person to move on in every chances across in our journey. Strength and weaknesses are the reason why we stand up and determine how strong we are. Brain washed (washing out of our minds) lessen you burdens. Worry. Doubt, and self-distrust will no longer Husserl your mind in "one corner" and be "frozen-off" of nothing!. Accepting the fact that everyone fails at something will influenced us to try out everything for the sake of our achievement. We need to become flexible and sensitive person in everything that happened in our life. Great person possess greater responsibilities.
Our Theme: " Your Gift of Learning, Our Tool for Nation Building or Ang Alay Ninyong Kaalaman, Gamit namin sa Pag-unlad ng Bayan". An individual possess a precocious gift from God, He gives us wisdom to become a better person. You are in your best wishes as you aspired to enter in the world of learning. "learning is very fun and life long process which mold your interest to become a wholesome individual". It is our foundation to help "Nation Building" for the betterment of life of every steward his land if all of us used our full potential and willing to offer their gift of life. Lets take the challenge to become a partner of change for "Nation Building"
The adage that always made me strong in sacrificing something is that " I accept failures because everyone fails at something but I can't accept not trying". Failures will never hinder one to pursue his dream. We must guard against in everything around us once we aim of something.
Here are the things to ponder as a Graduate:
A Graduate must set his Goal.
A Graduate chooses Right Opportunity.
A Graduate develops Positive Attitude.
A Graduate have a strong Determination.
A Graduate Unleashes his mind.
A Graduate Accepts Failure.
A Graduate is teachable for Transforming Personality.
A Graduate shows his Expertise toward success.
I made a Mnemonic Device meaning of a Graduate; A GRADUATE stands for: G-GOAL SETTING
R-RIGHT OPPORTUNITY
A-ATTITUDES
D-DETERMINATION
U-UNLEASH MIND
A-ACCEPT FAILURES
T-TRANSFORMING INDIVIDUAL
E-EXPERTISE TOWARD SUCCESS
Facing the real life situation is not an easy task. Taking part in attaining your goals in life makes you serious to take your responsibility in your family, society and as well us to our worth living for Country for your major contribution that you will extend as a Graduate. Let us be an agent of change!, our Country calls for a concerned citizen as a partner towards the transformation of our society by getting involved of what is happening to our nation's now a days.
You as a Graduates are precocious gift from God. You chosen because of your best qualities to lead our Country in a righteous path of change!. Even if you start in a small thing, your contribution means a lot. There is no limitation for your accomplishment if you extend your help to your neighbors, the essence there is, you shows your respect and concerned to them and you cares for a change! That is possible to everyone!.
Related Topics