Generalizations in the World of Advertising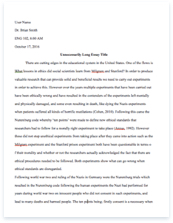 The whole doc is available only for registered users
A limited time offer! Get a custom sample essay written according to your requirements urgent 3h delivery guaranteed
Order Now
Have you ever watched a particular television show and noticed that most of the advertisements are aimed at a particular audience? Perhaps you watched a cartoon that aired many commercials for toys. A show that is a rerun from decades ago that may show commercials for products geared toward the elderly such as denture cream and motorized scooters. I recently watched the Super Bowl with several family members. This was a diverse group ranging from children to teens, parents and grandparents. Males and females were present in about equal proportions. The Super Bowl has almost turned into a national "sports holiday." Families and friends gather together to watch the national championship game. We all love to watch the commercials that air during the Super Bowl. Even though the advertising has changed somewhat over the last few years, it was interesting to see that many of the ads were still aimed at male viewers. The marketers that advertise during the Super Bowl are under the general assumption that this is still a male oriented sports event and these males are tough, rugged and like to drink beer.
Advertisers make generalizations about the type of people that watch a particular show and target their commercials toward this audience. These generalizations are used for television advertising as well as magazine advertising. Many commercials during the Super Bowl were geared toward the male consumer. For example, there were many automobile ads yet there were no ads for family oriented vehicles such as mini vans. The automobile ads were for pickup trucks and sports cars. This says that men are tough and rugged like trucks and they like fast sports cars. One ad for Chevy depicted an apocalypse with a Chevy truck driving through the aftermath. There was nothing but rubble, a crashed UFO, burning buildings and a tough Chevy truck comes driving through the ashes. The driver of this Chevy truck meets up with his other friends who also drive a Chevy. One of their friends did not make it through the aftermath because he drives a Ford. This sends the message that Chevy trucks are tough and "can take you from your workday to the end of the world." According to Charles O'Neill in "The Language of Advertising," marketers use "market research and psychology to gain a better understanding of people's subsurface desires, needs and drives to find their points of vulnerabilities."
The marketer's use these desires and drives to get these men to purchase their products. As everyone is gathered to watch the big game, there are usually food and drinks available for consumption. Many of the commercials during the Super Bowl are advertisements for snacks and beer. For example, there were several commercials for Doritos and Budweiser beer. Most of the consumers had already purchased their refreshments for the game. So, what is the point of these commercials? O'Neill states that another purpose of advertising is "to sustain brand loyalty, reminding customers of all the good reasons for their original decisions to buy." Budweiser has a long history with the Super Bowl. They have been advertising during the Super Bowl for over 40 years. We have watched generations of Budweiser commercials from the famous Clydesdales, to the frogs, Spuds McKenzie, the "I Love You Man", the "Wassup" and the bud bowl commercials. These connections with the viewers' serve to reinforce their brand. So, the generalization associated with these commercials is that the men have purchased Doritos and Budweiser for their parties and they will purchase them again because of their connections to these commercials. Television advertising is just one form of media that advertisers use to try to connect with consumers.
Magazine advertising is also a huge area of marketing. To look at generalizations in advertising, let us take a look at some magazine advertisements. I decided to look at the ads in a "Bass Master" magazine. As I look through the pages, I find that there is not a single picture of a female in the entire magazine. There were several ads for boats and boat accessories, fishing gear and pickup trucks. Most of the ads pictured men and were geared toward men. By looking at the ads in this magazine, the generalization is that all bass fishermen are men, that they have or want a boat and they like pickup trucks. Even though there are no women pictured in this magazine, there are many women who like to fish. The advertisers make the generalization that most males make the purchases associated with fishing. I find an "Esquire" magazine and decide to flip through the pages to see what type of consumer the marketers are targeting in these advertisements. Esquire is a magazine published for men but by looking at the ads in this magazine, I can immediately tell that this target market is different than the men that are targeted in Bass Master.
There are several ads for liqueur, automobiles and high end watches. This magazine is a little different than the Bass Master because there are some women pictured throughout the ads. There is a two page ad for Hearts on Fire diamonds that picture several attractive women and many different diamonds. The ad tells the men that this is "the diamond she's always longed for" and "this year, you both deserve nothing less." There is a very well dressed man and woman pictured in ad for Conrad Hotels and Resorts that are located in Asia, Middle East, Europe, North America and South America. There are many luxury sedan advertisements in Esquire. Based on the advertisements in this magazine, I can tell much about the reader of this magazine. The generalizations made about the reader of this magazine are that he is a wealthy, well-dressed, professional male. The next magazine that I picked up was a "Seventeen" magazine that belonged to my teen-age daughter. Based on the ads that are in the magazine, the advertisers generalize all of the readers as teenage girls with acne, who wear makeup and want to wear fashionable clothing.
A two page Clinique ad boasts the fact the user of their product can "see the clearest, freshest, healthiest version of your skin." A several page ad for Dillard's department store tells the girls they can have an unforgettable night if they purchase one of the prom dresses from their store. Many of the ads in the teen magazine are very bright and colorful to capture the attention of the magazine readers. Some of the ads featured famous personalities. O'Neill explains that "Advertising writers did not invent the human tendency to admire or seek to identify with famous people. Once we have seen a famous person in an ad, we associate the product with the person: Britney Spears drinks milk. She's a hottie. I want to be a hottie, too!" They tell the girls what they want to hear so that they will purchase the product. They believe if they purchase these cosmetics, skin cleansers and clothing, they will be beautiful and popular.
Teens want to belong and if they use these products they will feel like they belong. O'Neill says, "all advertising is about exploitation: the systematic, deliberate identification of our needs and wants, followed by the delivery of a carefully constructed promise that Brand X will satisfy them." Many generalizations are present in advertising, whether you are watching a television commercial or browsing through a magazine. These generalizations are an assumption of who will be watching a certain type of program or reading a particular magazine and what they are likely to purchase. O'Neill suggests, "Ads are effective because they sell products. They would not succeed if they did not reflect the values and motivations of the real world." If the advertisers get you to purchase their products, then they have succeeded in their jobs. The generalizations that they have used to market their products to target groups have been effective.
Related Topics