Factors That Can Lead To a Person Becoming a Podophile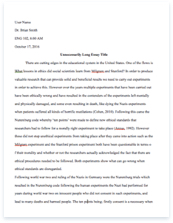 The whole doc is available only for registered users
A limited time offer! Get a custom sample essay written according to your requirements urgent 3h delivery guaranteed
Order Now
Pedophilia is a psychiatric disorder where an adult is sexually attracted to children. There have been millions of studies that question if someone who sexually abused, as a child is more likely to become a pedophile. This paper will be broken down into three factors of why being sexually abused may cause someone to become a pedophile. The first factor is the cycle of abuse in the childhood home and how it can influence the child to believe those behaviors are acceptable and how it can affect them in the long run in creating a vicious cycle of sexual abuse. The second factor is the behavioral tendencies that contribute to pedophilia. Lastly, the psychological and developmental issues being sexually abused can cause on the human brain especially a child's.
It has been established that any form of abuse during childhood could affect a child's mental and behavioral growth into adulthood. There are times when the effect can cause the person to become violent with children or sexual aroused by children. The following articles and studies have shown reasons why the cycle of abuse may affect children.
Freund & Kuban (1994) completed research on whether sexual abuse in childhood can cause the victim to become an abuser, using subjects who were pedophilic. The research was done by dividing the subjects into subgroups according to the degree of admitting to having sexual fantasies about children. They were asked two questions for the Erotic Preferences Examination Scheme (EPES, Freund, 1965). Depending on the answers to the questions the subjects were labeled pedophilic admitters, partial admitters, and non-admitters. The next step of the study the researchers questioned the subjects about their childhood experiences and if they ever encountered any form of abuse. (Freund & Kuban, 1994) The result of the study showedthat an erotic age preference was an important predictor of childhood abuse, whereas offender status was not. (Freund & Kuban, 1994)
A study by Carmen, Rieker, and Mills (1984) showed that gender can play an important role in ways they cope with childhood abuse. According to Dutton & Hart (1992), women were more likely to internalize their feelings like depression or suicidal intent to cope from their childhood experience, versus men are more likely to get aggressive and take it out on others. (Dutton & Hart, 1992) Out of 41 females attending the forensic psychotherapy service who were victims of sexual abuse, only two percent were also perpetrators, compared to the males. There were 135 males attending the service and fifty-nine percent of those males were also perpetrators (Kolvin & Campbell 2001).
Langevin, Wright, and Handy conducted a research to determine if there were similar characteristics of sex offenders who were sexually victimized as children. The study discovered that the abused group showed "sexualization" in their childhood, and that they tended show more emotional instability than the non-abused group (Wright, & Handy 1989).
A study by Sawle & Kear-Colwell (2001) to discover whether someone's attachment styles will differ because of the trauma they have experienced at a young age compared to pedophiles and college students. In addition, the researchers also wanted to compare the duration of their adult sexual relationships to those individuals that had no traumatic experiences in their childhood. The study discovered that the college students received more security of attachment in their childhood than the pedophiles, which were found to have a weak attachment style. Pedophiles were found to have experienced levels of early abuse during their childhood (Sawle & Colwell 2001).
Finkelhor and Browne wanted to discover the traumatic impact of child sexual abuse. The researchers broke it down into four factors, which are traumatic sexualization, betrayal, stigmatization, and powerlessness (Finkelhor & Browne, 1985). These factors are used to make assessments of victimized children who may face issues in adulthood. Traumatic sexualization is a major focus in the study and demonstrated how traumatic sexualization can cause a child to have misconceptions about sex and sexual relations as a result of victims becoming perpetrators. (Finkelhor & Browne, 1985).
Related Topics