Factors and Hazards of Infant Development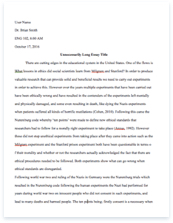 The whole doc is available only for registered users
A limited time offer! Get a custom sample essay written according to your requirements urgent 3h delivery guaranteed
Order Now
There are many factors and hazards that can influence an infant's development even before birth. Pregnancy is a very important event in a woman's life. There are many feelings and excitements that affect a pregnant woman's head. In the middle of all the exhilaration that comes with preparing for a new baby, sometimes parents have a tendency to overlook how imperative the health of the mother is for prenatal growth. Smoking, alcohol, and drugs can be hazardous to the infant's development. Drinking alcohol during pregnancy can cause stillbirths, miscarriages, and premature infants. If pregnant women drink alcohol, it can affect the infants, blood, organs, and tissues. If they drink a beer, the baby is drinking a beer. Alcohol stays in a fetus twice as long as it does the mother.
The development of the heart, brain and nervous system can be damaged during the first trimester of pregnancy. Another hazard that can affect the fetus is smoking. Smoking cuts across the placental wall and gets in the way of fetal development. Carbon monoxide from smoking decreases oxygen available to the fetus. The same as alcohol, stillbirths, miscarriages, low birth weight and premature infants can happen. Smoking during and after pregnancy an infant runs the risk of Sudden Infant Death Syndrome (SIDS). The last hazard is illegal drug use. Intake of illegal drugs is dangerous for the fetus and for the mother. A mother consuming illegal drugs during pregnancy raises her risk for low iron in the blood, infections of the blood and heart, hepatitis, and other communicable diseases. Almost every drug passes through the mother's bloodstream via the placenta to the fetus.
Illegal substances could bring about drug dependency and addiction to the mother which will pass to the fetus and the fetus will become addicted also. If a pregnant woman discontinues using taking illegal drugs at some point in her first trimester, she raises her odds of having a healthy baby. It is important for a pregnant mother to be educated about hazards and factors that can affect her fetus. A pregnant mother needs to learn good nutrition, exercise regularly and stay away from hazards that may damage the fetus. Education of factors and hazards that can influence an infant's development even before birth need to be researched by the expecting parents. Parents need to realize what they do before, during, and after childbirth can affect the infants growth and development.
Related Topics