Everything That Rises Must Converge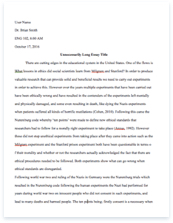 The whole doc is available only for registered users
Pages: 3
Word count: 641
Category: Child
A limited time offer! Get a custom sample essay written according to your requirements urgent 3h delivery guaranteed
Order Now
Most often than not, there is one point in every parent-child relationship where a child does not want to be dependent of his parents anymore.  More so, some children tend to be emotionally detached from his parents in order to achieve a feeling of independence.  The short story, Everything That Rises Must Converge, which was written by Flannery O'Connor, depicts a parent-child relationship where the child, Julian, attempted to achieve a feeling independence through being emotionally detached from his mother.  On the contrary, Julian wanted to take care of his mother; however, he is unable to do so.  In real life, many individuals try to push their parents away in order to prove that they know what is right.  In the end, these individuals regret having pushed away their parents.  This is the very lesson that the short story, Everything That Rises Must Converge, wants its readers to know.
In the story, the financial dependence of Julian on his mother had prompted his yearning for independence.  He did not care about his mother's struggles and was even angered by such struggles as presented in the story, "…could not forgive her that she had enjoyed the struggle and that she thought she had won…" (O'Connor, 277) which leads readers to think that Julian is someone who hates the feeling of owing anything to anybody.  On the other hand, his insistence of his mother keeping the hat represents the reality that Julian wished for his mother to have more.
As Julian disapproved of the views of his mother in terms of what is right or wrong, he does this in order to achieve or make himself believe that he is independent.  In the situation where Julian opposed his mother on the belief that she "won," this represents Julian's self-pitying.  This was presented in the story as "He could not forgive her that she had enjoyed the struggle and that she thought she had won."  (O'Connor, 277)  It is only his way of showing his mother that he has his own independent views.  More so, in order to enrage his mother, Julian never conversed with a black person whom he thinks is uneducated.  He never planned of inviting them for dinner.  These gestures lead one to say that Julian has no solid beliefs at all.  His acts are based upon pointing out to his mother that he knows how to handle things by himself.
Julian also needed to feel intelligent in order to out smart his mother, which was clearly stated on his comment, "third-rate college, he had, on his own initiative, come out with a first-rate education…"  (O'Connor, 277) This was a demonstration of feeling superior over his mother.
The belief of Julian being emotionally free from his mother is not far from the truth as majority of his actions are aggravated by his mother.  In response to his mother's protest, he desired to talk to black people.  His comments such as never being able to succeed is just a façade that he is fine with being a failure; however, in reality, he needs to more than just a salesman of typewriters so he can make his mother proud.  His being emotionally free from his mother blinded him from his mother's love that was unconditional.  Thus, his need of independence caused him deliberately to separate from his mother who was his biggest supporter.  The desire of Julian to hurt his mother who had been there for him is distressing.  In actuality, many individuals who push their parents away regret in the end.  These individuals are those who fail to acknowledge the lessons they can learn from their parents and how much parents can teach them.
WORK CITED:
O'Connor, Flannery. Three by Flannery O'Connor. Signet Classic Edition. New York: Penguin Group Inc. 1983. 271-285.
Related Topics