Ethical Issue in Global Health: Vector – Borne Disease/Malaria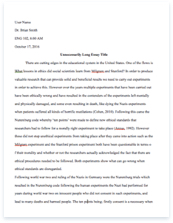 The whole doc is available only for registered users
A limited time offer! Get a custom sample essay written according to your requirements urgent 3h delivery guaranteed
Order Now
One common global health initiative is to eliminate disease worldwide. This has been a global health goal for many years. Diseases range from vector – borne diseases (malaria and parasitic) to non-communicable diseases (heart disease and cancer). This paper will focus on the vector – borne disease of malaria and discuss the ethical problems related to this initiative. Globally there is approximately 3.4 billion people across the world that are at risk of being infected with malaria. In 2015 there were 212 million cases of malaria and 429,000 people died. The biggest area of concern was the African region.
Malaria is one of the most prevalent infections in humans worldwide. Malaria is a life-threatening disease caused by parasites that are transmitted to people through the bites of infected female Anopheles mosquitoes. (WHO, 2018) The parasite causes an acute febrile illness that usually does not appear until 10 – 15 days after exposure. Two out of a total of five parasites cause the biggest threat. The species P. falciparum and P. vivax could cause death, if not treated quickly. Most of the infections are in countries that are underdeveloped. The African region has the largest global burden with malaria being the leading cause of morbidity and mortality. Children under the age of 5 are most susceptible and lead in deaths related to malaria. Pregnant women and the poor are also vulnerable. The environment, social determinants of health, the ethics of vector control, surveillance and research are ethical concerns that need to be considered when exploring the vulnerable populations exposed to malaria. The social and economic difficulties of malaria in Africa are immeasurable and when an increase in vector – borne disease is related to climate, existing global injustice is increased. The topic of interest is how vulnerable populations suffer when exposed to certain diseases and how they are unable to sustain the ability to eradicate malaria like developed countries.
Strategies used to minimize malaria are early recognition of the disease and treatment. Prevention is most pertinent to delaying an epidemic. Many interventions are recommended but poverty-stricken communities lack the initiative to withstand adversity. There is a breakdown without proper resources for the population to retain the information. Many of those exposed have no resources to protect themselves, finances to obtain care, or the education to know if proper treatment was obtained. Important goals to address with vulnerable population of Africa are quality education, reducing inequality, climate action and removing poverty.
Malaria is considered a neglected disease. Neglected diseases are those seriously disabling diseases for which treatment options are inadequate or non-existent. (WHO, 2008) Certain countries have constitutions concerning the right to health care, with South Africa being one of them. This constitution states "Everyone has the right to access health care, sufficient food and water, and the state must take reasonable measure to achieve these rights." (WHO, 2008) Treatment options that are available may be inadequate to those living in Africa. Health care and the availability of essential medications is a human right for all those living in the African region, but the population has the inability to seek out treatment. Unfortunately, the social determinants are a big influence on individuals receiving basic healthcare.
A large and compelling body of evidence has accumulated, particularly during the last two decades, that reveals a powerful role for social factors—apart from medical care—in shaping health across a wide range of health indicators, settings, and populations. (Braveman, 2014) Education is lacking and efforts need to be made to inform those at risk of proper precautions to take protect themselves. Pregnant women need to be given access to vector control and treatments that are provided during pregnancy and the perinatal period. Decreased knowledge leads to illiteracy and the inability to problem solve health concerns when they arise. Providing basic human needs are influential in prevention. Public health nursing can help through advocating the need for improving living standards and promoting education to the underprivileged. Public health nurses can develop health-promotion strategies that influence the environmental conditions that determine how people become sick in the first place. Clinicians can be key resources for local, state, and national policy makers on the crucial issue of health equity for the vulnerable, including those facing the greatest social obstacles. (Braveman, 2014)
Anthropogenic climate change affects human health in many ways and has the potential to alter malaria disease patterns by changing the habitats of Anopheles mosquitoes, and by displacing human populations. (Jamrozik, et al. 2015) Transmission also depends on climatic conditions that may affect the number and survival of mosquitoes, such as rainfall patterns, temperature and humidity. (WHO, 2018) A climate high in temperature and humidity harbors mosquitos which can cause an epidemic in areas where there is no immunity. Africa is at an increased risk due to its high altitude. Those living in the area that have the least amount to do with the climate change are at the most risk. Posing the reason to minimize climate change to prevent further spread of the disease.
Current research is being done to further study the nature of the disease, test drugs and vaccines, and to develop models for further studies. Even though these studies have not caused death to any individuals, the studies have caused many other health concerns. Since there is minimal harm, some tests have an ethical concern, but studies remain important to test vaccines and treatments for the endemic regions. Guidelines need to be developed to ensure the safety of the participants, so that research can continue to improve treatments against malaria. Ethical debates about malaria control and research have always been an issue. The recent improvements in funding and control initiatives have in part been driven by an awareness of these injustices: that those least able to access malaria control mechanisms are often those who need them most, and that there are significant research gaps for malaria and other diseases of poverty. (Jamrozik, et al. 2015).
The World Health Organization is working to achieve vector control for the African region and other areas. In this initiative the WHO is providing programs to prevent and respond to outbreaks before they turn in to an epidemic. To achieve this a re-alignment of vector control programs is required, supported by increased technical capacity, improved infrastructure, strengthened monitoring and surveillance systems, and greater community mobilization. (WHO, 2017).
In conclusion, implementing healthcare goals and addressing multiple ethical concerns on a continuum is a large component of the global health initiative concerning vector – borne diseases. There is always room for improvement concerning underdeveloped countries and their prevention methods. Ultimately, preparing strategies for the underdeveloped countries is high priority to the success of disease elimination.
References
Braveman, P., & Gottlieb, L. (2014). The social determinants of health: it's time to consider the causes of the causes. Public health reports (Washington, D.C.: 1974), 129 Suppl 2(Suppl 2), 19-31.
Jamrozik, E., Fuente-Nunez, V., Reis, A., Ringwald, P., & Selgelid, M. (2015) Ethical aspects of malaria control and research. Malaria Journal 14:518 https://doi.org/10.1186/s12936-015-1042-3.
World Health Organization. (2017, October 31) Vector – Borne Diseases. Retrieved from https://www.who.int/news-room/fact-sheets/detail/vector-borne-diseases
Office of the United Nations High Commissioner for Human Rights. (2008). The Right to Health, Fact Sheet 31. ISSN 1014-5567. World Health Organization.
Related Topics