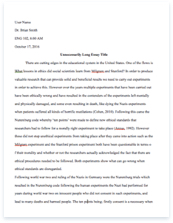 The whole doc is available only for registered users
Pages: 6
Word count: 1302
Category: Customer
A limited time offer! Get a custom sample essay written according to your requirements urgent 3h delivery guaranteed
Order Now
All car rental companies provide customers with the temporary use of a car. How do Enterprise's original target customers in the local or "home-city" market—and their needs—differ from the target customers of their major competitors such as Hertz and Avis? How does Enterprise match (or not) the needs of their local market customers? The local market consists of (i.) discretionary and (ii.) repair/insurance replacement rentals. Both categories place a premium on price (relatively lower), location, and customer service. Additional value added services such as pick-up and drop-off enhance the benefit the local audience receives. The airport market customer base consists of (i.) business and (ii.) leisure rentals. These renters, particularly the business travelers, place a premium on speed of check-out/check-in, vehicle availability, and brand. Additional value added services such as in-car GPS enhance the benefit these customers receive.
Enterprise's unique combination of assets/activities allows the company to meet the needs of its target customers in ways other rental car companies (e.g. Avis and Hertz) cannot. Enterprise's large network of suburban locations allows for low prices and convenience/proximity to its customers; the company also provides top-notch customer service by carefully hiring and training its employees. What choices of assets and activities has Enterprise made in order to provide car rentals with the attributes you described in Question 1? In other words, what makes their particular car rental "product" possible and profitable? Pay particular attention to trade-offs. Large network of franchises outside airport: Neighborhood (vs. airport) locations cost less and allow Enterprise to provide a significant price advantage and proximity to its target customers. The major trade-offs entail foregoing a significant portion of the airport rental car market (~$10B). Customer-focused HR culture: Enterprise hires college graduates with people skills and work ethic.
This in turn drives customer service and relationships with dealers and repair shops. Enterprise also reduces operating expenses by having its employees engage in marketing. The primary trade-off involves the fact such HR practices are costly and result in high turnover. Sophisticated IT: Enterprise's sophisticated IT system is resource intensive (1400 FTEs, $250M) but allows Enterprise to engage in unique activities (e.g. ECars, ARMS, ESQi, fleet management) that create added value for customers and lower costs (e.g. approach to car purchasing). The trade-off is that Enterprise has fewer resources to engage in marketing or other initiatives. Relationship with dealerships/service shops and insurance companies: In leveraging the above three assets and activities, Enterprise has converted these relationships over time into assets themselves. Enterprise's HR strategy contributes significantly to the firm's success and consistent profitability.
Why are people so important to Enterprise? What are the strengths and weaknesses of this HR strategy? Are you troubled by Enterprise's high employee turnover rate, given their substantial upfront investment in employee recruiting and training? Why people are important: Values such as customer service, teamwork, and integrity are cornerstones of the company's culture, business model, and success. In particular, people are a key asset based on which the company creates its advantage. HR strategy strengths/weaknesses: Enterprise keeps salaries low by hiring lower-tier college graduates; by ensuring the hires have college diplomas, the firm protects against the downside risk that the employees don't meet a minimum IQ threshold. Hiring from within gives employees upside and preserves culture.
Variable pay and giving managers P&L ownership also incentivize performance. On the other hand, the HR strategy results in extremely high turnover which can jeopardize team continuity and morale. Hiring the "fraternity guys and jocks" takes a toll on diversity of the employee base and may make people who do not fit the stereotype feel unwelcome. Also, while variable pay has benefits, it fosters an overly competitive culture. Moreover issues outside of an employee's control can negatively impact him/her financially and professionally (e.g. no promotion). High turnover: No. Enterprise's career path and compensation structure is designed for employees who will build the business for the long haul while filtering out employees who will not be a good fit and who probably would not thrive as managers or executives.
While up-front costs are high (recruiting, training, etc.), Enterprise pays relatively low base salaries, thereby mitigating the financial impact of attrition. In fact, the high turnover rate can be seen as an advantage. The case mentions that both Avis and Hertz have begun to enter the local ("home-city") car rental market. Do you think they will be able to replicate Enterprise's success in this market? Why or why not? (In answering this question, you should think about the feedback from activities to assets. In other words, think about how the Enterprise's choice of activities may have helped them create assets that they might not otherwise have had.)
While Avis and Hertz may be able to gain more share of the local market, it is unlikely they will be able to replicate Enterprise's success. Enterprise is and has always been the dominate player in 'local' and therefore has the benefits of being the first mover ("speed") and having an established set of assets that allow the company to be successful in this market; such assets include: ideal neighborhood office locations, strong relationships with insurance companies, relevant company slogan ("We'll pick you up"), emphasis on customer service, people first strategy, etc. While Hertz and Avis have some assets relevant to the local market, they are significantly behind Enterprise. What do we learn from the Enterprise case?
Culture can be an extremely valuable component of a company's competitive advantage, especially when a company's culture is pervasive throughout all aspects of an organization – from the people hired, to the way employees are trained/developed/motivated, and to the way customers are treated. A company thrives by developing unique tools and strategic customer relationships (e.g., IT leading to ARMS, strong relationships with insurance companies). Lastly, the most successful companies are those that understand the assets they have and know how to create a sustained advantage based on those assets, while in parallel being open to listening to customers and being open to leveraging assets to carefully expand into adjacent markets (the airport market in the case of Enterprise).
How do you think growth in the popularity of Zipcar and other car-sharing services will affect (positively or negatively) Enterprise's future profitability? What, if anything, should Enterprise do in anticipation of continued growth in residential car-sharing? Zipcar and other similar car-sharing services represent more of an opportunity than a threat to Enterprise's future profitability. This is because car-sharing services fill an "unmet" need and expand the base of potential car renters. The target consumers for car-sharing services are looking to rent for less than a day (usually 1-3 hours) and like variety; they also may include corporations that desire access to a fleet of cars without the hassles associated with managing such a fleet. Customers in this market are likely to be younger, reside in cities, and travel short distances (< 20 miles).
Conversely, the typical Enterprise renter likely lives in a suburb and has a temporary need for a car that could last at least a day, as opposed to hours. Enterprise already has many of the assets (e.g., IT systems, expertise, geographic range) necessary to capture consumers in this segment. Enterprise should continue its expansion into car-sharing services. Similar to how Enterprise acquired Alamo and National to expand into the airport sector, the company should also consider acquiring Zipcar to help it capture this market quickly. The rationale for this is best summarized by CEO Andy Taylor's statement: "As the dynamics of our industry continue to evolve, it's clear to us that the future belongs to the service providers who offer the broadest array of services for anyone who needs or wants to rent a car." Car-sharing services would seem to fit the goal of this statement very well.
Related Topics