Employment Law Compliance Plan Argumentative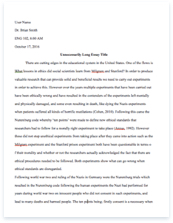 The whole doc is available only for registered users
A limited time offer! Get a custom sample essay written according to your requirements urgent 3h delivery guaranteed
Order Now
Per your request, I have formulated an employment law compliance plan for a Mr. Galvan. Mr. Galvan is a Human Resources Representative for Bollman Hotels and the hotel chain is currently located in Minneapolis, Minnesota with hopes to expand into the international market, starting off with India. The hotel chain currently employs 25,000 employees and they plan to increase the workforce by 25% in their new location. The purpose of this memorandum is to provide a plan that can be incorporated into the business strategies for a successful entry into the international market. This memorandum will examine several employment laws and the penalties of noncompliance. The US and India's employment laws equally address minimum wage, equal rights and opportunities, discrimination, limitations and prohibitions on employment of children. I combined both US and India employment laws for consistency in compliance aligned with company policies and guidelines in the US. Below is a list of applicable employment laws and consequences for noncompliance:
1. Minimum Wages Act 1948
2. The Child Labour (Prohibition and Regulation) Act, 1986
3. Equal Remuneration Act, 1976
4. Delhi Shops and Establishments Act 1954 Minimum Wage Act 1948
The US Fair Labor Standards Act (FLSA) provides standards for the basic minimum wage and overtime pay for private and public workers (Cascio, 2013). India has a Minimum Wages Act of 1948 that sets wages for the different economic sectors and State governments have minimum wage schedules, and another article that covers the prohibition of child labor under 14 years old in factory, mine or hazardous work environment ( Delhi Labour Department, 2014). Noncompliance of the minimum wage act are very costly. The authority can enforce penalty up to 10 times the difference in minimum wages that was outstanding and paid. Child Labour (Prohibition and Regulation), 1986
Child labor is a serious act and surpasses internationally. In the US, employers who violate child labor laws are subject to high fines for each child. In India, the Child Labour (Prohibition and Regulation) Act prohibits the engagement of children below the age of 14 years in certain employments and regulates the conditions of work of children in certain place of employments (Delhi Labour Department, 2014). Noncompliance with the employment of any child or permits any child in the occupations, in which employment is prohibited will be sentenced to prison up to one year and/or receive a fine no less than 10,000 Rupees (162.00 USD). Equal Remuneration Act, 1976
The Equal Pay Act 1963 requires equal pay for men and women doing substantially equal work in terms of skills, effort, and responsibility and working conditions in the US (Cascio, 2013, p455). The Equal Remuneration Act of 1976 aims to provide for the equal payment of equal remuneration to men and women workers and for the prevention of discrimination on the ground of sex against women in the matter of employment (Delhi Labour Department, 2014) According to the Act, remuneration means the basic wage or salary and any additional payments payable­­ to a person employed in respect of employment or work done in such employment, if the terms of the contract of employment, express or implied, were fulfilled". (Delhi Labour Department, 2014). Noncompliance of the provisions of the Act, the consequences provided is a fine which shall not be less than 10,000 rupees, but which may extend to 20,000 rupees (325.00 USD) or with the imprisonment for a term of 3 months or more depending on the severity of the offense. Delhi Shops and Establishments Act 1954
The objective of the Act is to regulate the working and employment conditions of worker employed in shops and establishments including commercial establishments. The Act generally provides for fixation of working hours, rest intervals, overtime, holidays, leave, termination of service, maintenance of shops and establishments and other rights and obligations of the employers and employees (Delhi Labour Department, 2014). Noncompliance can led to a fine no less than 25 rupees and can extend to 250 rupees. Penalties can also include imprisonment up to three months. Recommendation
Bollman Hotels should make it their mission to remain in compliance with the laws presented in the memorandum. The organization should also remember the consequences before committing any unlawful act. Employment laws are very integral to a company and being in compliance with set laws, an organization can gain a great presence in the international market.
If you have any further questions, please let me know.
Kendre Adams
References
Cascio, W. F. (2013). Managing Human Resources: Productivity, Quality of Work Life, Profits (9th ed.). Boston, MA: McGraw-Hill/Irwin. Delhi Labour Department. (2013, March). Acts Implemented. Retrieved from http://www.delhi.gov.in/wps/wcm/connect/doit_labour/Labour/Home/Acts+Implemented/
Related Topics