Employment and Credit Reports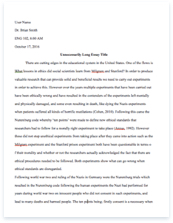 The whole doc is available only for registered users
A limited time offer! Get a custom sample essay written according to your requirements urgent 3h delivery guaranteed
Order Now
Throughout the years, the laws in the United States have allowed a vast change in the process of obtaining a job position.  One of the newest and most controversial changes is employers doing a credit check on future employees.  Pre-employment screening is an invasion of one's privacy and this practice needs to be stopped in the United States before it affects not only an individual's privacy, but their credit score.
Many people in the United States are already scared of the amount of competition they are up against for a job position.  It seems that education, experience, honesty, and reliability are no longer enough to obtain a job position in the United States.  Now some companies must perform drug screening and criminal background checks just as a consideration for the position.  On top of all of this, many potential employers are now running credit checks on their employees.  These employers are claiming that it is the perfect way to find out whether or not a potential employee is capable of being trustworthy and reliable.  They base credit history and responsibility as a reflection of how an individual will perform on their job.
Trust is one of the main reasons for employers to hire someone.  But, when someone's privacy is at stake, they begin to wonder if they can even trust the future employer.  Many circumstances can affect a person's credit report.  If someone is currently going through a divorce, their credit may still reflect that of their soon to be ex-spouse.  This is something that should be of no concern of the employer.  If someone was delinquent on a car payment due to unforeseen circumstances, then why should they have to explain themselves to a potential employer for a job that requires flipping hamburgers?  It puts the potential employee in an awkward and uncomfortable position.  By law, the potential employer may call prior workplaces but are limited to the information they may obtain.  When they obtain a credit report, they have no limitations to the information they obtain which makes it unfair to the individual.  It may also reveal information that is of a personal nature and of no concern to the employer.
On the other hand, there are some positions that a credit check should be done for.  A good example is the recent Enron scandal.  If a credit check had been done on all of the employees and corporate members of the company, maybe things would not have turned out the way they did.  But, there are still many financial institutions and prominent job positions that that lack a credit check and should require them.  The Enron scandal is a good reason for individual's to have a credit check done, but it still does not reason the invasion of privacy that a credit check by an employer causes.  When an individual's credit history is simply viewed by someone it remains as viewed by the potential employer for two years on the individual's credit history.  If someone were to apply with two rival companies this would not be in their favor.  This could cause them to not get either job if the companies felt that they were working for both of them, or that they were potentially working for a third rival company that didn't require a credit check.
All of the factors of a person's life are listed on their credit.  From what type of loans they have and what they are used for to what department stores they regularly shop at.  If someone owns a Target store card and has just applied for a job at Kmart it may not look good for the potential employer, and would thus be causing a conflict of interest.  This type of invasion of privacy needs to end so that good people can obtain jobs without being judged by personal habits that are non-job related.  Trust can only truly be established by being earned, not by what a person's credit history or score is.
Related Topics