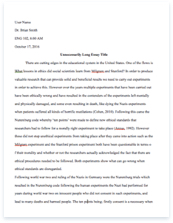 The whole doc is available only for registered users
Pages: 7
Word count: 1567
Category: Workplace
A limited time offer! Get a custom sample essay written according to your requirements urgent 3h delivery guaranteed
Order Now
One important role of employee evaluation – motivation — derives its efficacy from psychological forces. "Motivation is the amount of effort that one desires to expend in a given direction (toward a goal). The amount of effort one does expend to reach a goal is assumed, in the absence of the imposition of constraints on effort expenditure, to be in direct proportion to the amount of effort one desires to expend." (Grant 1)
                For businesses and organizations, highly-motivated employees form a crucial component of success, and also, expressed in negative terms, failure to secure motivated workers results in a loss of productivity. Those businesses or organizations that utilize "a system for regularly assessing training needs and addressing those needs is an organization which is likely to have employees who are convinced their abilities are being kept at a level sufficient for high performance." (Grant 27)
            The expense and time-consumption of semi-annual or annual formal employee evaluations usually results in a minimal expenditure for crucial benefits. Such evaluations, done in connection with regular performance reviews are especially potent factors in keeping workers in touch with their skills and abilities, what is expected of them and whether or not their performances are substantially on or off target for their job descriptions and designations.
            It is important for workers to know they are bing evaluated with regularity: "If you do not see performance being measured, it is hard to accept that rewards can ever legitimately depend on performance. […]Full-blown semi-annual evaluations of the employee's total performance should be coupled with weekly, if not daily, observations and feedback on performance. (Grant 53)
            Regular evaluations help emphasize to workers that management is taking their performance seriously and that rewards and promotions are tied into the evaluations. Performance assessment thus becomes a key motivating signal to workers. "More than just the evaluation is needed though. Results of evaluations should be fully communicated to workers so they can see for themselves how their performance and the rewards they receive relate." (Grant)
            Self-assessment can also play a crucial role in developing and consolidating worker morale and worker motivation. When employees are asked to self-evaluate, it allows them to view their skills and performance from the point of view of management; the two evaluations can be looked at in relation to one another to identify areas where gaps in perception or understanding may occur. "Sometimes self-assessment systems can be coupled with other evaluative mechanisms to help minimize defective communications of results between evaluators and those being evaluated." (Grant 53)
                It must be remembered that evaluations of any kind are practically worthless unless they are supported by authentic action. Even if evaluations ans spot-reports are done regularly and with the best of resources and intentions, the results may prove to be negligible if rewards and incentives fail to be made available in light of the routine evaluations: " even though done regularly and fed back to workers, are rather useless if employees perceive those evaluations to be invalid. Rewards granted contingent on invalid assessments of performance can quickly destroy motivation and be a total waste of resources for the company." (Grant).
            Another possible problem or obstacle with employee evaluations is the role that personal biases may come to play in the course of course of conducting employee evaluations. If an objective standard is failed to be secured, the results of any form of evaluation will be colored Employee and damage the potential for the evaluations to play a role in increasing productivity or motivation or giving a clear indication of employee performance. "To be valid, evaluations must be as objective as possible. Personal bias cannot play a role here. Whenever possible, measurements should involve "counts"–quantification of the variable under study. Whenever subjective descriptions of performance are used, too many sources of error can creep in." (Grant)
            Part of the strategy in avoiding subjective bias involved refusing to confuse worker evaluations with personal evaluations; this means employees should not be evaluated on matters of personality traits, customs, habits or likewise attributes, but strictly on their performance at their respective jobs, irrespective or personality. Also, in this regard, high and low priority tasks must be identified and regarded/evaluated in light of their weight. "To be valid, evaluations must also recognize high and low priority tasks. Good performance on an important task should far overshadow poor performance on a relatively unimportant task. All measurements of performance must not be identically weighted if evaluations are to be valid. (Grant 53)
            A recent study of restaurant managers illustrates the efficacy of regular employee evaluations and worker-incentives toward the increased speed and production quality of service. "The managers of the restaurants in this study reported few activities, such as training or increased rewards, to stimulate employee delivery of high quality service[… ] Although a few employees did mention increased tips as an incentive, no employee identified any management-provided incentives to deliver high quality service. This leads to the conclusion that employee understanding of management commitment, by itself, is a strong contributor to quality service." (Reeves, and Hoy)
            The conclusion that overt and regular performance evaluations of employees provides demonstrable results in worker productivity and quality of service is emphasized by the above mentioned study, as well as by "anecdotal" evidence of individual employee career-paths, many of which are underscored by the influence of employee evaluations. "At the Ritz-Carlton, a luxury hotel in New York, "performance evaluations are a time for celebration," according to Theal Gilbert-Jamison, vice president of training and development for the Ritz-Carlton Hotel Co." (Brown 45)
            In the case of the Ritz Carlton, management provided daily feedback on employee performance and also performed periodic formal evaluations, which are viewed as a time for mutual goal-determination between management and workers. "Managers provide employee feedback on a daily basis, so the performance evaluation period (if you could even call it that) is used to help employees form an action plan and establish future goals." (Brown 45)
            Productive use of employee evaluations also involves a bolstering of employee self-esteem through the use of feedback and incentives: "the company's performance evaluation period is designed more as an annual recognition time, where the employee participates in a rehiring ceremony. "Our employees come to work to create excellence everyday, so we want to uplift them during performance evaluations," she adds. (Brown 45)
            Important components of productive employee evaluations include effective listening, the avoidance of subjective responses or biases, the clarification and consistency of job-description and responsibilities, and as mentioned, evidence that evaluations provide concrete information for the resulting policies and opportunities in the workplace.
            Some guidelines include:
Conduct stress-free evaluations. * Do performance appraials in advance, using records for support. * Assess employees performance for a reasonable time period, such as six months to a year. * Don't compare employees to each other, but evaluate them on the basis of specific standards and expectations. * Don't assume experienced employees perform at higher levels than less experienced employees. * Budget 45 minutes to an hour for a performance evaluation meeting. * Make sure that you get feedback regarding your comments from each employee. * Ensure that there is a record of all employee-performance meetings. (Brown 45)
                The importance of periodic and productive employee evaluations extends beyond factors of motivation and morale of workers; it is also a useful mechanism by which to identify and promote especially effective or talented workers, or simply to assure that workers are in the right jobs; that is, jobs suited best to their individual skills and abilities.
            Some individuals, due to the impact or worker evaluations, may discover skills of proficiencies that they were unaware of having prior to their evaluation by an employer. Many workers, sensing opportunity from periodic and meaningful employee evaluations may seek to improve their productivity and performance as a method by which to secure rewards and greater compensation for their labor.
 "Terri Dean knew that she found a place to call her own the moment she stepped through the doors of her company for the first time. Today, she is president of Verizon Connected Solutions, a wholly owned subsidiary of Verizon[…] During her 26 years with the company, an important part of her ascent up the corporate ladder has been a series of positive workplace performance evaluations." (Thompson 88)
            Conversely, workers who are denied periodic, regular, and meaningful employee evaluations are liable to feel their work is unappreciated or of little consequence to management, failing to secure high-motivation and worker morale. (See table one).
Works Cited
Brown, Monique R. "Let's Celebrate!: Use Performance Evaluations as a Time to Praise." Black             Enterprise Jan. 2002: 45.
Grant, Philip C. The Effort-Net Return Model of Employee Motivation: Principles, Propositions,          and Prescriptions. New York: Quorum Books, 1990.
Luthy, John. "New Keys to Employee Performance and Productivity." Public Management Mar. 1998: 4+.
Reeves, Carol, and Frank Hoy. "Employee Perceptions of Management Commitment and Customer Evaluations of Quality Service in Independent Firms." Journal of Small Business Management 31.4 (1993): 52+.
Thompson, Carla. "How's Your Performance? Workplace Evaluations Can Work to Your Benefit." Black Enterprise June 2004: 88.
Related Topics