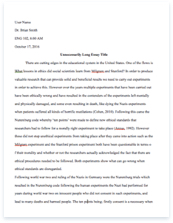 The whole doc is available only for registered users
A limited time offer! Get a custom sample essay written according to your requirements urgent 3h delivery guaranteed
Order Now
An individual's perceptions of belonging evolve in response to their interaction with their world. Discuss this view with detailed reference to your prescribed text and the set audio related text. Belonging is an integral desire of human nature; it is the perceptions held by an individual, which enables them to build connections with themselves, and with others. An individual's perceptions of belonging evolve in response to their interaction with their world, due to the greater understanding they gain as a result. Not belonging to society by choice, however, can be viewed as an act of self-liberation and a pathway to individualism. This idea is illustrated in Emily Dickinson's nineteenth-century collection of poetry, where she demonstrates how her reclusive lifestyle, disassociating herself with her society, has resulted in the development of a stronger self-identity. Ultimately, the idea of shaping a sense of belonging by purposed seclusion from society is expressed in the texts. A sense of belonging can be developed from one's choice to cease interaction with their world, and instead to concentrate on the satisfying of personal desires.
Through Dickinson's poetry, she illustrates her resilience after experiences of rejection from society, and her aspiration to be accepted in posterity. In This is my letter to the world, this notion is conveyed when she incorporates a grieved, self-pitying tone when discussing "the world / that never wrote to me". From the rejection that she has received in response to her desire for social recognition, Dickinson displays her lack of concern for society with the absence of any criticism or anger. Rather, she expresses an emotional determination to develop a stronger self-identity. In addition, the "hands I cannot see" act as symbolism for the degree of isolation that Dickinson feels from society. A sense of ambiguity is created as she emphasises a trust in her work to posterity, whilst also emphasising her choice to separate herself from the present society. Similarly, in I had been hungry all the years, Dickinson refers to herself as a "berry of a mountain bush / transplanted to the road", illustrating her alienation from society. She utilises this simile in order to compare her own misplacement to the misplacement of nature in the manufactured world.
In her poems, Dickinson conveys no intention to belong into her existing society. Alternatively, she exchanges her social belonging to become a self-liberated persona, eventually gaining respect in posterity. The sacrifice of one's interaction with their world is essential in the development of a complete belonging to oneself. This sacrifice occurs by the adoption of a paramount concern for oneself only. Dickinson explores this idea in I gave myself to him, where the persona questions her commitment to a man. "Isles of spices" embodies the hope and excitement she feels about belonging to a relationship, having exotic, mysterious qualities. However, through the intentional use of commercial terms throughout her poem, such as "merchant" and "purchaser", Dickinson suggests that such a romance is a contract, holding the negative connotation of an eternal commitment. Thus the persona is represented to reject the relationship, in the fear that she will lose her self-identity. Dickinson supplements this conception in I had been hungry all the years, where hunger is an extended metaphor for her desire for social recognition and a sense of belonging.
Dickinson portrays the persona to disobey society's norms when the persona only "touched the curious wine", instead of drinking it in the spirit of human communion. In addition, the persona is portrayed to no longer want what society has to offer, "Nor was I hungry", acknowledging that she would give up too much of herself as an individual to be able to belong. In these poems, the sacrificing of social participation is conveyed to be a key aspect in the development of a belonging to oneself. An acceptance of the separation from the world, combined with an appreciation for the natural world, will result in the attainment of self-liberation. Dickinson illustrates this notion in This is my letter to the world, in which she capitalizes 'Nature' in order to portray the persona's gratitude for the beauty and mystery of nature, and the importance of nature in her life.
Furthermore, Dickinson depicts nature as a "tender majesty", which reinforces the natural world's significance, and implies that her separation from society is no longer a concern when she is enjoying the simple pleasures of nature. Similarly, in I had been hungry all the years, Dickinson portrays nature to be greater importance than human companionship through personification and giving it ownership of a "dining-room". Through the representation of recognition within the dining room, Dickinson emphasises nature's power to provide her with the sense of connection which is absent in the relationship between her and society. Ascetisim is used to show that the persona has accepted her lack of belonging to society for the enjoyment of the simplicity of nature. Through her poetry, Dickinson portrays that not belonging to society by choice can fulfil a sense of belonging to self. She illustrates the importance and value of Nature that she holds which in turn results in her seclusion from society. Thus one's interaction with the greater world alters as their perception manipulates their sense of belonging or not belonging.
Related Topics