Emerging Issues in Multiculturalism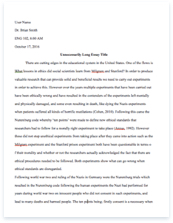 The whole doc is available only for registered users
A limited time offer! Get a custom sample essay written according to your requirements urgent 3h delivery guaranteed
Order Now
Ethnic Socialization and Religious Pluralism In this multicultural world, the lack of a multicultural approach in psychology detracts from the goals of psychology and the veracity of psychological research. How deeply Is the European American and Western viewpoint engrained Into the awareness of those llvlng In western society? In polntlng out that some Introductory psychology texts are beginning to address this lack of a multicultural approach, Segall (1999, p. 327) says, ongue-in-cheek. bout cross-cultural psychology, although this also applies to multicultural psychology), that we should see even more multicultural texts in the new millennium, but "as ethnocentrically measured on the Western, Christian calendar. "
Even a simple phrase like "new millennium" is ethnocentric. There is a host of emerging Issues in multicultural psychology, and here we will address two: ethnic soclallzatlon and issues created by religious pluralism across cultures. we will describe the impact ot these issues on society and explain how these issues will ffect the interaction among culturally diverse groups.
Multicultural psychology is about taking into account the effect of culture on individuals and their behavior. "Multicultural means multiple ways of knowing or multiple worldviews. By its very nature, a multicultural approach is complex and contextual. What applies in one context may not necessarily apply in another" (Hall, 2010, p. 2). In the attempt to understand that socialization does not simply occur In the same manner across the globe, the multicultural approach has begun to examine a specific type of ocialization called ethnic socialization.
It "emphasizes one's cultural heritage and how to deal with difficult experiences as an ethnic minority (Huynh and Fuligni, 2008). Prior to this, the research on socialization would be primarily conducted with Western, Western European, or American cultures on the erroneous assumption that it applied (or should apply) to most cultures. An ethnic socialization message from a parent to an adolescent may be about not trusting someone from another culture. In the particular study examined here, the soclallzauon messages from parents to adolescents were examined.
The adolescents were trom European, Mexican, and Chinese, backgrounds. The Chinese and Mexican teens "reported more cultural socialization and preparation for bias messages than their peers from European backgrounds (Huynh and Fuligni, 2008, p. 1202). Further, Chinese adolescents received more messages from their parents about mistrusting others, especially when compared to the teens with European backgrounds (Huynh and Fuligni, 2008, p. 1202). In addition, positive cultural messages played a role In the family dynamics.
These positive messages "accounted for the higher levels of motivation among dolescents from Chinese and Mexican backgrounds as compared with their equally achieving peers from European backgrounds" (Huynh and Fuligni, 2008, p. 1202). The impact of these issues of ethnic socialization on society is part of the clash and misunderstanding between cultures. We do not make a normative Judgment here; this is just an observation. Whenever diverse cultures come together, issues of the persons involved in the interaction are, so that the misunderstandings can be appropriately negotiated.
Because the human being is an ethnocentric creature and orms ingroups and outgroups on an almost automatic basis (Segall, 1999, p. 277), the preparation for bias messages and the messages of mistrust given by the parents are reality-based. How these issues will affect the interaction among culturally diverse groups? For a psychologist who knows the multicultural issues and uses this knowledge in her daily practice, she may be able to minimize ingroup/outgroup formation between sets of clients.
For example, the clients with a Chinese background may attempt in group therapy to form an ingroup with the clients from a Mexican background, the basis of which is their shared mistrust for the group of clients who are European-American. Knowing about the research in these areas may help the therapist bring out issues as these ingroups and outgroups are actually forming in therapy, and thus she may help her clients see more about the ethnocentricity that they themselves are displaying. We now move to issues created by religious pluralism.
Pluralism means various interest groups operating if not in harmony then at least in tandem. In a pluralistic society, various religions may have t least a civilized respect if not a mutually beneficial relationship. However, the reality is today that many persons with differing religions views do clash. However, multiculturalism tells us that this need not be the case. How is this so? The traditional religious view, as well as the traditional approach to psychology, tends to be hegemonic.
But the multi-psychological approach shows us otherwise: "Whereas the assumption in traditional psychology is that theories and research are generalizable, the assumption in multicultural psychology is that there are both niversal and culture-specific phenomena, with an emphasis on the latter" (Hall, 2010, p. 2). Thus, we Jettison the hegemonic view that there is only one right way. As noted above, multiculturalism is about multiple worldviews. This step is happening within religions and across religions. The Christian church in the United States is beginning to embrace multiculturalism.
There is notable interest in ending ethno- racial divisions among Christians, and a growing number of churches are finding some success in this endeavor. … the multicultural church is a new social institution eveloping in response to the growing ethnic diversity in the United States" (Garces- Foley, 2007, p. 09). It could be argued that this is simply an ingroup being formed against other religions as outgroups, except now the ingroup is more culturally diverse. There is no real progress made because the ingroup vs. outgroup mentality has not been overcome.
However, given Sumner's original research on ethnocentrism in the early 20th century (Segall, 1999, p. 277), and all the research done since, the human race ridding itself of ingroup vs. outgroup behavior is likely an mpossible dream. The impact of this issue on society is that for many persons it is a first step to get to know "the other" in a comfortable and agreeable manner and atmosphere "their own church. "Multicultural churches challenge their members to engage with the ethnically 'other' and develop civic skills for living in a diverse society" (Garces-Foley, 2007, p. 209).
Conclusion: Subud as Multiculturalism Another example of the multicultural approach is exemplified by the international nonprofit [501 (c)(3)] charitable and spiritual organization called Subud. It was rom all religions, all cultures, and all walks of come together to do a meditation: "Although Subud is not a religion, many have found a deeper understanding of their own beliefs from the evidence they receive for themselves. … [P]eople of different races, nationalities and religions experience a feeling of harmony from receiving the latihan [meditation] together" (Subud IJSA, 2012).
In the 25 years that this writer has been in contact with persons in Subud, he has seen that the interaction among culturally diverse groups is one of brotherly and sisterly love. The evidence of the otential for harmony between culturally diverse groups can be seen each four years when Subud holds an International Congress. These congresses have been held in the four corners of the globe since the 1950s, and it is amazing to see people who are so different that they cannot speak each other's language, yet they are communing together in mutual understanding and sensitivity.
Related Topics