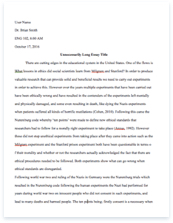 The whole doc is available only for registered users
Pages: 3
Word count: 608
Category: Marriage
A limited time offer! Get a custom sample essay written according to your requirements urgent 3h delivery guaranteed
Order Now
            Teenage marriage is becoming more common in the society and figures show that the number of teen marriages have increased significantly. However, teenage marriage is not that easy to cope with because it is associated with many difficulties.
            Research indicates that teens who marry are more likely to get divorced within 15 years, are more likely to drop out from school and have a higher percentage of not finishing college. It is also associated with higher unemployment rates and higher crime rates. Aside from these, studies also indicate that women who marry during their teen years are more prone to abuse  (Dahl, 2005). Unwanted teen pregnancy often results in teen marriage and this could lead to poverty because as adolescents, they do not have the full capacity to support a family. The partners would have a hard time looking for a well-paying job to support a family because of the absence of a diploma.
            Young mothers who in turn decide to marry has a higher tendency to have a rapid second child birth. Results of one study indicated a connection between living with a partner or a husband and the likelihood of successive pregnancies (Seiler, 2002).
            Many teens also decide to marry early to escape homes that prove to be abusive or problematic (Seiler, 2002). Teens have a tendency to become rebellious depending on the environment that they are exposed to and this rebellion sometimes lead to premarital sex which could eventually result in marriage.
            Living in poverty would affect the future offspring of the teenage couple. The health and psychological states of the children of teen couples would be affected. It has also been attributed to crime because of poverty. These children are often also victims of neglect an abuse because of the many problems that are associated with teen marriage (Dahl, 2005).
            Teen marriage also contributes to the grave problem of overpopulation because teen marriage often produce more children and from overpopulation sprouts other problems that threaten the society and hinder economic growth.
            One aspect that could prevent teenage marriage is preventing teenage pregnancy because out-of-wedlock teen pregnancies often lead to early and unplanned marriage. Due to the pregnancy, the boys feel that they have a responsibility to marry the girls because it is what seems proper. When the marriage is already there, the problems associated with teen marriage sprout one by one.
            The Department of Health and Human Services is showing efforts to reduce teen pregnancies through abstinence from sex. The department initiated programs such as the abstinence education program, grants for community-based abstinence education, adolescent family life program, community coalition prevention demonstrations, and school-based prevention work groups, among others (U.S. Department of Health and Human Services, 2002).
            Teenagers should take into account that marriage comes with a lot of responsibilities and that handling these responsibilities is not an easy task. Aside from  that, they would be an added burden to the society. Teenagers should be wise enough to consider the implications of marrying and not being able to finish college. To reduce teen marriage, teen pregnancy must be prevented.
References
Dahl, Gordon B. 2005 May. Early Teen Marriage and Future Poverty. National Bureau of Economic    Research. 3-5. Retrieved March 27, 2008 from, http://www.nber.org/papers/w11328.pdf
Seiler, Naomi. 2002 April. Is Teen Marriage a Solution. Center for Law and Social Policy. Retrieved     March 27, 2008 from, www.clasp.org/publications/teenmariage02-20.pdf
U.S. Department of Health and Human Services. 10 June 2002. Preventing Teenage Pregnancy.            Retrieved March 27, 2008 from, http://www.policyalmanac.org/health/archive/hhs_teenage_
            pregnancy.shtml
Related Topics