Education Is an Integral Part of Every Child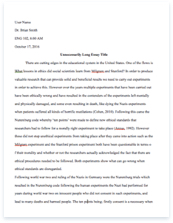 The whole doc is available only for registered users
A limited time offer! Get a custom sample essay written according to your requirements urgent 3h delivery guaranteed
Order Now
What Education Is…
I believe education is the key to success. Education is a voice from within; psychologically we have instincts of right and wrong, and how decisions should be performed. This initial innate capability is the independent starting point of exposure to the outside world of society.
I believe education is a lifelong process, and begins as a birthright. Education is a fundamental stepping stone for every child in society to participate in. Public education should be accessible to all children of the world regardless of their ethnic group, socioeconomic status, race, political affiliations or religion. Education becomes a way of finding ones identity; what am I good / successful at, what am I not so great at, what do I enjoy, etc. Education provides a gateway to answers questions through life and is a gift that everyone should have access to.
I believe education is a social process in order to understand ourselves and our place in society. Education will help manifest intelligence, responsibility, problem solving skills, and deductive reasoning to help meet the challenges in life. Everyone in society plays a role in participating and meeting the demands of any social circumstance. Becoming an active member of society's coherent unit will enable one to find the value in each other's roles. People will leave behind their selfishness of putting their own needs before others, and putting the welfare of society first.
I believe education is about curiosity and imagination, never just about knowledge and skills. To instill the habits of innate curiosity, learners need to be asked unusual questions, perform experiments and not be afraid of mistakes. The assessment of education therefore should not be limited to measuring a student's skills of memorization, knowledge and acquisition. Education allows the expansion of personal exploration through critical thinking and experimentation instead of being taught to act and think in a particular manor where each individual is the same. Education is about development of the individual rather than pumping children out like an industry assembly line as puzzle pieces in society.
What the School Is..
I believe that schools are an extension of the home. Providing education in a school is both directly and indirectly connected to other parts in society. Quality teaching and learning requires good teachers but also quality parenting and quality health care. The child will take up already familiar activities from home and gradually learn the meaning and expansion of the activity so the child can influence the activity. The school helps children expand their sense of values and social cognition in a safe environment.
I believe that schools provide a simplified social life. The school should provide scaffolding of home life and activities that the child is already familiar with. Life is a series of complex problems and activities strung together in a timely manor to compose a day. This is overwhelming to children, and should only be undertaken in small amounts, when the child is ready. Learning simplified skills that start at home, then expanding the skill base knowledge a little further at school allows small steps to be taken by the child. These small steps will not discourage or overwhelm the child, but will create further curiosity and motivation to learn new things.
I believe that schools provide a safe environment for all students. Real life is very complex and overwhelming, and students need a place where they can make mistakes and learn gradually without either confusion or distraction. Not every solution to a problem can be sought out right away, learning deductive reasoning and collaboration with peer's help students learn that they can make mistakes. The school, classroom, and teacher have to make this evident for the student. Compassion and empathy of emotion towards the students makes for this positive and safe learning environment.
I believe that schools are a form of a community within the greater umbrella of society. It is a place where students learn how to collaborate and support one another through team-based projects and class discussions. People do not go through life alone but look to others for help and guidance along the way. This sense of community and camaraderie is learned at school where the school itself is a small community within the city or town itself. Students helping students across the grade levels is similar to the larger community where people work together to meet the demands of work schedules and are not separated into grade levels or ability. Everyone plays a role in the community, ones strengths may be another's weakness, and helping one another to accomplish these realistic goals begin at school with peers.
The Subject Matter of Education…
I believe that the curriculum should provide a framework for teachers with broad learning goals and expectations. Fostering lifelong learning and curiosity within students, while also meeting the curriculum requirements is an important quality of a teacher. A child should not be tested on what they have learned according to the curriculum standards; students understand knowledge at the same rate. A curriculum is merely a set of guidelines of students learning expectations; how the students come about to meeting the expectations are only their business. The teacher is to provide an ample amount of opportunities to draw upon their strengths and convert their weakness to meet these curriculum expectations.
I believe there should be a gradual growth of the subject matter taught. The subject matter should scaffold off of basic skills and knowledge into meaningful, practical and applicable learning to bring the student to a higher order of critical thinking and reasoning. The grade separation of introducing new skills does not start and end in that grade. Reading and writing is taught in grade one, and is further expanded upon in grade two with newly introduced literature and accompanying subjects. This progress is not sequential in accordance of subjects themselves, but in the attitudes of new experience and interests to use these skills. Everything taught lends a new way to communicate what has been learned by the child into a new social setting when the appropriate circumstances present themselves.
I believe all subjects are equally important. Students need knowledge of all subjects to advance and flourish in life. No one subject should be made discriminatory, rather encouraging the exploration of all subject areas, and while accompanying what the student is most passionate about. Subjects are not everything in itself that fit nicely into a box. Subject ideas can expand across disciplines where multiple variants play a role in the solution of the problem. There are the foundation skills in each discipline that apply only to that particular subject, but the further acquisition of skills applied to broader meaning and problems are the materials to life. Literature is the social expression of an experience and can be a copping mechanism for children to write down their thoughts and experiences, or for pleasure. History is the documentation of past phases of society's growth. It is a continuous written record of civilization to learn about the past to make better future decisions. These skills of subjects are to be learned through experience instead of the subjects being known to the child.
The Nature of the Method..
I believe that all students are intelligent. Teachers should and need to make accommodations of tapping into the diverse potentials, interests, and talents of each student. The creation of learning opportunities of how each student is smart, instead of how smart a student's is. No two students learn the same or understand a problem the same; each individual is unique and so each student is uniquely intelligent in their own special way. Learning in a positive environment where students are encouraged to learn in ways that interest them, moments of "awe" understanding occur, motivating the child to further expand their knowledge. Intelligence cannot be measured by tests or be nested into perfect boxes on rubrics. Most children have intelligence of concepts and ideas which fit across categories; demonstrating horizontal intelligence rather than vertical intelligence of something very specific while neglecting the rest.
I believe that assessment should not be used to judge the development of the student. Construction of formative assessment is to guide student's experiences and assist in their learning journey, not to dictate what they have or haven't learned. Assessment should not create fear or uncertainty within the student, but rather accomplishment and excitement to demonstrate what they have learned and how they can use it. Formative assessment, such as Performance Based Assessment is one example where the student can apply their knowledge of a skill without realizing they are being assessed. It is through the acquisition and application of higher knowledge leads to deeper understanding of what was learned rather than what was not learned.
I believe that a good teacher aims to create a positive learning environment. Teachers are to inspire and empower the learners to ask questions about real problems in the world, and not be afraid to make mistakes. Teachers should start teaching with the students questions in mind instead of starting from a book and the curriculum. Anywhere can be a positive learning environment for a student; classroom, park, hallway or a market, as long as the child feels safe to be in that environment and learn is the primary focus.
I believe teaching is a combination of a science and a craft; the ability to teach knowledge but also introducing creativity when dealing with unpredictable elements. Meeting the curriculum needs, teaching strategies and theories provides as a guide, as the dynamics between the teacher and students, curriculum, learning environment and texts is full of uncertainties each day or minute in the classroom. There is no such thing as a completion of a lesson; student understanding and comprehension dictate the pace of the lesson. If a student(s) does not understand what is being taught, the teacher does not push forward in the lesson, but finds alternative ways to teach so the student can understand.
Related Topics