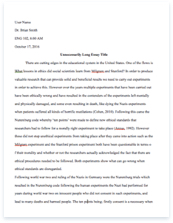 The whole doc is available only for registered users
A limited time offer! Get a custom sample essay written according to your requirements urgent 3h delivery guaranteed
Order Now
Edgar Allan Poe was the man who pioneered in mystery tales and wrote his last plot with his own life and blood.  Until now, no one can tell how his life ended, except that his lifeless body was found sprawled in the streets of Baltimore.
Was he murdered?  Did he die of a dreaded disease?  Was he poisoned, or maybe mugged?  Was it really his body?  On the day he died on October 7, 1849, there were no DNA tests to confirm his identity.   In the October 9 evening edition of the New York Tribune, a scathing announcement was made:  "Edgar Allan Poe is dead. He died in Baltimore the day before yesterday. This announcement will startle many, but few will be grieved by it" (Ludwig, 1849).
The announcement was signed by Ludwig, later revealed to be Rufus Griswold.  Could he be the culprit?  How could he make such a vile obituary!
Edgar Allan Poe was an American poet, short story writer, playwright, editor, critic, essayist and one of the leaders of the American Romantic Movement, a literary form that stressed nature and individuality along with the power of the imagination.
He pioneered in writing detective fiction and crime stories, which became the repository of his macabre plots, a deeply personal preference that would later inspire the likes of Alfred Hitchcock, also known as the Master of Suspense, and drew acclaim from poet Walt Whitman, who said "Poe's verses illustrate an intense faculty for technical and abstract beauty, with the rhyming art to excess, an incorrigible propensity toward nocturnal themes, a demoniac undertone behind every page. … There is an indescribable magnetism about the poet's life and reminiscences, as well as the poems."
Poe's psychological thrillers examined the depths of the human psyches even without the readings from Sigmund Freud, who founded the psychoanalytic school of psychology but was not yet even born during Poe's time.  If he had read the works of Freud, he would have realized that his own life was marred by tragedies, beginning with the death of his biological parents when he was only three.  His works contained glimpses into his inner feelings, a darkly irascible behavior, quietly obsessed with death and violence, yet restrained by his poetic genius.
Another theory was that he planned his death himself to set off one of the most bizarre "whodunnit?" plots of all time.
His first encounter with rejection was when his father left him at the age of two.  One year later, he came face to face with death when his mother passed away.  Left alone and abandoned, the young toddler was brought into the home of John Allan, a well-off gentleman, who spoiled his adopted son but was also a strict disciplinarian.
Allan invested to give him a good education, first in England, then in the United States.  The first acknowledgement of his literary genius was given by Professor Joseph H. Clarke, who wrote:    "While the other boys wrote mere mechanical verses, Poe wrote genuine poetry; the boy was a born poet. As a scholar he was ambitious to excel. He was remarkable for self-respect, without haughtiness. He had a sensitive and tender heart and would do anything for a friend. His nature was entirely free from selfishness."
Poe studied college at the University of Virginia, but started showing signs of his eccentricity and was dropped out of the list over gambling problems. In 1827, he went to Boston and sustained himself as a clerk and a newspaper writer.  Unable to earn enough, he enlisted in the military as a private, using the name "Edgar A. Perry" and claiming to be 22 years old although he was only 18 at that time.
After serving only two of five years that he was supposed to be in the military, he revealed his real identity to his commanding officer Lt. Howard and requested to be relieved.  Lt. Howard had wanted him to reconcile with his foster father before approving his request, but Allan would not agree until this was made the dying wish of his wife and Poe's foster mother.    Allan also agreed to support Poe's request to be discharged from the Army to enter the West Point Academy.
Poe's relationship with his foster father came to another head when Allan married the second time, which was resented by Poe.  This led Allan to once again disown Poe, who in turn decided to quit the West Point by purposely getting himself court marshaled by breaking many of the academy's house rules (Merriman, 2006).
The military's loss became the literary world's biggest gain as Poe decided to abandon his military career all together to concentrate full-time in harnessing his literary talents.  He had by then written several literary pieces whose publication was financed by contributions from fellow enlisted men in the artillery division of the U.S. Army and cadets from the West Point.  They had him set up for a tumultuous writing career that would earn for him the respect and adulation of those who only read about him, but never quite met him personally.
His pen was a fierce literary critic for most writers of his time and many begrudged him for that.  He was forward and direct and unrelenting in his reviews of the works of others, even against the likes of Henry Wadsworth Longfellow, with whom he had a long-running feud.  He was also unforgiving against a certain Rufus Wilmot Griswold, a minor editor who edited an anthology of stories that Poe debunked in his literary column.  So deep was Griswold's animosity towards Poe that what he wrote about him after his death created, by some bizarre and twisted logic, a demon out of the poet laureate and master story teller, a drunken madman convulsing in his own deranged world.
But for many others, Poe was a literary genius who lived in a different world that he alone knew, where his mesmerizing words breathe in waves and rhythm like the raven rapping "forever more," if saved from an even small shot of wine that could turn his world upside down, his genius and gentility in total reversal.  His boss N.P. Willis at the Evening Mirror saw none of the demons seen by Griswold in Poe when he said, "with the highest admiration for Poe's genius, and a willingness to let it alone for more than ordinary irregularity, we were led by common report to expect a very capricious attention to his duties, and occasionally a scene of violence and difficulty. Time went on, however, and he was invariably punctual and industrious."
Poe was a man most misunderstood.  He was rarely happy, but had the chance to experience it when he married his 13-year-old cousin Virginia Clemm with whom he was very devoted until she died of tuberculosis 12 years later.  He remembered her with love and fondness, his Annabel Lee whom "he loved with a love that was more than love…in the kingdom by the sea," according to a poem he wrote in 1849, the year he died.  "I was a child and she was a child," he said of her child-bride.  "…with a love that the winged seraphs of heaven Coveted her and me. And this was the reason that, long ago; in this kingdom by the sea. A wind blew out of a cloud, chilling My beautiful Annabel Lee" (Poe, 1849).
This is another chilling revelation.  Could it he be that the ghost of Virginia came for him, and that Griswold was not guilty after all?
Maybe so, but Edgar Allan Poe, Edgar Allen Poe to some, never really died.  His memory lives on.  Griswold tried to consign him into obscurity, piercing a poetic stake deep into his heart with his venomous words and vengeful wrath, but the blows hardly mattered, like a harmless sub-plot that was meant to add flavor to a lore, perhaps give it a little twist, but they were not to touch the essence of the story, the man who in his lifetime received a miniscule for his talent, but appreciated it nevertheless and never lost faith.
Poe struggled at one time or another and in various capacities with the Southern Literary Messenger in Richmond, Virginia, Graham's Magazine and Gentleman's Magazine in Philadelphia, the Evening Mirror, the Broadway Journal, and Godey's Lady's Book in New York
His life was that of a literary journeyman, receiving a pitiable pittance for his genius, but all that meant nothing to him as he kept himself intact during one of the most discouraging times in American literature.
            So did he die convulsing in hunger, sprawled on a street in Baltimore?
            Even in his most bizarre, convoluted mind, poisoned by an overdose of alcohol, Poe would not want a sorry ending for a plot where he was the central figure.  But he would want his readers guessing for that was his mark as a remarkable storyteller, the creation of a sordid imagery that makes his audience gasping for more.  But the raven answers: "Nevermore."
References
Ludwig.  1849.  Announcement.  New York Tribune.
Foye, Raymond. 1980.  The Unknown Poe, edited by Raymond Foye. City Lights, San Francisco, California.
Merriman C.D.  2006.  Edgar Allan Poe Biography.  Jalic Inc.
Poe. Edgar Allan.  1849.   Annabel Lee.
Poe, Edgar Allan. 1845.  The Raven.
Quinn, Arthur. 1941.  Edgar Allan Poe: A Critical Biography.  New York, Appleton-Century-Crofts, Inc,
Silverman, Kenneth.  1991.  Edgar A. Poe: Mournful and Never-ending Remembrance Harper Perennial, New York, NY.
Related Topics