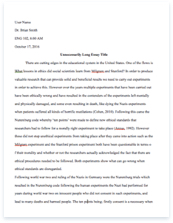 The whole doc is available only for registered users
A limited time offer! Get a custom sample essay written according to your requirements urgent 3h delivery guaranteed
Order Now
Explain what it means to have a duty of care in own work role. Duty of Care means that practitioners take on legal responsibilities to safeguard the welfare and well being of the children in their care. This includes appropriate attention, watching out for potential hazards, preventing mistakes or accidents, and making wise choices about steps undertaken in a role. Every child should be supported and enabled to live in an environment which is free from prejudice and safe from abuse. My responsibilities under the duty of care are to do everything reasonable within my job role to make this happen. The level of duty of care depends on who you are caring for, a high duty of care would be those who have a limited ability to care for themselves like younger children. Duty of care should include: Keeping an individual safe
To keep an individual free from harm
To give choice
When working with children it brings a significant duty of care and you must always be able to recognise this so that you can see the ability to force and cope with potential dangers. With young children in your care you have a duty to protect them from harm, whether it's physical or psychological. A duty of care is about what a person in a specific role has to do to ensure that others are taken care of and not harmed during a particular task. This involves: Giving appropriate attention
Watching out for potential hazards
Preventing mistakes or accidents
Making wise choices about steps undertaken in a role.
Carry out risk assessments.
Being aware of the signs a child may be being abused.
Example how I do this in my setting:
Within my setting myself or another colleague will carry out daily checks to ensure that the environment inside and outside is safe before my work starts. To make sure that tables are clean before snack and dinner time. To make sure that there is warm soapy water in the toilets and that it is changed regularly. To make sure if there's any spillage on the floor either in the nursery or in the toilet to clean it up.
If the parent of the child can't pick them up, we have to make sure we write it down in the red book the name of the adult that is picking the child up and get the parent just to sign it. Ensuring that staff has been trained in first Aid and that we have the right equipment. To complete accident forms when an accident occurs and getting the parent to sign to say there have been made aware. Explain how duty of care contributes to the safeguarding or protection of individuals. Having a duty of care should guarantee the safeguarding of children in my care.
Risk Assessments – carrying out and reviewing risk assessments for all of the activities we do and places we visit ensures that thought and concern is given to how we do things every day, this way I ensure risks concerning equipment, venues and activities are minimised and therefore reducing the risk of injury or harm to the children and myself. Recognising potential hazards and reducing them, this could include infectious diseases too.
Policies and Procedures – having clear rules and boundaries ensures that both adults and children (who are able to understand) know how to conduct themselves within the setting, by this I mean not behaving in ways that could cause distress or harm to others within the setting.
Following Legislation – by law such as health and safety and safeguarding, I am working within the law which is there to protect children and those who work with children.
Understanding signs of neglect/abuse – as a child care professional, I have a duty of care to all children that should I notice any signs/indicators of abuse or neglect that I report it the relevant third parties to protect the child. It is important that I understand and that I am able to recognise these signs/indicators.
Making observations and assessing children – by doing this I am able to check to see if individual children are progressing and developing at suitable rates, if not so then I would need to take relevant action in partnership with the parents and /or other agencies and professionals. Therefore a good understanding of a child's development stages is essential.
Training and development – ensuring that my qualifications and training with regards to first aid and safeguarding procedures are up to date.
In our care work we mostly work with children and young people who may not have the ability to judge what is good for them and what is not. In those cases it is our responsibility and job as individuals and as a team to provide them what we judge is best for them. In some other cases they have the skills to get involved in the decisions and this can lead to conflicts and dilemmas. Potential conflicts between the service user and the care worker in our job role can arise from disagreeing in certain questions e.g. what is healthy to eat, what is not, what is more important when having a meal: quality or quantity, what activities or forms of entertainment (films, songs, etc.) are age-appropriate and/or mentally and emotionally adequate and so on. Describe how to manage risks associated with conflicts or dilemmas between an individual`s rights and the duty of care.
If a conflict arises, no one can never force a colleague to do or not to do things unless the law or the School Policy allows me to (for example if they want to watch an age-inappropriate film, but in these cases I always have to refer to my head manager). What I can do if a conflict in these questions arises between me and my colleague is to provide all the information about the risk carried by their decisions in a supportive, encouraging way, and then let them make their own choices. Every time when a conflict arises I should record what actions were taken to provide every source for my colleague to make their own decision and what choice they made. I always should seek for advice at my head manager or Michelle.
Explain where to get additional support and advice about conflicts and dilemmas.
The list below contains suggestions to help identify what, and who you might have available. Your manager or head teacher, supervisor, SENCO
Your setting's paperwork – policies, procedures, contract, framework pages, laws Your colleagues
Where appropriate the settings parent partnership
Your local authority and their online information – you can find it on direct.gov.uk Social services
Charity and support groups close to you and maybe nationally/head office. Local safeguarding teams
Local children and information services – children's centre. Local health visitor
Local behavioural support team
Child protection team
Other professional service providers: speech therapy, fire safety, police, life guard, RSPCA Websites – NHS, OFSTED, NSPCC
Local library where reference and research books might support new knowledge. GP.
Describe how to respond to complaints.
I would follow the step by step list to respond to a complaint effectively and be professional, if a parent arrived in the nursery with a complaint as a practitioner I would establish if this is something I could deal with personally, if it is we could deal with it there and then if not then I would inform Michelle within the room about the situation (depending on how serious the complaint is) (if a serious complaint) I guide them directly to my Sue Marks. Explain the main points of agreed procedures for handling complaints.
It is important that our nursery runs smoothly and that parents and us staff work together in benefit for the children. In event of complaints from either staff or parents every effort will be made to respond quickly and appropriately and the following procedures will be followed. If any parents consider that they have cause for complaint they should speak to the child's key person or Michelle, Sue Marks in the first instance. When a complain is made to a member of staff, we would have to inform our Michelle as soon as possible who would tell Sue Marks.
If any parents consider that their concerns have not been satisfactory resolved they might want to write a letter to head (Sue Rowe). Also an acknowledgement of receipt of any written complaint will be made within five working days at the latest. Written complains will be recorded and dated in the nursery's complaint book. We all know that parents have the right to make direct contact with office for standards of education (Ofsted) about any complaint made.
Related Topics