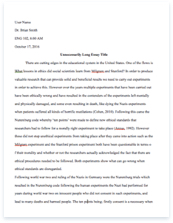 The whole doc is available only for registered users
Pages: 2
Word count: 317
Category: Customer
A limited time offer! Get a custom sample essay written according to your requirements urgent 3h delivery guaranteed
Order Now
You are the general manager of a trendy pub restaurant in an upscale part of a large metropolitan area. You have local musicians that perform regularly. You have a great staff that gets along well and enjoys working together. Strong customer volume includes regular locals and new guests. The customers enjoy their interaction with the staff and bartenders and thus will often buy them a drink. When the staff gets off work before closing they will often become customers with the establishment. This increases the positive interaction between staff and customers. Sales are good and all costs are in line except the bar cost, which is one or two percent high. You are not too worried about it because your strong sales give you a good profit and the owners are happy.
On a tip from an employee, you learn that a lead bartender is stealing alcohol from the storeroom. You set up a hidden video surveillance camera. After a few nights, you catch the bartender on tape taking products from the liquor storeroom and going out the back door.
Lead bartenders are issued keys to the storeroom, as the bar often runs out of products during busy nights when management is busy with other operational issues. Inventory is taken weekly.
You do not know what to do. The lead bartender is very popular with your customers and the rest of the crew. Firing her would prove to be unpopular and could hurt sales, customer volume and morale, but ignoring the problem would open the door to other employees taking products. Since you were tipped off, you know that at least some of the employees know what is going on.
Should you dismiss the lead bartender? Why or why not?
What are the ethics of setting up a hidden surveillance camera? Is the cycle for inventory a problem? Why or why not?
Related Topics