Determining Effective Orientation and Training Methods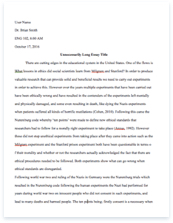 The whole doc is available only for registered users
Pages: 6
Word count: 1483
Category: Customer
A limited time offer! Get a custom sample essay written according to your requirements urgent 3h delivery guaranteed
Order Now
When one thinks of the word "training," what comes to mind? [Writing suggestion: Unless in a quote or a title, avoid rhetorical questions in academic writing. A good idea is to provide answers, not questions] Teaching, conditioning, practicing, and building are a few words to explain it. It goes much deeper than that though, and it is necessary during the life of employment within a company. Effective orientation and training methods is imperative for new recruits of small and large companies. The method in which it is taught varies. [Insert comma] Depending on the position title, and what it entails, will determine the amount of training time needed to ensure the newly hired employee is aware of his or her duties and responsibilities. Successful orientation and training programs depend on three different factors, which is skills, structure, and environment. For a company to educate new employees, they must have good knowledge base of how to implement the program effectively. Skills are the tools of the employees used to build the company to "learn, master, and apply that content"(Rooney [Leave a space after the quotation mark] & Rooney, p. 4).
Structure is necessary to prioritize and guide skills acquired on a broad scale. There must be efforts to increase customer values and decrease wasteful spending. Working in a positive and motivating environment engages employees to apply their skills within the structure. Employees "must understand why it is important to improve processes, and feel that they have a meaningful stake in the success of those efforts" (Rooney & Rooney, p. 4). Setting the employees up for success rather than failure will earn trust and respect in a working relationship. That is an important goal for management to maintain. It is important to satisfy the employees of a company. Without them, there would not be function. Management is the domain, while the staff is the range.
To maintain business operations is top form, everyone needs to feel appreciated, motivated, needed, and be given the drive and focus to achieve success. There are many different [Redundancy: if you have "many," surely they are "different." Remove "different"] types of approaches to train employees and it depends on the complexity of the job description and requirements. Some training programs last several days to weeks, and some can be up to a year. Training programs that last up to year can be for certification or licensure outcomes. These types of programs include: 1. Block training-weeks of rigorous training
2. Performance appraisal criteria tools-used to evaluate each employee based on his or her performance daily. It can be used as proof when an employee is looking for a promotion, pay increase, or career advancement. 3. Yearly retraining-Enforces all training included from the beginning of employment and possible updated material. 4. Mentoring programs-an apprenticeship under the guidance of a seasoned employee. 5. Job rotations-different settings with different job responsibilities that expose an employee to become well rounded, and learn to adapt different levels of stressors. 6. Workshops-biweekly to monthly training to introduce new skills such as interpersonal skills, leadership skills, management skills, finding new objectives for development, organizational skills, and effective communication. 7. Diversity training-teaches awareness to employees to understand that there are many cultures, traditions, and religions to take into consideration in working relationships and customer service. 8. Department training curriculum-supervisor of department is responsible for ensuring his or her employees are aware of what is expected of them on a weekly basis.
This can involve having weekly team talks to discuss issues before they become a problem, questions about how to perform certain tasks, new procedures and techniques, and future events. This helps employees to feel included, maintains communication, increases positivity, and to be informed of job expectations. Ways to measure success of training programs involve evaluations and competency completion. This can be done monthly, every three months to six months, and yearly. This is very important for management and supervisors to know that their methods of training are effective. It is also an opportunity for employees to understand what is required of their job, their success, and if they are learning. A criteria tool lists employee competency in areas that need improvement or they excel at. Some basic criteria that management views objectively and subjectively is:
1. Timeliness-reliability and punctual attendance.
2. Teamwork-treats coworkers with respect, shares work related responsibility, and avoids making judgments.
3. Performance.
4. Communication-maintains confidentiality, greets all customers, shows world-class customer service.
5. Encourages sales.
6. Strives for excellence.
Setting aside time to evaluate an employee is an opportunity for management to become familiar with them, and find out if they are interested in increasing their skills, or want to be promoted within the company. Many employers encourage and are looking to hire within the company because of familiarity, they know what to expect from them, and have a good amount of product knowledge. An example of a small training program in the scenario of a large retail company that needs to hire several qualified salesclerks to represent their company, a training program will include three days teaching skills to develop a customer friendly approach, efficient use of point of sale technology, and higher level of product knowledge. Following is a table of contents for a three-day training program: • Day One: Orientation
1. Welcome
2. Mission Statement
3. Policies and Procedures
4. Job Functions and Responsibilities
5. Introduction to Department
6. Pay Procedures
7. Safety and Fire Prevention
8. Company Practices
9. Employee Rights and Privacy
10. Employee attitudes and professionalism
• Day Two: Training in Classroom Setting
1. Electronic Cash Register Training
2. World Class Customer Service
3. Create a Scenario/Roleplay
4. Product Knowledge
5. Critical Thinking
6. Handling Customer Complaints
7. Testing of Cash Register Skills
• Day Three: On The Job [these three words are spelled as one hyphenated word] Training 1. Introduction to Your Supervisor
2. Treasure Hunt
3. Observations of Surroundings
4. Training on Cash Register with Your Supervisor
For the first three days of implementing orientation and training, the supervisor should have the qualities to inspire, guide, and motivate all new hires. He or she has to be well prepared, have a good presentation, and answer questions confidently. Being [Doctoral rule (but good advice for any academic writer)–If not a noun (as in "human being"), the word "Being" is hard to imagine; it means "existing." Try to rewrite this without using "being"–with action words like "attending," "working," "living," "experiencing," simply "as"–or even removing "being" completely] positive, respectful, determined, creating a lasting impression, and having a professional appearance helps to inspire new hires. Providing real life situations and tests that involve an oral response develops critical thinking, problem solving, and gives him or her an opportunity to "show what they know." Supervisor's responsibilities in orientation and training is: 1. Plan and prepare exercises for employees to practice.
2. Test cash register systems and other technology that will be used to make sure they are in good operating condition. 3. Prepare name cards for new employees.
4. Have paperwork ready and sufficient supplies.
5. Make sure the training area is comfortable with good seating arrangements. Training good salesclerks and introducing them to the workplace can be challenging depending upon their experience, interpersonal skills, and education. A new hire not having any experience can be better than a seasoned employee because he or she molds to the company and their standards, rather than having a formed opinion and being set in ways from previous work settings. Regardless of having no experience or a good amount, all employees must learn how a company prefers to function and their expectations. Employee handbooks are usually given to new hires so they know what to expect on a normal workday. Employee handbooks usually consist of: 1. Appropriate dress codes.
2. Use of a time clock or time cards.
3. Payroll policy.
4. Work schedules.
5. Personal telephone calls, cellular phone usage [Check spelling: "Usage" refers primarily to legal procedures or grammar; most writing situations call for "use"] , and Internet usage. 6. Health insurance.
7. Dental insurance.
8. Retirement plans such as 401K.
9. Requesting leave or vacation.
10. Alcohol and drug awareness.
11. Personal protective equipment.
12. Company compliance.
13. Important phone numbers and addresses.
14. Employee harassment.
Included with the handbook should be an employee orientation checklist with initials and dates to write when each segment of training is completed. Effective orientation and training is an art of teaching. All employees need teaching throughout their career because of constant changes happening within society, and individual wants and needs. For a company to be successful and capitalize from customer desires, objectives have to be set in place. When one product becomes a trend, a company must strive to produce and gain from it. People, their money, and giving them what they want determine the training needed to satisfy all. Basic training lays the foundation for new hires to get a feel for what is required of them. Recurrent training delivers valuable information, educates, and gives advantages and benefits that will ultimately boost company morale.
Related Topics