Departmentalize Organization – Payless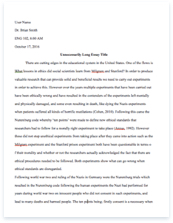 The whole doc is available only for registered users
Pages: 4
Word count: 798
Category: Customer
A limited time offer! Get a custom sample essay written according to your requirements urgent 3h delivery guaranteed
Order Now
Payless Shoe Source is the largest retailer in US and its headquarters is at Topeka, KS66607, US. Founded in 1957, it is the largest retailer in shoes and accessories taking almost a good proportion in this sector. Presently it has 4600 stores spread all over US. It is also exporting its products to Canada, Argentina, Mexico, Bermuda, Puerto Rico etc.
RETAIL OUTLET'S MOST LUCRATIVE PRODUCT OFFERING
CUSTOMER AND MARKET ANALYSIS
Customers with a stronger bargaining power relative to their suppliers may force supply prices down or demand better quality for the same price and may demand more favorable terms of business. For instance, there will always be a difference in the bargaining power between an individuals buying different construction material like cement, steel or brick and a real estate builder buying them for the number of properties he may have been building over so many years.
SWOT
A SWOT analysis summarizes the key issues from the external environment and the internal capabilities of an organization those which become critical for strategy development. The aim through this is to identify the extent to which the strengths and weaknesses are relevant to and capable of dealing with changes in the business environment.
FORMULATING STRATEGIC ALTERNATIVES 
A firm following strategy maintains its current business and product portfolios; maintains the existing level of effort; and is satisfied with incremental growth. It focuses on fine-tuning its business operations and improving functional efficiencies through better deployment of resources.
STRATEGIC MARKETING PROGRAMME ANALYSING THE COMPETITORS
Payless has stiff competition in the sports shoe segment from Nike, Puma and Adidas. All these are strategically positioned in the market and have a well dominated position. Strategic analysis is basically concerned with the structuring of the relationship between a business and its environment. The environment in which business operates has a greater influence on their successes or failures. There is a strong linkage between the changing environment, the strategic response of the business to such changes and the performance. It is therefore important to understand the forces of external environment the way they influence this linkage.
FUTURE RECOMMENDATIONS
Fig: 1  Payless's  Strategic Alternatives
Strategic alternatives results into large number of alternatives through which an organization relates itself to the environment. Fig 1 summaries the success model of performance adopted.
On the study of environmental analysis, Payless chose four grand basic strategic alternatives to garner the market share:
Expansion: This is adopted when environment demands increase in pace of activity. Company broadens its customer groups, customer functions and the technology. This kind of a strategy had a substantial impact on internal functioning of the organization.
Modernization: Digital technology was used as the strategic tool to increase production
and reduce costs in long run. Through modernization, the company aimed to gain
competitive and strategic strength.
Integration: The company started producing new products and services of its own
by investing in R&D centers across the U.S. Through forward integration it gained ownership
over distribution and retailers, thus moving towards customers while Payless remained focused on key functional areas.
Diversification: Diversification through the horizontal route involved change in business definition in terms of customer functions, customer groups or alternative technology.
Fig: 2 Molecular Modeling Of Long Term Approach
Rational for Diversification
Enhanced Market Power- Increased  market share does not necessarily always translate to higher profits – greater value for owners unless the merger substantially reduces the inter-firm rivalry in the industry. The below balloon diagram analyses how Payless missed the opportunity bus by just focussing on developed markets and concentrating niche markets
Fig: 3 Financial Opportunities Comparison of Payless in comparison to Nike, Puma and Adidas
Source of
Strategic
Advantage?
Profit Stability: New business reduced the variations in corporate profits by expanding the company's lines of business. This occurred as the core business was dependent on sales that were seasonal or cyclical. Diversification strategy was followed to avoid instability in sales and profits.
Conclusion
Every enterprise seeks growth as its long-term goal to avoid annihilation in a relentless and ruthless competitive environment. Growth offers ample opportunities to everyone in the organization and is crucial for the survival of the enterprise. This is possible only when fundamental conditions of expansion have been met. Growth strategies are designed to allow enterprises to maintain their competitive position in rapidly growing national and international markets. Hence to successfully compete, survive and flourish, an enterprise has to pursue an expansion programme. For Payless, expansion strategy is an important strategic option in the upcoming markets, which enterprises follow to fulfill their long-term growth objectives.
References:
Galbraith J, Strategic Implementation: The Role of Structure and Process, St. Paul, Minnesota, 1978
Related Topics