Definition Of Biopsychosocial-Cultural Model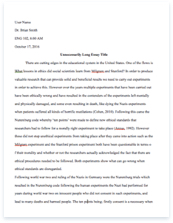 The whole doc is available only for registered users
A limited time offer! Get a custom sample essay written according to your requirements urgent 3h delivery guaranteed
Order Now
The biopsychosocial model includes collaboration between biological, social, and psychological influences to help determine why an individual might be suffering from a mental illness/ disorder. In module two we have to read the story of two different Wes Moore, Whom was a troubled kid growing up in Baltimore in an underprivileged family, with only his mother. Who had to give up her college education due to financial circumstance, causing her to work three jobs, just to be able to maintain at float. Due to her busy schedule and working, three job; Wes was often unattended and lacked family structure. His unsupervised lifestyle led to many bad choices, such as theft and drugs, which later on resulted into a larder crime, In one of his robbery in a jewelry store, he shot and murder a police office, which cause him to be sentence to life (Argosy University Online, 2019). We need to look at several factors that may have had a role in these issues.
Biological influences on very young children include constitutional and genetic factors, maturation, and neuroanatomy. The brain's regions are influence by the availability of numerous neuro-hormones and biochemical, which interact in a different way to affect the psychological experiences in a person (Mash, 2016). Mental health can also be affected by infection or physical trauma.
Moreover, genetic factors are associated to many childhood mental disorders. Some disorders reveal themselves early in life in different form. Some children could express these behaviors in shyness and being introverted, while can become very self-conscious or extroverted and full of energy it all depends in which you seeing (Mash, 2016). This idea of genetics being a factor of delinquency and crime does not necessarily give the criminologists the ability to decide from birth whether an individual is going to be a troublemaker in youth or even a criminal offender in the future. "It does, however, pose the question of to what degree of impact, if any, a person's genetic makeup has on their likelihood of becoming criminal" (Wilson, 2011). Some of the criminologists specify that genetics have very little if any effect on criminal behavior but rather estimates on the level of self-control that identify likely criminal behavior.
One theory to support this believe could be, that while Wes mother was pregnant, she might have experience some depression due to her becoming a single mother, giving up her dreams and goals, so she be able to work three jobs, as well as giving up school. This depression could have happen during her pregnancy and cause a genetic deposition to Wes. As well as postpartum depression, which could have happen after birth, due to her lack of support and being a new mom and so over worked?
Furthermore, most mental disorders are influence by various factors of an individual's experience, and have impacts on mental, medical and social and/or spiritual health (Dombeck, 2006). For example, Moore's mother suffered from depression, which might have become that way because of a medical condition, such as arthritis, a social condition, such as not having a normal family in the sense of a husband and father for her child. Maybe she was look down upon by society due to her circumstance, which could have led her to have low self-esteem, leading to a psychological factor. Moreover, not having this structure in the household it would be more likely for Wes to also grow up with the same insecurities and circumstance as his mother. Once again, all this are just theory and assumption of the situation.
Nonetheless, mental health problems early in childhood are associated with many family factors including the parent-child relationship being of poor quality, as well as harmful or overly strict parenting. Psychological issues, such as the low self-esteem, may have carried on to Wes from observing his mother's behavior. It was making him feel unloved and ignored; therefore, leading him to risk-taking behaviors, such as socializing with the wrong crowd, seeking unhealthy relationships as well as being influenced by peers who were abusing drugs, participating in gang-related activities, and committing violent crimes.
Furthermore, there is a connection between individual and environmental influences causing abnormal behavior. This can be related to the theory of nature versus nurture, which has a lot of evidence, proving that the environment is as important as genetics. There is a correlation between the environmental factors someone might face as well as theory characteristic and personality. Therefore, is only reasonable to assume that living in such environment and not so well educated neighborhood, Wes was expose to bad influence. In addition, some of the child's behaviors that are maladaptive, such as excessive worry or caution, may be more logical when considered in the background of the child's environment if it includes school violence or child abuse.
Early interventions could have been put in place in order to prevent Mr. Moore's troubled childhood, and to avoid the behaviors that later caused his imprisonment. Early intervention aids in the developing of a child's resilience and strengths and it prevents the delinquency from occurring. It has shown through research that both prevention and early intervention are more successful than the past approaches that focused on remediating enduring and/or visible delinquent behaviors. Effective communication and positive social interaction are just a couple of the many keys to help in delinquency and/or criminal activity, which unfortunately was not the case for Mr. Moore.
"More than 1 million American youth end up in juvenile court every year, and about 160,000 of them are referred to residential placements, including detention centers, residential treatment centers, correctional institutions and group homes, according to a 2012 Social Policy Report by the Society for Research in Child Development" (DeAngelis, 2012). These are often ineffective, and sometimes make the problem of delinquency even worse than before—they are doing more harm than good. Among these younger people, thoughts of suicide, depression, tendency, and acting out behaviors are often observed in these diversion programs.
Additionally, too many of the programs available today emphasize the child's drawbacks and limitations rather than highlighting his or her positive qualities. Fortunately, there is an effective program like the Adolescent Diversion Project. This program takes undergraduate students in psychology through a course lasting two semesters; this educates them in the program's theory and practice. For eight hours a week for 18 weeks, they help in mentoring juvenile offenders and their families on how to effectively cooperate and connect with one another. The students continue to team up with the young offenders, and the rest of the team works together to help these youths successfully avoid criminal activities altogether and reach more positive goals (DeAngelis, 2012).
For Mr. Moore, it is possible programs designed for others like him could have prevented these situations with his delinquency in childhood. The Anti-Bullying Program gets the teachers, and parents involved in placing and enforcing clear rules against bullying in school. Bullying problems had declined 50 percent in treated schools two years after the intervention. Additionally, school climate improved as well as the reduction of delinquency taking place in other forms like joining gangs, participating in drug use and violent activities (Greenwood, 2008).
Secondary prevention programs can focus on youth who have an elevated risk for a specific outcome, such as violence or delinquency, a group that might include children struggling in school, living in poor neighborhoods or those exposed to any domestic violence in the home.
Proven effective by the Surgeon General, Functional Family Therapy (FFT) is a short-termed program, and is usually set in the home. It focuses on youth aged eleven to eighteen who face problems with violence, delinquency, or substance abuse. The program's aim is to alter the communications between members of the family. It is designed to improve the family unit's functioning by enhancing emotional connections, improving problem-solving skills in it, and firming up parents' ability to give better guidance, structure, and to help them set limits for their children (Greenwood, 2008).
Lastly, if Mr. Moore was exposed to these types of program, as well as his mother being more educated and being helped, then this could have had a more positive outcome, such as the other Wes. His mother was willing to send him to boot camp or a discipline camp, which gave home the intuitive he needed to overcome the trouble he was facing. So whether he was predisposition to a psychological call disorder or exposed due to his environment, if he had found the correct help, thing might have being different.
Related Topics