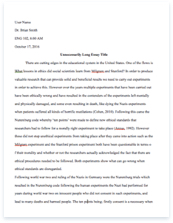 The whole doc is available only for registered users
Pages: 6
Word count: 1331
Category: Customer
A limited time offer! Get a custom sample essay written according to your requirements urgent 3h delivery guaranteed
Order Now
1. Introduction
According to Retail Glossary of Terminology Online a customer is a person that purchases merchandise or a service. The more complex definition of a customer was given by Dale M Lewison the customer becomes accustomed to buying from seller and is established through purchase and interaction on frequent occasions over a period of time. From the following the logical conclusion is that supermarkets only consider customer relationship because buyers by now have already become customers.
Without a strong record of contact and repeat purchase the person is not a customer but the person is a "buyer"(Lewison 1997). Customer added value characteristics such that the shopping mission is satisfactory and both tangible product characteristics and added value characteristics together make an offer to the customer which is clearly preferred to that of any competitor (Walters 1994). In simple words this quote basically determines what is a customer satisfaction.
Although all economists still have not agreed on the precise definition of Supply Chain Management some of those should be considered in this assignment
Supply Chain Management can be described as the process of planning, implementing and controlling the efficient, cost-effective flow and storage of raw materials, in-process inventory, finished goods and related information from point of origin to point of final consumption for the purpose of conforming to customer requirements (Eastham et al 2001).
Supply Chain Management at the execution level is critical to ensure your logistics strategy is being effectively executed. Data availability, sharing and networked connectivity are driving this new discipline forward supported by the advanced systems now available (All you need to know about logistics website).
2. Defining customer satisfaction on Supply Chain Management
Firstly we need to identify the key factors of customer satisfaction expectations i.e. " the factors which create added value"(Walters 1994). These are said to be Speed, Price, Variety, Availability, Demand for customer service and convenience.
With respect to Speed factor companies should accept Just-in-time (JIT) principle i.e. the ability to deliver just-in-time not only saves working capital (through reducing inventory levels) but also has a significant impact on the ability of an operation to improve its intrinsic efficiency(Cox et al 2003). This is especially relevant for the food retailers because food is highly perishable and customers are satisfied when they get only fresh produce.
The demand for the majority of food products is elastic (Sloman et al 2001), thus the company should attempt to establish prices as low as possible. Therefore supply chain has to be managed as efficient as possible.
Food supply chain is further controlled by the major retailer (Tesco, Sainsbury, ASDA) in ways of ever increasing number of own label products, store loyalty cards, in-store promotions and more recently home delivery services( Eastham et al 2001).
As it follows from the experience of Tesco's supermarkets (Mintel 2003) customers strongly appreciate the variety of available products.
According to Mintel 2003 report customers agree to pay more for quality which that in order to bring them satisfaction supply chain manager needs to ensure that the retailer
3. The problems that rise in the process of achieving the customer satisfaction.
The problems which arise in Supply chain management can be identified as follows:
* Unstable Supply from the suppliers (yield in farms unpredictable)
* Variety of products is highly competitive
* Perishable products (short storage period)
* Seasonal factors – fluctuated demand
* Quality control (food damage or perish during transportation)
Factors which have to be ensured at constant level just show how difficult it is to achieve perfect supply chain in food retailing. At the same time those problems are being considered by major supermarkets all the time
Aldi chain of stores has undertaken most problems above by establishing a low cost operation throughout the supply chain. Establishing such supply chain has made ALDI the number one low cost operator in Europe
With just one size and variety available of most grocery products – whether it be baked beans, washing-up liquid or orange squash – customers are able to navigate the store quickly and easily, without having to spend time considering which to buy out of a wide range of similar items. Product quality is said to be comparable to that of branded goods and sizing is determined by consultation with a panel of consumers.
Tesco's supply chain on the other hand is much more complex than ALDI's. Tesco has 22 distribution depots in the UK, occupying around 515,000m2. To support the development into non-foods, a new 46,500m2 depot has been built in Milton Keynes. It features the latest handling and price-labelling systems for a wide range of products, including clothing. A new Internet ordering facility also opened at Watford (Mintel 2003).
Tesco has a strong own label, which includes approximately 20,000 food and non-food products at present. For this purpose own brand is virtually everything which is not branded, so it includes all fruit, meat, and service counter products such as meat and delicatessen.
Supply Chain companies like Exel usually manage supply for big supermarkets. Tesco is seeing its solution in supplying goods but it is working together with Exel to achieve it's full potential and gain experience of Exel logistics. Distribution centre in Didcot is the main one for Tesco's and operated by Exel. They have reported some key performance indicators:
* Warehouse Productivity: 85.85 cases per hour worked "Best in Class"
* Accuracy: 3 errors per thousand cases
* Absence: Budget 6% Warehouse staff
* Agency usage: guaranteed controls in place
* Delivery on time: 90% target, 30 minute delivery window of scheduled booking
* Units per trip: 1,070 cases per trip
* Transport productivity 166 units per Driver Hour
* Absence: 4.5% for drivers
Exel is one of many logistics companies on offer with experience in logistics and food retailers more often use their services.
4. Recommendations.
Improve Operation Efficiency by Identifying Cost
By adopting the Total Cost Concept, analyzing of the true costs of distribution can often lead to the identification of more efficient ways of operating (Stewart, 1992). To work out a detailed costing of distribution and allows the search for "trade-offs" between one area of costs and other areas (Stewart, 1992), for example, in food retailing, trade-off between keeping freshness of food, that means, the quality of products (which hold the level of customer satisfaction directly affecting sales) and the cost of keeping the quality like more frequent deliveries to the store. After identifying the costs, trade-off can be done to balance between the costs, which means to find out a cost and service balance (Stewart, 1992), like in the example optimal level of maintaining certain level of freshness may identify, then work out a more optimal frequent of deliveries to perform more efficient use of cost and the whole distribution system. Nevertheless, clear identification of the costs can indicate the problems in the Supply Chain, in the certain extend, after identifying problems measures can be worked out to improve efficiency and achieve cost savings.
Benchmarking with Competitors
Benchmarking (Lynch, 1997) with the competitors can be done to identify the possible measures to solve the problems and improve the operation in Supply Chain Management, in the same time, to maintain and strengthen the competitiveness in the market. In the case of Tesco, benchmarking with major competitors like Sainsbury, ASDA can be done. Sainsbury, for example, a operational distribution report is done for past 24 hours, summarizing performance in distribution, then, problems have to be identified and take instant correction actions, this helps to maintain the quality of performance in its Supply Chain (Stewart, 1992), like problems of stock-out can be prevented and keep their customer satisfaction with products availability.
Customer Satisfaction and Supply Chain Management – Linkages and strategic advantage in food industry.
Related Topics