Critical Analysis of Jeff Weiner – CEO of LinkedIn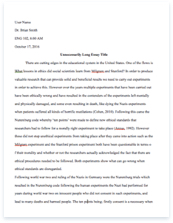 The whole doc is available only for registered users
A limited time offer! Get a custom sample essay written according to your requirements urgent 3h delivery guaranteed
Order Now
Using relevant theories and models critically evaluate and analyse the leadership of a 21st century business leader. If you were in the position of the leader, what could you do to be a better leader and make a stronger impact on the followers and on situation/s? For this assignment you can select a leader from a large or a small organisation. It could be a CEO of an international organisation whom you have read about in the newspapers/biographies, or a family member who runs a small business with a few staff members. The choice of leader is yours. In your assignment you should cover the following:
– A clear description of the leader, the organisation/industry, and situation(s)/context(s); – An evaluation of the leader by referring to concepts and theories covered in the subject (e.g. style, behaviour, traits, attitudes, power) and by referring to relevant examples and mini-cases in the textbook (where appropriate); – A discussion of how you would lead differently if you were put in the same situation/s as the leader and how you could make a stronger impact on the followers and on the situation/s. Word count (from the start of the Introduction section to the end of the Conclusion section): Words 2470
Executive summary
This assignment looks at 21st Century business leader Jeff Weiner – CEO LinkedIn and critically evaluates and analyses his leadership. It starts by describing the person, the company and the situational environment and then looks at Jeff Weiner's character, behaviour and skills. Use of evaluation theories and concepts in the textbook and extensive use of interviews on leadership given by Jeff Weiner over the last 3 years was the basis for this assignment and provides a comprehensive image of Jeff Weiner as a leader. The question is asked after this analysis as to whether or not Jeff Weiner can be considered a Good or Great leader and the conclusion drawn is that he can be considered one of the 21st Century's great leaders. This assignment also recommends that Jeff considers changing his leadership style to address the future increase in the scale of his company. It identifies the need to lead a larger body of followers with a less compassionate (all inclusive) style and to find the balance between compassion and incentive task/KPI reward program, thereby addressing the major concern of company politics that is becoming more and more evident within the company.
1 Introduction
Selecting a business leader for this assignment was a hard but very enjoyable process. In my selection I have considered CEO's of top performing companies as listed in Forbes Magazine (Forbes. 2014) that have all achieved significant growth and recognition for their respective companies and for themselves. I ultimately decided on Jeff Weiner because as I gathered more and more information on who he was and where he came from, I became more and more impressed with his leadership style, his vision (both for the company and his own personal vision), his values and above all his compassion. 2 The Person, The Company & The Situation
2.1 The Person
Jeff Weiner is the CEO of LinkedIn, the world's largest and most powerful network of professionals. Jeff joined LinkedIn in December 2008, and under his leadership, LinkedIn has rapidly expanded its global platform to 23 languages and 30 offices around the world, grown its membership base from 33 million to more than 313 million members and increased its revenue to more than $1.5 billion in 2013. Before LinkedIn, Jeff was an executive in residence at Accel Partners and Greylock Partners, … Previously, Jeff served as executive vice president of Yahoo!'s Network Division, a business that generated $3 billion in annual revenue with more than 3,000 employees and responsibility for many of the company's consumer-facing and industry-leading products. … In addition to LinkedIn, Jeff serves on the board of directors for Intuit Inc., DonorsChoose.org and Malaria No More. He holds a BS in Economics from The Wharton School at the University of Pennsylvania. (LinkedIn – Management, 2014). 2.2 The Company
LinkedIn was founded by Reid Hoffman, Allen Blue, Konstantin Guericke, Eric Ly and Jean-Luc Vaillant. LinkedIn started out in the living room of co-founder Reid Hoffman in 2002. The LinkedIn website was officially launched on May 5, 2003. At the end of the first month in operation, LinkedIn had a total of 4,500 members in the network. In 2013 LinkedIn has grown to be the world's largest professional network on the Internet and currently has approximately 277 million members in over 200 countries and territories. Revenue is generated across three distinct product lines: Talent Solutions, Marketing Solutions, and Premium Subscriptions. All three product lines are sold through two channels, an offline field sales organization which engages with both large and small enterprise customers; as well as an online, self-serve channel where revenue is generated from both enterprise customers and individual members purchasing subscriptions. (LinkedIn – Annual Reports. 2014) 2.3 The Situation
Due to its rapid growth since 2003 (Refer Figure 1 below) LinkedIn faces a number of challenges notably the ability to proportionately scale with an increasing workforce. This will further highlight the need for strong leadership from the CEO down through the various business units to ensure the company achieves its vision 'to create economic opportunity for every member of the global workforce' through its mission 'to connect the world's professionals to make them more productive and successful' (LinkedIn – Annual Reports. 2014)
3 Evaluation of Jeff Weiner as a leader
3.1 Character:
When critically evaluating Weiner's leadership trait, style, behaviour and attitude it is easy to see that his first principle of leadership is managing compassionately. In an interview conducted by Business Insider magazine (Business Insider. 2014) Weiner advocates that leadership is defined as:
'The ability to inspire others and accomplish shared objectives. It starts with vision and the ability to think about where you want to take your vision. It's about courage and conviction and the ability to communicate that vision'.
Weiner has a clear vision for LinkedIn and believes the best way to achieve this vision is to manage compassionately and with empathy. He believes that the leader/follower relationship is all important and that only by 'walking a mile in their shoes' can you truly manage with compassion. Weiner's personal vision is 'to expand the world's collective wisdom and compassion'. I believe a great leader must have a personal vision that is somewhat aligned to the company vision. As the current CEO of LinkedIn, Weiner's vision is perfectly aligned to the company's stated vision 'to create economic opportunity for every member of the global workforce, each of whom has the ability to create economic opportunities for others'.
To be a compassionate leader requires a deep understanding of the roles of the leader, the follower and the situation process (Hughes, R, Ginnett, R & Curphy, G 2015). Figure 2 below depicts this interactional framework. As a leader Weiner has all the attributes (personality, position, expertise, etc.) Through compassion Weiner is considerate of the followers (values, norms, cohesiveness, etc.) and his experience, expertise and intelligence allows him to be conscious of the situation (task, stress, environment etc.)
Furthermore in analyzing Weiner's leadership character I believe him to be an authentic leader (Hughes, R, Ginnett, R & Curphy, G 2015). Weiner exhibits consistency (Weiner believes 'trust can be defined as consistency over time') between his values, beliefs and actions and he is extremely humanistic with his compassionate leadership. He has strong ethical convictions as noted in his personal vision and his lifelong interest in education reform and clearly treats others with respect and dignity. I believe he is constantly striving to enhance his authenticity by being self-aware and concerning himself with what others think. He often ends a meeting or speech by asking what he could have done better. In an interview (Business Insider, 2012) Weiner (2013) provided the following insight on coaching and leadership which further highlights his authenticity:
Coaching requires way more than problem solving. The natural inclination is to just fix things, but Weiner carves out two to three hours per day of buffer time to think and coach. If you're inauthentic as a leader, people will sniff it from a mile away.
Taking it one step further one could conclude that Weiner is also a Servant Leader (Hughes, R, Ginnett, R & Curphy, G 2015) as he exhibits many characteristics that are often associated with servant leaders. Some characteristics that I believe Weiner has include: Listening: Communication is fundamental in a social network environment Empathy: Synonymous with compassion
Healing: Believes in work / life integration not balance
Awareness: Acutely aware of own values, fosters open communication of feelings and advocates coaching and mentoring to improve strengths and weaknesses. Commitment to others' growth: Acknowledge relatively small accomplishments by his employees. Weiner displays a deft touch, turning mistakes into a teaching moment for everyone. Building community: The vision and values of the company are practiced every day to maintain the culture and community spirit that made the company successful. 3.2 Behavior:
When considering the behavior of Weiner as a leader in the business environment it is useful to ascertain where on the Leadership Grid ((Hughes, R, Ginnett, R & Curphy, G 2015) Weiner sits? Weiner's style earns overwhelming positive reviews from his staff. LinkedIn consistently ranks as one of the best places to work, earning a 92 percent employee-approval rating in an anonymous survey Glassdoor.com. (entrepreneur.com, 2013) Therefore it is easy to conclude that Weiner sits comfortably in the top right hand quadrant (refer figure 3 above) and can be considered to be a most effective leader as he demonstrates both a high concern for people and a high concern for the business (production).
3.3 Skills
Hughes, R, Ginnett, R & Curphy, G (2015) believe that the personal credibility of almost every leader can be attributed to some of the most basic skills that they possess:
Building credibility
Communication
Listening
Assertiveness
Conducting meetings
Effective stress management
Problem solving
Improving creativity.
In light of the above and considering the literature available it would be acceptable to say that Weiner engenders trust (credibility) in others with his strong moralistic views, his often demonstrated compassion and his selfless vision for his followers. Bass (1990) defined communication effectiveness as the degree to which someone tells others something and ensures that they understand what was said. Weiner uses valuable lessons learned to ensure effective communication:
Repetition, repetition, repetition – David Gergen (2010) wrote '[H]istory teaches that almost nothing a leader says is heard if spoken only once.' Simplify the narrative – The fewer things you need to communicate, the more likely people will be to internalize the message, align themselves accordingly, and achieve success. Explain the why – Provide context so that the follower(s) can participate in the discussion, become engaged and feel the message was developed together.
Having a strong focus on communication ensures the vision; values and culture of LinkedIn are continuously reinforced and applied to the business. Weiner knows what the purpose of his communication is (Hughes, R, Ginnett, R & Curphy, G 2015) and this helps to effectively communicate in the appropriate way, either publically or privately, orally or in writing, and so on. Weiner is assertive in a way that recognizes the rights of others and resists forcing his own view and ways of doing things on others. This allows for empowerment and a greater perspective of the decision / task at hand and is another example of managing compassionately but assertively. As described earlier in the character section of this assignment Weiner believes in Work/Life Integration and practices this doctrine in effective stress management in the work environment.
Weiner knows that what makes him happy is looking forward to going to work in the morning and equally looking forward to going home at night. This is his integrated work / life and he does not take anything or anyone for granted which makes his happiness an enduring reality. Weiner advocates that problem solving and coaching lie at opposite ends of the scale line. Leadership in a small start-up company is all about problem solving and sorting the issue yourself whereas with a large organisation coaching is required. Coaching the followers to problem solve requires a great deal of time and also requires skills of active listening and situational awareness. True leadership recognises the importance of coaching others to problem solve effectively which leads to efficiencies, reinforcements of values and vision. 4 Good or Great Leader?
So is Weiner a great leader or just a very successful good leader? To analyse this statement I have drawn on the Level 5 Hierarchy (Collins, 2001) pyramid (see figure 4 below) and concluded that Weiner does indeed embody all five layers of the pyramid. He makes productive contributions through talent, knowledge, skills and good work habits. He effectively contributes to teams achieving group objectives. He organises people and resources in the pursuit of goals and objectives. He has a clear and compelling vision and vigorously campaigns for higher performance standards. As a Level 5 Executive he builds enduring greatness through his personal humility (compassion) and professional will.
It is also important to grasp that Level 5 leadership is not just about humility and compassion and the softer skills but there is also an innate relentless resolve to do whatever is necessary for the company to succeed. Weiner appears to have this tenacity but also projects an outer persona of compassion and an "all round nice guy". Weiner has led LinkedIn through an unbelievable growth phase but continues to do what is right for the company and not just for the shareholders and the share price. Evident in his decision to resist pressures for certain added features within LinkedIn like Photos (this would have been easy but would have made LinkedIn more of a social network than a Professional network) and his insistence that the number of members connections be capped at 500+ (members can have more than 500 but other members can only see 500+).
5 Leading Differently
This paper has described many of the attributes, traits, behaviour and skills of Jeff Weiner and it is easy to conclude that he is well on the way to becoming a great leader. The question of how would you lead differently if put in the same situation and how you could make a stronger impact is extremely difficult to answer when considering the almost 100% approval rating that Weiner receives from company employees. However I can see some opportunities for improvement. Weiner's dogged determination to instil the values and culture of LinkedIn and his compassionate leadership style across the whole company, and at every turn has led to some employees past and present complaining about the politics as a result of rapid growth evident by the following quotations (Glassdoor.com, 2014).:
We're losing the clear focus on problems we once had. We are spending so much time figuring out who to include, how not to offend people, and what to report.
Reduce Political nature of getting promoted. Maintain the incredible culture while toning down some of the cult like attributes…Example: pumping up how well everyone is doing at an all hands when in fact the department may have had a sub-par month.
The rapid growth of LinkedIn as highlighted at the beginning of this paper brings many challenges for leadership and talent recruitment is a major challenge in my opinion. Company vision, culture and leading compassionately may limit the retention and acquisition of the talent needed to take the company to the next level. Technical experts in the technology field may struggle with empathic leadership as they are generally more introverted and task oriented. I would focus equally on the personal development of each employee and department to manage compassionately and provide a true incentive and reward program for achieving tasks / KPI's.
This would eliminate some of the politics as it became clear that progression and reward for effort would be based on performance and personal skills and not just personal skills. This would also lead to more authentic middle management (as there have been issues with employees not getting promoted due to their perceived lack of compassionate nature) and greater respect within the workforce. Changing the company values over time taking into consideration country specific cultures, an individual's principles, situational influences and whether or not they can express empathy and compassion and an education learning program to help individuals who are less well versed in the softer skills meet the challenges of the compassionate leadership style.
6 Conclusion
This assignment has critically evaluated the leadership of Jeff Weiner who is a 21st century business leader. The evaluation was based on concepts and theories relating to his character, behavior and skills as a leader and took into consideration the situational environment. This assignment concludes that Jeff Weiner is a good to great leader demonstrating many skills and traits that have been identified amongst past and current great leaders. A critical analysis of a leader would not be complete with a discussion on what could be done differently and this assignment also recommended a shift in focus from truly compassionate leadership to a more balanced style that includes reward to achieving KPI's and task oriented goals.
Reference List.
5 Influential CEOs weigh in what makes a good leader. [ONLINE] Available at: http://www.entrepreneur.com/article/225804#weiner. [Accessed 10 October 2014]. Bass, B M, & Strogdill 1990, Handbook of leadership, 3rd ed., Free Press, New York.
Collins, J, 2001. Good to great: why some companies make the leap and others don't, Harper-Collins Publishers, London.
Gergen, D, 2000, Eyewitness to power: the essence of leadership, Nixon to Clinton. 1st Edition. Simon & Schuster, New York.
Hughes, R, Ginnett, R & Curphy, G 2015, Leadership: enhancing the lessons of experience, 8th edn. McGraw-Hill/Irwin, New York.
LinkedIn – Annual Reports. 2014. LinkedIn – annual reports. [ONLINE] Available at: http://investors.linkedin.com/annuals.cfm. [Accessed 12 October 2014].
LinkedIn CEO Jeff Weiner on leadership – Business Insider. [ONLINE] Available at: http://www.businessinsider.com/linkedin-ceo-jeff-weiner-on-leadership-2014-9. [Accessed 13 October 2014].
LinkedIn CEO Jeff Weiner talks about leadership – Business Insider. [ONLINE]
Available at: http://www.businessinsider.com/linkedin-ceo-jeff-weiner-talks-about-leadership-2012-9. [Accessed 13 October 2014]. LinkedIn – Management, 2014. LinkedIn – Management. [ONLINE] Available at: http://press.linkedin.com/management/. [Accessed 10 October 2014].
LinkedIn Reviews – glassdoor. [ONLINE] Available at: http://www.glassdoor.com/Reviews/LinkedIn-Reviews-E34865_P14.htm. [Accessed 13 October 2014].
The best-performing CEOs in the world [Infographic] – Forbes. [ONLINE] Available at: http://www.forbes.com/sites/mikalbelicove/2013/09/12/the-best-performing-ceos-in-the-world-infographic/. [Accessed 12 October 2014].
When a valuable lesson at work became an invaluable lesson in life | Jeff Weiner | LinkedIn. [ONLINE] Available at: https://www.linkedin.com/pulse/article/20130325033804-22330283-when-a-valuable-lesson-at-work-became-an-invaluable-lesson-in-life?trk=mp-reader-card. [Accessed 13 October 2014].
Related Topics