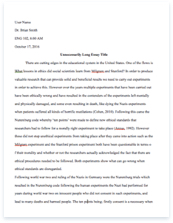 The whole doc is available only for registered users
A limited time offer! Get a custom sample essay written according to your requirements urgent 3h delivery guaranteed
Order Now
Football is not the only sport that causes Chronic Traumatic Encephalopathy. The number/diversity of sports that cause CTE is on the rise. Chronic Traumatic Encephalopathy (CTE) is a degenerative brain disease found in athletes, military veterans, and others with a history of repetitive brain trauma. CTE usually appears in the late 20's or 30's of the patient and affects the patient's mood and behavior. CTE has been seen in people as young as 17 years old, symptoms do not begin to appear until years after the constant head impacts. Chronic Traumatic Encephalopathy can cause different problems such as memory loss, thinking, confusion, progressive dementia and impaired judgement. Dr. Ann McKee mentioned in one of her videos that CTE is sort of like Alzheimer's. The disease is progressive and gets worst as one ages. CTE has different effects, some people may feel violent and impulsive, others may feel a mental fogginess and lack of clarity or maybe even suicidal thoughts. Depending on the location of the disease in your brain, the way a patient acts can vary. (McKee, October, 22)
A neuropathologist has examined the brains of 111 N.F.L. players and 110 were found to have CTE, the degenerative disease linked to repeated blows to the head. Out of 202 brains that Dr. Ann McKee examined 111 of those brains were belonged to NFL players. Of the brains examined, brains were found to have Chronic Traumatic Encephalopathy. Statistics show that lineman have the highest rate of CTE first, running backs second, defensive backs third, linebackers fourth, quarterbacks fifth, wide receivers sixth, tight ends seventh, placekickers eighth, and punters ninth. (Ward et al, 2017).
Football is not the only sport that causes CTE, a study investigated the lifestyles and career paths of 14 deceased soccer players who had had dementia, 12 of whom died of advanced dementia. Six of the families permitted permission to look into the cause of their dementia, and four were confirmed to have CTE. All six also had symptoms of Alzheimer's disease, a form of dementia. Research has found that the heavier the leather is on the soccer balls, the harder the impact is to the human head while playing soccer. The idea that the heavier leather balls of the past could have been more dangerous than today's synthetic balls is probably unfounded, because synthetic balls can reach higher speeds. So far, studies have been inconclusive in implicating changes in the way soccer is played. There is limited evidence that heading in youth soccer players can cause concussions. The U.S. Youth Soccer recommendations are to teach heading after age 10 in controlled settings, and heading in games should be delayed until skill acquisition and physical maturity allow youth players to head correctly with confidence.
Boxing is also a sport that has a lot of cases of CTE. Boxing had a recent diagnosis similar to CTE called, "punch drunk-syndrome". Researchers looked at 78 boxers and mixed martial arts (MMA) fighters, average age of 29, who were enrolled in the ongoing 'Professional Fighters Brain Health Study.' The fighters underwent MRI brain scans and also took computer tests to measure their memory and thinking abilities, and were then split into groups based on whether they had more than or less than nine years of fighting experience. In the research it was also shown that fighters who had more fights a year had the most damage compared to fighters who did not have as many fights a year. The famous and legendary boxer Muhammed Ali had very severe memory loss which is a symptom of CTE. There are 17% of professional boxers in Britain that have CTE.
Hockey is also another sport that has a high risk of CTE. No such study has been conducted among hockey players; the sample of available brains just isn't large enough yet. According to Ken Dryden the NHL has received over 150 concussion lawsuits from former players. There was a interview with the Boston Bruins owner Gary Bettman, who stated "You've seen all the research and the data, "There's no medical or scientific certainty that concussions lead to CTE". Because there is no medical or scientific certainty, he said, there is no reason to warn NHL players about the risks of CTE. Nor is there reason, even after the premature deaths in recent years of several NHL "enforcers" such as Bob Probert , Wade Belak , Rick Rypien and Derek Boogaard, to look for a link between fighting in hockey and brain injuries. Owners, and General managers are trying to hide the fact that CTE is causing some NHL players to die and to suffer. They are not seeing the big picture of the situation, they are just looking at how bad the sport is going to look with all of the controversy. The owners of some of the teams in the NHL are saying that they have never heard of CTE. The Washington Post stated that families are hurt by the words that some of the General managers and owners are saying. There has been a study on only 16 NHL brains, nine were found to have CTE. There were 559 physician-diagnosed, regular-season, in-game concussions among NHL team players reported during the seven years of study. There are 5.8 concussion per 100 players per season. A former NHL player, Jeff Parker died of CTE. He suffered a very severe concussion that knocked him unconscious, it not only knocked him unconscious it knocked him out of the game altogether. Jeff Parkers CTE was at stage 3 out of 4 stages. As Parker aged, the disease spreaded throughout most of his brain causing it to become stage 3. The disease also got worse as he began to age. Hockey is the team sport with the second-most known cases of C.T.E. according to Ann McKee. Last year McKee said that she found CTE in the brains of three former junior players and one former youth hockey player, none of whom advanced to the NHL. Each commited suicide before the age of 30. Before Jeff Parker died he was experiencing severe symptoms of CTE such as struggling with bright light, and spending countless hours in the dark trying to soothe his brain. ''He could not read without headaches or keep a steady schedule. He would miss appointments or show up at the wrong place. He once came to a meeting without shoes'', stated Parker's brother. He lost a lawsuit filed against the NHL, the Whalers and the Capitals, and where the last injury took place. One symptom associated with C.T.E. that he did not display, his family said, was wild mood swings or violent behavior. He did not ask for help or attention. He would always say that he was fine, and family and friends considered him affable and easygoing, to the end. Fighting in the NHL is also a big problem that can cause CTE. Parker played 141 games with the Buffalo Sabres, from 1986 and 1991, between the ages of 22 and 26. But the Sabres asked him to fight opponents, and he didn't want to. The NHL still has ongoing lawsuits against them. They have yet to see that the trauma and head injuries that you are exposed to in the NHL are very dangerous and can cause CTE. Former NHL player Eric Lindros sustained a severe head injury that gave him symptoms of CTE. He donated 5 million dollars to fund concussion research. Eric also partnered with David Mulder, the team physician of the Montreal Canadiens, to petition the league to at least get involved with research seeking improved safety and better and quicker diagnosis of head trauma. 'Concussions are going to happen,' Lindros said. 'You have a game of contact and high speeds out there. But what can we do to make sure that certain things are prevented. And if they do occur, how can we get people back to school, back to work, and in hockey skates back to the ice as quickly as possible''. (Sam Donnellon, April 19,2018)
CTE and concussions are trying to be prevented by reducing mild traumatic brain injuries and prevent additional injury after a concussion. The following equipment can help reduce head injury: Sports-specific helmets. Helmets have reduced injury for baseball, ice hockey, rugby, alpine skiing and snowboarding. Some football helmet companies are trying to improve the way they make helmets. They are trying to create helmets with more padding inside to reduce the trauma to the head. Sources also say that the neck and shoulder muscles need to be stronger to prevent concussions. Sports that have aggressive contact such as football and hockey etc are also teaching better techniques to prevent head to head contact. Most sports that have a high risk of getting concussions have clinics that teach you to how to play the sport correctly without getting hurt.
Studies have shown that players who suffer one concussion have a greater chance of sustaining another. The reason for the increased risk is not known, but researchers suggest that some people may be born with a vulnerability for brain injury or that a concussion may cause changes in the brain that increase future risk. Other researchers believe increased risk of concussion is simply a matter of increased playing time or the result of risky and aggressive playing style. Many sports leagues and organizations require players to undergo baseline neurocognitive testing before they can take part. Neurocognitive testing is used to measure brain functions like memory, decision-making and reaction times. Baseline tests are compared to tests performed after a concussion to assist athletic trainers, neuropsychologists and doctors in determining when players who have sustained concussions are ready to safely return to the game. No athlete should be allowed to resume play until all symptoms are gone. Also A good way to reduce the risk of concussion is to strengthen the neck and shoulder muscles. Strength training that works these areas can help the body absorb the shock of a blow to the head. Overall fitness is also key, the stronger the athlete, the less likely he or she will be injured. (Dr. William Meehan, 2018)
In conclusion, CTE needs to be diagnosed while you are alive as well as dead. The only way now days CTE can be diagnosed is if you are dead. I think doctors need to do a better job at this. More deaths from CTE will be prevented if you can diagnose it before death because people who have CTE will stop whatever head on head contact they are having. CTE is progressive which means the longer you have it the more aggressive it gets. If CTE is caught early before it gets to aggressive then maybe it can be cured. I think this is something that doctors need to take into consideration, it would save many lives.  
Related Topics