Contribute to the Support of Child and Young Person Development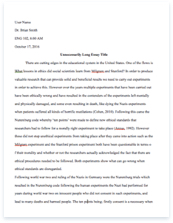 The whole doc is available only for registered users
Pages: 13
Word count: 3010
Category: Childhood
A limited time offer! Get a custom sample essay written according to your requirements urgent 3h delivery guaranteed
Order Now
1.3 Support assessments of the development needs of a child or young person. An assessment of the needs of young children provides us with an understanding of children's developmental status and condition in order to define the areas which are most in need of attention. Integrated ECD (Early Child Development) is a complex concept which encompasses several aspects. A child's development during the early years consists of physical (both health and nutritional status) and motor development (gross and fine motor skills), social and emotional development (in terms of social relationships, culturally appropriate behaviour, values, and self-esteem), and cognitive and language development.
Measuring the status of children requires indicators that capture the different aspects of integrated ECD. A single indicator will not be enough. Rather, it is increasingly common to work with a child profile in which various indicators are incorporated. ECD is not only an integrated but also a continuous process which start in the prenatal phase and extends until the transition to primary school. Development needs and milestones of young children shift over the years and experiences can have a lasting impact. Experiences such as malnutrition or neglect in the very early years will influence a child's developmental status as a toddler and in later years. Types of assessments include:
* assessments for an overview of current child status  * assessments to support learning (e.g. by parent or teacher to see what type of activities the child is ready for; mostly informal) * assessments for the identification of special needs (e.g. growth monitoring to identify malnourished children) * assessments for program evaluation (to determine whether the program is effective in reaching its goals, or to compare alternative program models and approaches) * assessments to monitor trends (e.g. assess the status of children within or across regions and over time) * assessments for high-stake accountability (to hold individual students, teachers or project managers accountable)
1.4 Suggest ways that identified development needs of a child or young person can be met in the work setting. The needs assessment will identify specific groups of children that are already behind in their development. However, the preventive nature of an ECD program asks for identification of the children that are at risk of being behind and most at risk of not developing to full potential. There are a wide range of factors that make a child especially vulnerable. Especially vulnerable are children affected by:
* HIV/AIDS
* Abuse or neglect
* Physical or mental disabilities
* Malnutrition
* Poverty
Children learn in different ways and can have different levels or kinds of SEN (Special Educational Needs) so if a child has SEN, the school will increasingly, step by step, bring in specialist expertise to help with the difficulties they may have. This step-by-step approach is set out in the Special Educational Needs Policy and Code of Practice. The school must tell the parents if they start giving extra or different help to their child because of their SEN. The basic level of extra help is known as School Action, and could be: * a different way of teaching certain things
* some extra help from an adult
* using particular equipment like a computer or special desk * flexibility in planning
* self concept and family background
An IEP (Individual Education Plan) is used, before a term starts the school will hold a meeting for any outside agencies, the parents and teachers of the child to meet and discuss the next best plan of education for the child. Discussing the child's interests preferred learning methods, targets, flexibility and interagency working with the child.
Be able to support the development of children and young people. 2.2 Record observations of the child or young person's participation in the activities. Here is an observation of some children playing with paper dolls and colouring. It was time for some of the children to get out some table top toys, so painting, colouring; drawings was put out as well as connect 4 and ludo games. The children divided them self's up, I sat with some children on the colouring table, which we started to draw some pictures of dolls and people, child A had me drawing some people, a man, a woman, etc then child A sat down and started to colour in the pictures, while doing this child A asked me to draw some tops, trousers, shoes and hats.
I did and give them to her, then child A got up and walked over to the resources desk to get some scissors, she then come back and sat down and cut the pictures out, all the time she was talking and telling everybody what colour trousers and top the dolls would have, the colour of shoes and hats. Child B just wanted to draw houses and colour them in, child B got some paper, then grab a hand full of pencils and sit down at the other end of the table, child B was very quiet and you could see that she was concentrating on the drawing, child A was asking me questions as to what my favourite coloured top was, do I wear jeans and then coping my answers to the colouring of the drawings, child A asked child B to help her but child B said no I have to finish my colouring. Child A started to tell us the play that was building up from the drawings of the paper dolls and the houses child B had done, child B finished colouring the house and car in a front garden, she told up reach over the table and picked up the scissors and then sit back down, she cut out the house, car in garden seen and then gave them to child A and said you can have them, I'm going to play connect 4, with that she got up and left the table. Child A took them without saying a thing and started in a quiet voice her play with the pictures.
2.3 Contribute to the evaluation of the activities meeting the child or young person's identified development needs.
I would plan our lessons with clear learning objectives based upon the knowledge of each child within my care, I strive to ensure that all tasks set are appropriate to each child's ability and lesson plans make clear the expected outcomes for each lesson. One of the staff members always shares the lesson's objective with the children as the lesson begins. For example;
My co-workers or I would tell the children what will be happening for that term. We would tell them of all the events that might be happening and how we are all going to join in and complete each task. How we would split the children into groups and what each group would be doing, what materials we are using and how long we have to complete the task If we was doing wall displays for Chinese New Year, then each group of children would have different tasks to complete, the groups would be mixed with all ages, gender and ability, as so for all to help each other, which would each gain their ability of communication and interaction with the others.
The resources station and other materials from our cupboard would be laid out for all to help them get the materials they need. The children would make Chinese lanterns, a dragon, fortune cookies, a calendar, pictures of fireworks etc. This task may take a couple of weeks to complete and all children would have the opportunity to move around in the groups so all can have ago at everything.
Know how to support children and young people experiencing transitions. 3.1 Describe the different transitions children and young people may experience. There are many different transitions that a child may go through, so many not just through school but throughout life itself. All will have different effects on the child's emotional, physical, intellectual and physiological well being. Here are some examples of transitions a child may go through. * Going from nursery to first year class, changing class's each year until year 6.
The child may be afraid or tearful, knowing one teacher or staff from a formulary setting and then having to get to know another, learning the new rules or different methods that are taught. Children may have they class mixed up in following years to come so this could lead to loosing friendships or on the other hand gaining new friends, different routines can also effect the child's development and learning because children like different teachers or staff in different ways, they may not like a new teacher and become angry or frustrated and not want to learn. * Moving to a new school
Some child have to change schools because of the family moving home or area, some child come from different countries and would have to learn a new language, * A break up of a family or parents meeting a new partner. Children will find it very emotional if the family setting has broken up, maybe because of a death of a family member or parents getting a divorce. Some people meet new partners which have their own children and if their start a new life together then all children may find it difficult to share their parents attention or having to share a bedroom or toys, Having a new child born or having many siblings in a family.
3.2 Explain how to give adult support for each of these transitions.
When a new child comes into class it can be very unsettling time for them but to help them settle as soon as possible there are strategies that I would put into place. By introducing the class and adults maybe during circle time so everyone is sitting in a circle and not just the new child standing at the front, to pair the child up with a buddy who has a common interest so they can chat and get to know each other. If the child is really unsettled children could have name labels. The child can come in 10 minutes earlier so they could be shown important parts of the school, i.e. toilets, dinner hall, study centre or medical room, Ensuring that the child is introduced to other members of staff.
There is nothing wrong in letting a child sit at the back of the class and just take in the surroundings, observing the other children from a safe distance is fine as long as an adult keeps checking they are ok and obviously trying to get them involved as soon as possible. Whilst I am supporting a child it is very important that I do not do too much for them otherwise they will rely on me instead of thinking for themselves. Some children from different countries or those children that have lost a family member may be very stressed or frustrated, if really unsettled they could bring with them something from home, it could be a special toy, animal or cushion but something that makes the child feel more secure.
I had a child who used to bring a cuddly zebra in and after a little time we use to put him to sleep in the cupboard and the child would say hello at playtimes and lunchtimes. This really helped to settle the child very quickly.
Be able to support children and young people's positive behaviour. 4.1 Explain how a work setting can encourage children and young people's positive behaviour. 4.2 Demonstrate how children and young people are encouraged to engage in positive behaviour. 4.3 reflect on own role in promoting positive behaviour in children or young people.
In a classroom situation whether I am working with a group or the whole class, I would need to ensure that the children are learning to the best of their ability in a pleasant and calm atmosphere. I would need to be firm and consistent so the children know exactly where they stood. Good body language and being enthusiastic about what I am teaching goes a long way for the children to be more motivated. The tone of my voice is important if I was loud/ shouting then the children will clam up and not respond.
As often as possible I make activities practical so that there is a lot of interacting with other children and the adults around them, taking partners is good for discussions as this gets children talking and the use of whiteboards in a stress free situation, the use of different resources all help to keep the children interested and focused. I am always aware that I should not have the children sitting on the carpet for too long or they will become fidgety and bored.
Both children and adults need to be respectful of each other and always make sure that there are opportunities for them to be listened to. When speaking to them I come down to their level if possible so I have direct eye contact and they will not feel over powered by me. I give plenty of descriptive praise/ rewards/ stickers for children that are doing the right thing and soon other children follow suit. If children choose to misbehave in whatever way an individual target chart suitable for the child could be made and involving them gives them responsibility. In my work place we have a can do motto which helps to motivate and gives them their self belief and drinking water throughout the day helps to keep them lively.
I often mix children up so that the more able are able to support the less able; this really helps especially with reading text. The children respond well with another child sometimes better than an adult. I let children express their feeling through various ways, this could be painting, drawing, writing whatever makes them feel comfortable, when I do circle time this helps children to discuss and learn to be more aware of how others are feeling. When a child misbehaves towards another child, then I would talk to them both, making sure they understand each other feelings, giving them the opportunity to discuss what has happened and offering the chance to apologise and make amends of the actions.
It is important that children learn to get on with one another and to play games appropriately, I would oversee them playing together as often as possible giving general reminders and reinforcing good teamwork, I would encourage them to play bingo games, lotto, monopoly etc they have to learn to communicate and interact with each other with the least amount of my support. If I was not interacting well with the children they will become bored and unwilling to listen. They may distract other children around them and talk inappropriately. When asked a question they may not know the answer if they have not been listing.
Be able to use reflective practice to improve own contribution to child and young person development.
5.1 review effectiveness of own contribution to the assessment of the development needs of a child or young person. 5.2 review effectiveness of own role in supporting the child or young person's development. 5.3 identify changes that can be made to own practice in supporting child and young person development.
Observation
Lesson P.E
The child concerned has global delay; attention skills are very poor as are listening and concentration. Speech is a big problem and this child is a selective mute. (Ref child A) During today's p.e lesson I asked child A to take the red hoop from the front of the trolley. "Take the hoop from the front please" child A tries to take the hoop from the back "try and take the red hoop from the front" the first hoop, can you see it child A its red?
Child A tries to take the hoop from the back again, after several times of trying to encourage him to take the red hoop, I took the hoop from the trolley and gave it to him. Child A took the hoop, put it on the floor and sat on it, Child A then went and balanced on the bench but didn't manage to stay on it for long as child A's balance is not good, child A then started to roll around on the floor and didn't seem to want to listen anymore. * How effective do you think your assessment of this child's development needs is?
I think this assessment was too short and needed more time on this child; working with a child with global difficulties makes it much harder to really understand the child and not knowing the child's back ground did not help. * What have you learnt about child development from carrying out this observation?
I have learnt that I need to development my own skills more in all areas with children, try and phrase my instructions differently, talk slowly so children can understand me better. Use shorter sentences so as not to over load the children, should have taking child A to the trolley first and ask him to show me something else red. I need to stay calm and observe more of the teacher's techniques. * What changes should you make to your practice to help you support child development better?
Making sure all children I am working with understand me and what I am instructing them to do. Making sure my work setting has the resources it needs to encourage and develop all the children we care for. Understanding and finding out the information I need from their parents and carers so I can plan better and more interesting activities for the children as so setting tasks which are open-ended and can have a variety of responses and increasing difficulty, grouping children by ability in the room, and setting different tasks for each ability group.
Related Topics