Consumer Response to Word of Mouth Advertising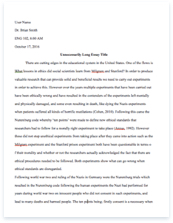 The whole doc is available only for registered users
A limited time offer! Get a custom sample essay written according to your requirements urgent 3h delivery guaranteed
Order Now
Word of mouth happens every day all around us. Family, friends, acquaintances, or complete strangers talk about or post opinions and information on products or services they have purchased, or new and upcoming products that people want to know and learn about. The quality of word of mouth determines the extent to which consumers trust the brand and how they react and behave. Word of mouth has and is becoming a more powerful aspect for companies, and are realizing how important it is when it comes to advertising. Can We Depend on the Knowledge of our Close Friends?
The Influence of Friends' Opinions on Purchases
Consumers feel comfortable and tend to rely on their close friends opinions and recommendations when they are seeking to buy a product (Gershoff, A., Johar, G. 2006). Consumers take the opinions of people close to them seriously and like to believe that they know what they like and prefer when shopping for products ranging from a type of coffee brand to buying a new car for the family. The main focus here is whether or not friends have the right amount of knowledge to help determine what we should and should not purchase. Friends Perceptions of our Preferences: Correct or Not?
According to the Gershoff and Johar (2006), there are two factors causing consumers to overestimate their close friend's knowledge of what we prefer for the different purchases we make; motivational pressures and cognitive pressures. Consumers trust the word of their close friends, and believe that they know them best and know what they like and prefer, which is where cognitive pressures come into play. Motivational pressure will happen when consumers think close friends know them well enough that they play a relatively large role in buying decisions, and in return are confirming the strength of that particular friendship. With this being said, the closer the friends are, the more likely they are to believe they have accurate knowledge about each other's purchase behavior (Gershoff, A., Johar, G. 2006). Due to the following factors mentioned above, consumers are too confident in the input they receive from their friends. Even though two friends may be very close, they may have not had the opportunity to visually see them engage in a specific activity such as buying a car, so they mainly rely on the fact that they think they know each other best because of their closeness (Gershoff, A., Johar, G. 2006). Because of motivational and cognitive pressures that consumers may experience, undependable advice has a higher chance to occur. Undependable Advice and its Effect on Word of Mouth
Word of mouth is shown to be very powerful in this sense because consumers really will base a purchasing decision off a friend's opinion or recommendation. This also puts great emphasis on customer satisfaction and making sure every customer is happy post-purchase. Word of mouth is spread from one person to another, so multiple consumers may depend of the opinion that was formed by one single person. Even though we are motivated to listen to our close friend's advice, more accurate information may be provided by consumers that do not know our likes and preferences, but just want to spread useful information about a product ( Gershoff, A., Johar, G. 2006). Advertising Effectiveness and Post Purchase Behaviors
Measuring Effectiveness
It's important for companies to understand how consumers learn from and react to an advertisement, and also how their buying patterns and behaviors add to the firm's total profits over a long period of time. In order to measure consumers behaviors and long-term value of a firm, customer lifetime value models are used. These models are utilized to calculate how customers are acquired through advertising and their value in the long run, and the effect advertising has on how they behave pre and post purchase, retention, and especially word of mouth. CLV models assist companies in how much money should be allocated into advertising their products or service (Hogan, J., Lemon, K., & Libai, B. 2004). Word of Mouth Overlooked
Customer lifetime value models are known to underestimate how much effect advertising has on consumer behavior. The models "determine advertising effectiveness by examining the effect of marketing communications on individual customers. These models can undervalue advertising effectiveness because they assume that customers respond to advertising in isolation and do not interact with other customers" (Hogan, J., Lemon, K., & Libai, B, 2004, p. 272). Word of mouth and the communication between numerous individuals play a vital role on how consumers respond to an advertisement of a certain product (Hogan, J., Lemon, K., & Libai, B. 2004). Word of Mouth as a Rippling Effect
When a consumer is happy with a purchase that they made, they are driven to spread the word about the product and to tell people about their experience. However, this "rippling effect" would not even occur without the initial contact to the advertisement (Hogan, J., Lemon, K., & Libai, B. 2004). More research is being done on customer lifetime value and how it would change if they were to include how a customer is affected by word of mouth. In order to measure the ripple effect of advertising and word of mouth, how word of mouth is created and spread from person to person needs to be determined. A concept called customer strings is introduced. It is defined as: "a set of purchases by customer(s) linked by the word of mouth communication process initiated by the focal customer of the CLV calculation" (Hogan, J., Lemon, K., & Libai, B, 2004, p. 273). There are three types of customers that are involved in this process due to word of mouth; the primary customer, secondary customer, and tertiary customer. The primary customer is being assessed through the CLV model and their string is the purchases made by them. With positive word of mouth from the primary customer, a secondary customer string is formed. Tertiary customers are attained through the spread of information of secondary string customers, which makes the rippling effect (Hogan, J., Lemon, K., & Libai, B. 2004). Buzz Marketing: A Newer Way of WOM
What is Buzz Marketing?
Buzz marketing is a newer approach for marketers to lure their audience into learning about and buying their products. Their main goal is to find the trendiest people in a community that would be best at talking up the specific brand in order to promote a product in an inexpensive way, rather than spending an immense amount of money on an advertisement (Notarantonio, E., Quigley, Jr., C. 2009). People that are "buzzing" about a certain brand or product are known as buzz marketing agents. Buzz agents are either paid by a buzz marketing firm or they volunteer (Carl, W., 2006). The selections of these agents are chosen carefully because they need to have the ability to influence others. If these agents are seen as "cool" the word will be spread more quickly and convincing enough to interest potential customers (Notarantonio, E., Quigley, Jr., C. 2009).
The Ethical Aspect of Buzz Marketing
Not all buzz marketing agents reveal who their sponsor is to the public, and some make it very clear (Notarantonio, E., Quigley, Jr., C. 2009). It seems as though some people have accepted the fact that these types of conversations happen all the time without any control that it's happening. Others may just enjoy talking to knowledgeable people about new products and receiving further information about something they are already interested in purchasing. However, other consumers may be offended if they weren't aware they were involved in buzz marketing. Once they realize the buzz agent's selling intent, they may not be all that supportive. Agents should save the trouble and reveal who they are and their objectives to help promote and sell a product (Notarantonio, E., Quigley, Jr., C. 2009). Buzz Marketing vs. Traditional Advertising
Research was performed on undergraduate students at a private college who were all enrolled in Foundations of Marketing courses to test the impact of purchase intentions and perceived credibility of an information source on subjects who were either exposed to a scenario that used the buzz promotional approach or a traditional promotional approach (Notarantonio, E., Quigley, Jr., C. 2009). Results showed that the buzz marketing approach was more influential and subjects perceived the sources to be more credible compared to the traditional approach (Notarantonio, E., Quigley, Jr., C. 2009). Based on these findings, it goes to show how important it is for buzz agents to be able to connect with consumers and be perceived as a knowledgeable individual in order to spread the word of mouth correctly. Buzz Marketing and Word of Mouth
Word of mouth has been around for a very long time and has and always will have some type of influence on consumer behavior. Buzz marketers are now using their own ways to engage in the word of mouth communication process in people's everyday lives and conversations. Buzz agents are especially influential on other consumers and use word of mouth to sway people towards particular products (Carl, W., 2006). Buzz marketing is a new face of WOM and is happening more and more often. Consumers Responses to Peer Recommendations Online
Social and Temporal Distance
With information technology advances and the Internet developing at a rapid pace, consumers have more opportunities to view all types of recommendations and reviews all provided by consumers just like them online. The big question is, how do these recommendations influence how consumers behave and base their decisions regarding a purchase of a product? (Zhao, M., Xie, J. 2011). Two factors that affect how consumers respond to different peer recommendations are temporal distance and social distance. Consumer's decisions may shift due to either when they plan on consuming the product (near-future or distant-future), and if the consumer receives the recommendation from a close or distant other (Zhao, M., Xie, J. 2011). Findings have shown that recommendations from others are more useful and persuasive when consumers are making a decision for a purchase in the distant future (Zhao, M., Xie, J. 2011). For example, consumers may be more likely to refer to recommendations when buying a camera for an event that is a month away rather than 2 days away. Also, consumers are affected more by recommendations from close others when making a decision for the near-future, as opposed to recommendations from more distant others that are more effective for distant-future decisions (Zhao, M., Xie, J. 2011). Increased Risk with Online Shopping
Customers who choose to shop online rather than in-store have a higher purchase risk since the purchase that is being made in virtual space rather than in the store with a sales associate. Customers then rely heavily on word of mouth to reduce any stress caused from purchase risk. Consumers are always researching reviews on products before they even make a purchase online. Word of mouth directly affects an online purchase of other consumers who prefer to rely on others opinions and reviews, and is an important factor with consumer's attitudes towards products that are offered online (Kim, H., Song, J. 2010). The Quality of Word of Mouth Matters
The quality of word of mouth is a very important issue for consumers. False or weak information from online reviews may cause the consumer to purchase a lower-quality product (Kim, H., Song, J. 2010). The more participation that is seen on product reviews, the degree to reliability increases. Whether it's the amount of postings on a certain product, or the amount of replies with the same opinion that one post receives regarding a product, improves the word of mouth quality. Purchase behavior and trust fluctuate as a result of the quality of information that is communicated through word of mouth, which is why online companies or companies that have online stores put forth effort towards monitoring WOM to build trust with their customers (Kim, H., Song, J. 2010).
Structured Electronic WOM
Structured electronic word of mouth in a virtual community is put together by a webmaster of a company to create and improve opportunities for consumers to interact. The webmaster may select a particular posting and make it appear on the front page of a forum or on the home page to highlight something positive about one of their products (Hung, K., Li, S. 2007). In virtual communities, electronic word of mouth has a great influence on all different types of consumers purchase decisions. Informed consumers rely on EWOM to help cater to their specific needs, whereas uninformed consumers may be influenced to seek variety Hung, K., Li, S. 2007). The more a consumer participates in a virtual community (VC), the more their purchase behaviors are affected. Conclusion
Major and minor companies around the world are recognizing how much word of mouth influences the way that consumers behave. Many factors have been determined and more research is being done on what contributes to word of mouth and also how effective these contributors are. Even though a lot has been learned about of word of mouth and how it has and still affects consumers behavior from the past to present day, companies and consumers can learn exactly how to take advantage of the opportunities word of mouth provides, and solely benefit from it and work towards creating more of it.
Reference Sheet
Carl, W. 2006. What's all the Buzz About? Everyday Communication and the Relational Basis of Word-of-Mouth and Buzz Marketing Practices. Management Communication Quarterly. 19 (4), 601-634
Gershoff, A., Johar, G. 2006. Do You Know Me? Consumer Calibration of Friends' Knowledge.
Journal of Consumer Research Inc.. 32 (4), 496-503.
Hogan, J, Lemon, K, Libia, B. 2004. Quantifying the Ripple: Word-of-Mouth and Advertising Effectiveness. Journal of Advertising Research. 44 (3), 271-280.
Hung, K., Li, S. 2007. The Influence of EWOM on Virtual Consumer Communities: Social Capital, Consumer Learning, and Behavioral Outcomes. Journal of Advertising Research. 47 (4), 484-495
Kim, H. Song, J. 2010. The quality of word-of-mouth in the online shopping mall.Journal of Research in Interactive Marketing, 4 (4), 376-390.
Notarantonio, E.M. Quigley, C.J. 2009. The Effectiveness of a Buzz Marketing Approach Compared to Traditional Advertising: An Exploration.Journal of Promotion Management, 15 (4), 455-464.
Zhao, M., Xie, J. 2011.Effects of Social and Temporal Distance on Consumers' Responses to Peer Recommendations.Journal of Marketing Research, 48 (3), 486-496.
Related Topics