Comparative Analysis of 'Blackrock" – Nick Enright and "Blurred" Stephen Davis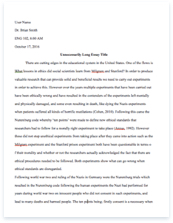 The whole doc is available only for registered users
Pages: 9
Word count: 2044
Category: Australia
A limited time offer! Get a custom sample essay written according to your requirements urgent 3h delivery guaranteed
Order Now
The first of two plays that has been considered for selection in upcoming International Theatre for Young People's Festival soon to be held in Vancouver, Canada is "Blackrock" by the late Nick Enright. The plays must represent the values, attitudes and beliefs of today's Australian Youth Culture. "Blackrock" explores the strength of mateship, the importance of image and the dangers of peer pressure, parties and underage drinking. The second play is the popular "Blurred" by the playwright Stephen Davis; which offers a comedic and clever representation of perhaps the most famous Australian youth orientated rite of passage, "Schoolies". Both of these plays portray representations of the highest calibre of Australian youth culture.
Both initially play to Australian stereotypes and colloquialism but as interrelationships develop audiences are invited to gain insight into the youth culture and the society which they represent. The thematic relevance, human context, dramatic form and language of the plays contents relates directly to the Festivals rationale and are unique to Australia. The rationale of the Festival is in place to allow young people to explore their own ideas and experiences within the world that they live and give the opportunity to explore and dramatize larger issues of justice and injustice which they as youth may often feel powerless to influence, and to allow youth to expand their horizons – to move beyond their won experience of the world and to inhabit different personae and different societies.
"Blackrock" is a play based in a coastal town and is based on events prior to and immediately following the violent murder of the character, Tracy Warner. This occurrence pushes relationships to their limits and raises issues of injustice. The theme of "Blackrock" offers insight into the Australian 'Surfie' culture whereby all characters are in someway affiliated with surfing or the beach. Teenage rebellion against societal norms and conformity is also apparent. It can be seen in the play that as a result of these rebellious actions, the careless acts undertaken whilst under the influence of alcohol can have devastating consequences. Blackrock also raises the issue of to what extent do you back up your mate? How strong is the concept of mateship? Also the importance of image, image is something individual youth pride themselves on, to have an image that entails popularity and to be relatively well liked is a high priority for many teenagers around the globe.
The types of characters involved in "Blackrock" unfortunately don't give a true representation of all Australian youth; as they lack ambition and goals and show little to no respect to their elders, parents or the authorities. The male youths also seem somewhat apathetic in relation to life and living in relation to the murder of Tracey Warner. However Blackrock does offer a true representation of mateship and how one would act under immense pressure. The world believes, due to the fact that the media have depicted, that Australia's regardless of age share the trait of grace under pressure, Enright sheds new light on this stereotypically Australian trait through dramatic form, language and human context keeping in the theme of realism.
The relationship between Jared and Ricko explores in great depth the theme of mateship. In doing so the interrelationship formed invites international audiences to view what this aspect of Australian Youth Culture is inherit of. As the play develops, audiences become aware of the fact that it was indeed Ricko that in a fit of rage murdered Tracey Warner, then turns to his best mate for help. Ricko asks what many may view as unfair, for Jared to lie to the authorities. Unbeknownst to Ricko, Jared witnessed the murder in all its bloody veracity. Jared is then faced with the moral dilemma of sticking by his mate, and conceding to audiences that mateship is a powerful force apparent in Australian Youth Culture, or turn to the authorities and do not only himself justice but also the murdered Tracy Warner.
"…You get over there now. You tell them what we said…You were with your mate…Day I met you, down the half-pipe, blood running out of here [forehead]; I piled you into spiders van…Get in the van I said. Now you get in the van. Your turn to look after me." (P56 – 7)
This illustrates not only what type of character Ricko is but also the way in which he interacts with other characters in Blackrock. He uses foul language such as:
"You are, man, you fucken are" (p57)
The language used in Blackrock depicts the Surfie sub-culture that resides within Australian Youth Culture. A prime example of how Enright has utilized language to appeal to the targeted group, teens, was one of Toby's initial lines. Toby is a close friend of Jared and also sister of Jared's girlfriend Rachel:
"I'll put on a keg-show down the surf club" (P3)
Enright also exploits Australian colloquialisms to reiterate the theme of teenage rebellion, something generic of the western world. Unfortunately inherit of teenage rebellion is anti-social behaviour so eloquently put by Dave:
"Bet ya ten bucks you can't take out that street light" (P27)
Also it is apparent that the teenage characters in this play, are excessively disrespectful of their parents:
Diane (mother) – "Where are you going?"
Jared (son) – "Shut up! Shut the f@#$ up!" (P29)
Enright also to connect with audiences uses colloquialism and refers to things that aren't widely apparent internationally, only adding to the genuine underpinning of the play:
"It's not a freaking blue light disco" (P18)
The stereotype that Australian's are heavy drinkers is played to in Blackrock in relation to the various inebriated conversations that take place throughout the play:
Scott says – "I'm so ripped"
Daveo says – "Only one thing to do. Get rippeder." (P25)
Though a few terms are slightly dated by today's standards," pashing-off" for example, the underlining effect is well-developed and it adds to the interrelationships and hence the human context, thus enabling young people to explore their own ideas and experiences in the world they live.
"Blurred" is the third and final part of a rites of passage trilogy by Stephen Davis. It pays homage to the legendary journey made annually by grade twelve graduates to south east Queensland for schoolies. The play comprises of postcard promisees, surf, one night stands, release and acceptance, not to mention excessive drinking, wild times and the tendency toward the irresponsible in the utopian dreamscape known as the Gold Coast, in particular Surfers Paradise. Davis offers an intrepid representation of the human context through intertwining interrelationships, dramatic form and language which culminates to form an accurate depiction of Australian youth. "Blurred" is much more than a theatricalised retelling of a trip down the road for a "piss-up", it clearly demonstrates Australian youth culture at a unique and euphoric moment in their lives and runs deeper than stereotypical colloquialisms inherit of other Australian theatre and would prove to be a distinctive feature for performance at the International Festival.
The theme around which "Blurred" is centred is the concept of a right of passage. Schoolies has become an integral part of the voyage from student to adulthood as the character Lynette metaphorically states in the play:
"The whole weekend is important…it's our movement from the back of the bus to the front of the bus." (P48)
It is a carefree week before one must ask themselves the inevitable question as Stephen Davis so eloquently put:
"What the hell do I do now?" (P40)
The other theme that is portrayed within this piece of theatre is a concept strongly affiliated with Australian culture, mateship. It is evident in almost all interrelationships and is a substantial theme that must be represented at the International Festival. Larrikinism is also apparent in "Blurred", in some relationships more so than that of others, in relation to underage drinking which often leads to irresponsible behaviour which is inherit of a lack of consideration for the repercussions of these actions.
Stephen Davis created the characters Calvin and Hobbs to represent stereotypical Aussie battlers; they aid in providing comic relief through their language choices and embody the traits of mateship, larrikinism and irresponsible behaviour which unfortunately leads to the untimely death of Calvin. Ironically both the characters names and persona's mimic those of two cartoon characters by the names of Calvin and Hobbes, a small boy and imaginary friend whom constantly embark on exciting and humorous adventures. An example of Calvin use of Australian colloquialism is:
"Oh no…I forgot the doms…" (P66)
By Calvin and Hobbs using Australian colloquialisms they add to the comical value of the play and also portray the essence of larrikinism which resides, in some more so than others, all Australians:
"I'm nearly pissing my pants here with excitement" (P66)
This leads onto how their larrikinism can be taken to far, and they move from being larrikins having a good time harming no one to partaking in anti-social and irresponsible behaviour which is detriment to themselves and the community:
"Well you want me to go faster…Yeah? Really?…This car will beat anything on the freeway…one thirty five…one thirty six…feel it shake?…One fifty…HELL YEAHHH!" (P66-7)
Unfortunately the adventure of Calvin and Hobbs was soon to end when Calvin suggested they jump on the roof of a train:
"You want to have fun?…Lets get on top of the train…We surf it. Come on it's one of the things you wanted to do…You wanted to surf…hang ten, buddy!" (P96)
Calvin takes the leap of faith and sadly is killed in the process, this representing how foolish and irresponsible acts can have dire consequences. On a lighter note, Calvin and Hobbs clearly embody mateship and this is shown throughout the scenes in which they are in:
"I want to hit you…we're just pushing each other…Don't you reckon that's interesting?…We cant hit each other…'Cause we've been mates since primary school…I'm sorry man"
This quote portrays how mates stick together and support one another, this is without doubt one of the most positive attributes of Australian Youth Culture and it is imperative that this is shown in the Festival.
When comparing "Blurred" to "Blackrock" one must take into account that "Blurred" is a comical and somewhat un-realistic narrative. As opposed to a very realistic and less dramatised event that often occurs within Australian Society around which "Blackrock" is set. Both plays are expected to give accurate representations of Australian Youth Culture, though in reality they offer accurate representations of Australian Youth Culture in two very different lights and not simply in general. Both play to stereotypical Australian colloquialism in an attempt to appeal to the targeted age group of teenagers.
Blackrock is a superior play in relation to the purpose it would serve at the Festival due to it's in depth human context attained by complex characters and their inherent interrelationships. As opposed to "Blurred" which is a series of comical stories that are based around a singular event in which no more than three characters are ever deeply involved with each other. Due to this fact it can be said that the convenient intertwining of tales and almost accidental relationships do offer insight into Australian Youth Culture but in most instances it only scratches the surface.
In collaboration with the esteemed judges of the International Theatre for Young People's Festival it has been concluded that though the play "Blackrock" does not offer a flawless representation of Australian youth in that; the characters lack ambition and goals, show little to no respect to their elders, parents or the authorities. It does portray a more realistic and less stereotypical representation of Australian Youth. Therefore "Blackrock" by Nick Enright will front the Festival with "Blurred" by Stephen Davis closely seconding it. Having scenes from "Blurred" in the Festival will demonstrate that amongst the flaws of Australian Youth Culture there are many positives, such as mateship, larrikinism and the will to have a good time. For these are for the most part predominant in Australian Youth Culture and this must also be represented clearly and concisely.
Related Topics