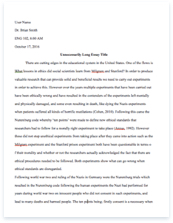 The whole doc is available only for registered users
A limited time offer! Get a custom sample essay written according to your requirements urgent 3h delivery guaranteed
Order Now
It is a known fact that getting a college degree increases one's chance of having a better life. That is why everyone is more than eager to graduate in college despite of the many hurdles. Colleges and universities play a big role. In order to improve graduation rates, increased attention must be given to the retention of college freshmen. There is also a need to identify the adjustment difficulties of students. Identifying the adjustment difficulties of college freshmen is justifiable, yet, it must not stop in simple identification. Gaining deeper understanding of adjustment difficulties is necessary especially with reference to sex differences and age. Understanding the adjustment difficulties of college freshmen with the hope of retaining them may seem complex. This is especially so when there is no basis for its understanding. Therefore knowing the possible variables connected with retention is necessary. In line with this it is asserted that "several variables have been linked to retention including academic achievement, connection to college community, and the ability to adjust to college life". Going to specifics, different changes are happening in the lives of college freshmen.
"The first few weeks of college for freshmen students can be a wonderful passage as they find new friends, acquire new knowledge and grow as young people. However, this transition can also be a distressful, confusing, and puzzling experience". This is may be attributed to the reality that many transitions are simultaneously required when attending college or university. Adjusting to college life requires the overcoming of several concerns, these concerns include: academic adjustment, social adjustment, personal-emotional adjustment, and attachment to the institution. Generally, the transition from high school to college is a stressful experience because it is considered to be "a major transition in a young adult's life". Despite being a stressful experience, it is still an important developmental milestone and has potentials for personal growth and behavioral change.
It must be realized in the end that students enrolling in colleges and universities are increasing and if their adjustment process does not go smoothly, many might leave and might not even return to school. (http://journal-advances-developmental-research.com/.) Entrance into university involves transition in personal development, separation from family and friends, development of new interpersonal relationships, examination of values, and acceptance of new responsibilities. At the same time it is a transition into adulthood. It is a complicated period as individuals seek to develop a sense of identity distinct from their families of origin.( http://www.webclearinghouse.net/volume/.) It is rather common knowledge that the first year of collegiate education is one of the hardest. College is an adjustment and growth process that takes a lot of effort, patience, and common sense, but above all, college takes hard work. One study (Lapsley, Rice, & FitzGerald, 1990) found that for many adolescents, departure from home is a major transition; it takes its toll on the level of adaptation achieved by the students. College is an experience that some students find the most difficult experience of their lives; therefore, it is not hard to see why some freshman students have difficulties in adjusting into their college life. (http://www.news.cornell.edu/)
High school students who will move to other school for college usually have some adjustment issues and problems. A recent study shows that commuters experience less adjustment issues than those who will stay away from their homes. Adjustment issues usually vary by gender, mission, course, affiliation, etc. The challenges that each individual faces are unique based on the profile of the respondents, the level of adjustment of the respondent, and how do the respondents' level of adjustment compare when group according to their sex, school where they graduated and residing area. As a part of a society, one needs to adjust in different situations. Since adjustment refers to a change which an individual make adjustment in order to fit into the community.
Adjustment is a continual process by which a person varies his/her behavior to produce a more harmonious relationship between himself/herself and his/her environment (Aggarwal, 1998). It implies changes in our thinking and way of life to the demands of the situation. Based on the above definitions, adjustment could be seen as a condition or state in which one feels that one's needs have been (or will be) fulfilled and one's behaviors conforms to the needs of a given environment. Students who attend colleges of education are generally youths, so they need social support from their parents, peers as well as college authorities. The communities where the students come from expect that the students behave responsibly and show signs of well-adjusted persons. The researchers hope that this study will enable educators, parents and the society to gain much understanding concerning the various characteristics, needs, interests and growing potentialities of maturing adolescents who will heed to their immediate adjustment problems.
Related Topics