Cohabitation: More Harm Than Good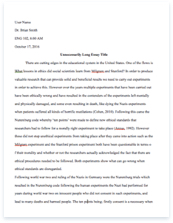 The whole doc is available only for registered users
A limited time offer! Get a custom sample essay written according to your requirements urgent 3h delivery guaranteed
Order Now
"If the family trends of recent decades are extended into the future, the result will not only be a growing uncertainty within marriage, but the gradual elimination of marriage in favor of casual liaisons, oriented to adult expressiveness and self-fulfillment. The problem with this scenario is that children will be harmed, adults probably no happier, and the social order could collapse." (David Popenoe in Promises to Keep)
Cohabitation by definition is two unmarried people of the opposite-sex living together. It has been called by various terms, such as "living together", "shacking up", "cohabitation", "serial monogamy" or "living in sin." It is a halfway house for people who do not want the degree of personal and social commitment that marriage represents, at least for now (Waite & Gallagher 2000:42). Besides, people believe that living together in a trial marriage tells potential partners something about what marriages would be like. The information gained could help couples make good choices and avoid bad ones. The survey evidence shows how widespread this belief is. The number of unmarried couples has increased dramatically over the past four decades, and the increase is continuing. It is seemed that the cohabitation is replacing marriage as the first living-together experience for young men and women. According to reports only in America, the number of unmarried couples from 1960 to 2002 has increased by over 1100 percent.
It is overwhelmingly clear that cohabitation is very harmful for a number of reasons. In fact, there is not a single good reason to cohabit that stands up under sociological, psychological, health (either emotional or physical) reasons. Cohabitation is so damaging to our human relationships and leaves such deep scars for a lifetime.
Sociological Reasons
The couples who live together before marriage have higher separation and divorce rates. A growing number of young people are cohabiting today, believing that the cohabiting relationship can serve as a successful testing ground for marriage and, therefore, lessen chances of divorce. In fact, recent research shows that 46% of all cohabiting relationships are seen as precursors to marriage by the couple (Lynne N. Capser and Suzanne M. Bianchi 2002: chapter 2). And over 90 percent of cohabitors report they plan to marry someone, if not their current partner, at some point in their lives.( John D. Cunningham and John K. Antill 1997: 77-93). However, the question is "Does cohabiting before marriage decrease people's chances for divorce?" Unfortunately, the research data collected over the past twenty-five years indicates just the opposite is true. Cohabiting relationships are more likely to lead to divorce.
The Psychology Today reported the researches of Yale University sociologist Neil Bennett that cohabiting women were 80% more likely to separate or divorce than were women who had not lived with their partners before marriage. According to the 5-year study by William Axinn of the University of Chicago of 800 couples reported in the Journal of Demography, those who cohabit are the most accepting of divorce. In a Canadian study at the University of Western Ontario, sociologists found a direct relationship between cohabitation and divorce when investigating over 8,000 ever-married men and women (Hall and Zhoa 1998:421-427). Some other researchers from Pennsylvania State University find "it has been consistently shown that, compared to couples who did not cohabit, couples who cohabit before marriage have higher rates of marital separation and divorce." (Catherine Cohan and Stacey Kleinbaum 2002: 180-192.)
The spouses who use cohabitation as trial marriages do not have better marriages. This trial runs or half steps, to test whether the relationship works are not successful; in fact, it is quite that the opposite is true. Research indicates that couples who live together before marriage have significantly lower marital satisfaction than those who do not cohabit and they have weaker marriages, not stronger ones. The disagreements will be occurred and there will be argument. "Cohabitation is not related to marital happiness, but is related to lower levels of marital interaction, higher levels of marital disagreement and marital instability" (Alan Booth and David Johnson 1988: 255-272). They conclude, "On the basis of the analysis provided so far, we must reject that argument that cohabitation provides superior training for marriage or improves mate-selection" (Booth and Johnson, 1988: 261).
Conventional wisdom states that it is acceptable to have a "trial period" to "try the shoe on first to see if it fits". For marriage, however, just the opposite is true. A newly married couple makes a deliberate effort to accommodate each other because they know their relationship will be for life. They want to build compatibility, not to test it (Harley 1996). Walter Trobisch, a psychologist, has stated that "sex is no test of love, for it is precisely the very thing that one wants to test that is destroyed by the testing." Mrs. Schlessinger has listed cohabiting as one of the "Ten Stupid Things Women Do to Mess Up Their Lives" in her book of the same name. She also says "Dating — not living in — is supposed to be about learning and discerning" about a prospective mate.
People who live together have no lasting commitments or responsibilities. Most of cohabitation involves "no public commitment, no pledge for the future, no official pronouncement of love and responsibility". They do not have responsibility to each other. They just think it is just a trial. It is almost true that the commitment of living together is simply a month-to-month rental agreement. As long as one behaves him or herself well and keeps the other happy, the relationship keeps maintained; otherwise it will make an end. Jessie Bernard in "The Future Of Marriage" states: "One fundamental fact underlies the conception of marriage itself. Some kind of commitment must be involved…Merely fly-by-night, touch and go relationships do not qualify. "People who marry "til death do us part" have a quite different level of commitment, therefore a quite different level of security, thus a quite different level of freedom, and as a result a quite different level of happiness than those who marry "so long as love doth last." The "love doth last" folks are always anticipating the moment when they or their mate wakes up one morning and finds the good feeling that holds them afloat has dissolved beneath them."
The couples who live together usually have superficial and significantly weaker relationships. Researchers have found that couples who live together before marriage have weaker marriages (DeMars and Leslie 1984). Anyone can make love, but not everyone can carry on a meaningful conversation. To many people, a good relationship always means much more than physical intimacy. Physical attraction is insufficient glue with which to build or maintain a lasting relationship. Another recent study at Johns Hopkins University again confirmed that couples who cohabit have quite different and significantly weaker relationships than married couples (Schoen and Weinick 1993:408-414). The researchers found, while cohabitors anticipate only the time together, married persons anticipate a lifetime. They also discovered that most cohabitations end within two years.
To people who cohabit, there will occur more difficulties in resolving the conflicts. To many people, the qualities that hold a relationship together are trust, honesty, openness, deep friendship, spiritual intimacy. These qualities require us to take time and effort to develop. When you focus on the physical aspect, you short-circuit that process. Physical intimacy is always a mistaken attempt to quickly build emotional bridges, but relationships built on such an inadequate foundation will be eventually collapse. A recent study at Penn State University (Brown & Booth 1997) comparing the relationship qualities of 682 cohabitors and 6,881 marrieds, (both White and Black, aged 19 to 48 years of age), found that cohabitors argue, shout and hit more than married couples.
The couples who live together before marriage often lay a foundation of distrust and lack of respect. If you cohabit, the premarital intimacy will cause you to wonder: "If he or she has this little control with me now, have there been others before me and will there be others in the future too?" As this suspicion and distrust increase day by day inside, sooner or later you will lose the respect for your partner. The trust factor is an important ingredient in a healthy marriage. Real trust grows in the context of the life-long commitment within a monogamous relationship of marriage. It only occurs in married relationship, not in cohabitation. The National Sex Survey found that cohabiting men were about four times as likely as husbands to report infidelity in the past year. Cohabiting women were eight times more likely than wives to cheat on their partners (Laumann et.al., 1994).
Psychological Reasons
The first psychological problem is that the spouses who live together before marriage abuse each other more often and more severely than dating or married ones. In reality, the numerous studies have found that physical attacks are clearly much more common and more severe among cohabiting couples than among those who are married (Scott 1994:79; Jackson 1996.) and the victims in these cases always are women. Previous studies have found that men typically cohabit because of the convenience of the relationship, whereas women cohabit with the expectation that cohabitation will lead to marriage. This will create a relationship in which men are likely to hold a position of power over women who expect much more from the relationship than they do. This puts women who cohabit in a perilous position.
The U.S. Justice Department found that women are 62 times more likely to be assaulted by a live-in boyfriend than by a husband (Colson 1995). Those who cohabit in college have twice the rate of violence and twice the rate of physical abuse than in marriage (Johnson 1996). A study at Penn State University (Brown & Booth 1997) confirmed that cohabitors argue, shout and hit more than married couples. The Family Violence Research Program at the University of New Hampshire found after studying 2,143 adults that cohabitors are much more violent than married couples. In short, there are higher rates of abusing between cohabiting spouses than married ones, and women are the victims in most of the cases.
Another psychological problem is that cohabiting couples mostly suffer depression and anxiety. According to the National Institute for Mental Health's research, cohabiting women have rates of depression three times higher than married women. Cohabiting women are more irritable, anxious, worried and unhappy (Ciavola 1997). Unlike cohabitors, married men and women are less depression, less anxiety and lower levels of other types of psychological distress (Mirowsky and Ross).
One more psychological problem found in cohabiting couples is lack of happiness. A survey of fourteen thousand adults found that under 25% of those who were single or cohabiting said they were very happy with their life compared to 40% of the married (Waite & Gallagher 2000:67). There is a powerful research clearly showing that marriage offers a huge advantage in mental and emotional health (Marks & Lambert 1998; Horwity et.al. 1996 and Waite & Hughes 1999). In a study on 6,203 married and cohabiting couples, married couples reported significantly higher levels of happiness than cohabiting couples (Nock 1995). Therefore, marriage give us a better and more happy life than cohabiting.
Health Reasons
The first high risk that those who live together have to face with is having unwanted pregnancy. If they live together and assume that cohabiting is just a trial relationship, then any pregnancy is unwanted. Many cohabitators are teenagers. According to the National Center for Health Statistics, there are thousands cases of unexpected pregnancies and teenagers contribute a big number of those.
The second high risk that cohabitors have to cope with is the high risk for contracting HIV and other sexually transmitted diseases (STDs). It is obvious that when you have sex with a person who has been sexually promiscuous, you may potentially catch whatever disease that he or she has contracted. There are at least three health concerns related to cohabiting: STDs, HIV/AIDS, and cancer. The Center for Disease Control reports that approximately 15.3 million new cases occur annually, and five of eleven most common reportable infectious diseases were STDs and that number does not include the most common STD's, herpes and HPV – human papilloma virus) this only counts in the United States, what about the other countries? Of course, there are more than that. Most of people who cohabit today, especially women, are teens or in the age of twenty. With people in this age, STDs grows fastest.
The research found out that 6.3% of cohabiting women had been to STD clinics for treatment compared to only 1.1% of married women (Ciavola 1997). Another very real danger is AIDS. Even though there are new drugs and vaccines which slow its progression, there is still no cure from catching it. Annually, The Center for Disease Control reports about 10,000 peoples contract HIV, and when it develops into AIDS, is always fatal. That is the consequence of sexually promiscuity. Besides STDs and AIDS, the gynecology researcher Dr. Thomas Elkins of the University of Michigan has found out that when a person has here or more sexual partners in a lifetime, the odds of getting cervical cancer will be up fifteen times more than usual. Those are high risks that people who cohabit can get when living together and having promiscuous sex.
Culture, Custom and Religious Barriers
Some cultures, customs and religions respectfully appreciate married couples rather than cohabiting ones. They-culture, custom, society and religion even assume cohabitators as not good people, if I would not say bad ones. The public opinion speaks scornfully of them and even looks down on them. In some countries, particular Asian countries, cohabitators are considered as ruled and they will have to face with many difficulties either in workplace or in the place where they live not alone the community.
Related Topics