Children Soldiers And Their Amnesty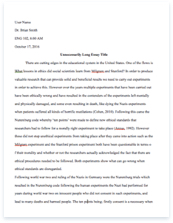 The whole doc is available only for registered users
A limited time offer! Get a custom sample essay written according to your requirements urgent 3h delivery guaranteed
Order Now
One reason child soldiers should be given amnesty is they are victims rather than perpetrators. Children are essentially considered innocent victims of the armed conflict, who should thus be treated as such. There are also more recent and similarly gruesome examples of child soldiers with the Islamic State of Iraq and Syria, who have shot or guarded prisoners before being beheaded. This proves these children are victims of what they have been put through. Some might say that child soldiers should not be given amnesty because they choose to do this for some, however, carry weapons on their own, exercise authority over others and commit atrocities against adults and children alike; however, child soldiers are not perpetrators they victims of this crisis. Although child soldiers are victims, they are being forced into this by being kidnapped and or threatened to join.
Another reason child soldiers should be given amnesty is the way they are forced into joining. Some children choose to join a military as a route for protection, or as a way of making up for the loss of family or insufficient education. They may be abducted, threatened or coerced into joining, while others are enticed with money, drugs or in other ways. In many cases, children choose to join due to economic or social pressures. Others join armed forces to fight for a cause that they or their family support, often with little clear understanding of the implications of their decision. This proves that child soldiers are forced into the military by any means necessary. Some might say they should not be given amnesty because almost all children choose to join for patriotism; however, Being poor, displaced, separated from their families or living in a combat zone can make children particularly vulnerable to being recruited. Armed groups target children for several reasons. They are easier to manipulate, they don't need much food and they don't have a highly developed sense of danger. Child soldiers are not only forced to join they are also drugged and brainwashed.
The third reason child soldiers should be given amnesty is they were drugged and brainwashed. During Sierra Leone's civil war, child combatants armed with pistols, rifles, and machetes actively participated in killings and massacres, severed the arms of other children and beat and humiliated elderly people. Often under the influence of drugs, they were known and feared for their insufficient control, and brutality. This if proof that child soldiers do not have control about what their doing because they are being drugged. Some might say by the time you are 10 you should be well aware about what you are doing; however, human Rights Watch documented instances in which children recruited to the Revolutionary United Front were forced to commit abuses under threat of death or due to being drugged. The child soldiers are being drugged and forced to do something that they have no control of.
Child soldiers should be given amnesty because child soldiers are not perpetrators they are victims, how they are forced to join, and they are drugged and brainwashed. Children do not deserve to be put through because they have shot and guarded prisoners, they have been abducted, and are under the influence of drugs. This is a very important topic because there are so many kids dying, traumatized, and many have mental disabilities through this crisis. People should not be using children for soldiers because that is the next generation of the world and they have so much ahead of them in their lives. Many people say they are no different from child criminals; however, they are in the military so they can stay alive and live their life. Overall the most important fact is these children need help to survive and this is their only option to do that.
Related Topics