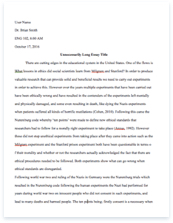 The whole doc is available only for registered users
A limited time offer! Get a custom sample essay written according to your requirements urgent 3h delivery guaranteed
Order Now
A chemist is someone who is an expert in chemistry. They are engaged in chemical research, experiments, and analysis to manufactured products and create new goods. They work in indoor laboratories and other environmentally safe places to do research. On a day to day basis they are trying to learn a greater understanding about simple forms of matter. Usually a chemist specializes in a certain category of chemistry and follow that career path the rest of their life.
As a chemist, you have a salary like everyone else. The starting salary is different for everyone. Some may have higher or lower salary than others. It's based off how many years of experience you may have. As of 2014, the starting salary for the bottom ten percent is $41,560 or less per year. Overtime your salary will go up, leading to the median salary of $73,480. With many years of following experience as being a chemist you can make the top end salary of $126,220. Only the top ten percent of chemist make that much of a salary.
To become a chemist you are required to reach a certain standard of education. First, you will need to take as many math and science courses as you can in high school. This will help you get an understanding of what you'll learn in college. Secondly, you will want to pursue a bachelor's degree in science. Important courses you will want to take are general chemistry, organic chemistry, biology, physics, and calculus. Lastly, with being in college, you will also want to gain experience. You'll have the opportunity to do chemistry research your junior and senior year. This will help you get into a graduate program and ultimately land a job.
Schooling is a big contributing factor on your salary. The more schooling and degrees you have the bigger your salary will be. With having more degrees and schooling, you already have more experience than others. When you have more experience your salary goes up. The three best schools to attend to, to become a chemist are, California Institute of Technology, Harvard University, and Massachusetts Institute of Technology. These are the top 3 ranked schools in the United States.
Becoming a chemist, you don't only need science classes but you always need math classes as well to get a degree. You need to take math classes and know them very well. You will need to take college algebra, trigonometry, calculus I and II, and statistics. Math is used all the time when you're a chemist. Chemist use it to balance the equation to a chemical reaction, find the mass of an object, calculate the amount of energy in reactions, there is so many way that chemist use math. If they didnt have math they wouldn't be able to solve any problems.
Lastly, after doing all this research about a chemist, I find it very intriguing. I can see myself going into this career path. The main two subjects you need to be good at to be a chemist are math and science. Math is very easy for me and so is science. I also enjoy both of these subject. I like to solve the equations that we learn. They may be hard for me at first, but I am able to understand the equation after a couple times doing it. If I don't go to college to become a physical therapist, a chemist will be my next option for a career for sure. 
Related Topics