Chanel Handbags, Target, and Salvation Army Swot Analysis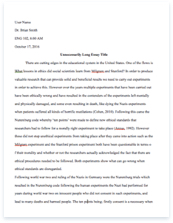 The whole doc is available only for registered users
Pages: 14
Word count: 3328
Category: Brand
A limited time offer! Get a custom sample essay written according to your requirements urgent 3h delivery guaranteed
Order Now
1.Most women want to express their individuality by the clothes and accessories they flaunt around. Some women seek brand names while others conform to necessities. Nonetheless, the majority of women find it helpful to carry a handbag; whether it is for storing car keys and a wallet or to match an outfit. Every year, handbags are becoming more of a status symbol then a basic essential. This paper will investigate the marketing trends of three different quality grade handbags, which are marketed to three distinct target markets. The first handbags discussed will be high quality handbag, Coco Chanel brand, second is Target brand, Massimo, handbag, and lastly are handbags found at the local Salvation Army. The Salvation Army handbags can include target brand handbags but with a significant lower price to meet its target segment. These three choices were derived from knowing that these three different socially classified consumers will not be shopping at the same place. Also, these three diverse consumers purchase purpose is most likely for different reasons.
Moreover, my own fascination, collection, and expertise in handbags were a drive to conduct in depth research about this product. There are hundreds of handbags being offered to luxury brand consumers each season, but to most women options are necessary and even recommended. Also, these women are constantly changing their bags especially with different seasons; and handbag retailers like Chanel, Gucci, and Celine offer these products, which always seem to be more versatile and improved. Each season luxury brand, Chanel redesigns and innovates new styles in which they advertise them with tasteful celebrity ads. Chanel advertises in more magazine spreads then television commercials; although they market their perfume more frequently on commercials. Marketing for Chanel or other luxury handbags are never advertised on the radio and speaking for most women don't believe marketers have taken the concept too far. In addition, in the luxury handbag industry there are only a handful of brands that consumers seek to purchase and therefore need little or no advertising.
Besides, you never hear a woman saying, " I'm so tired of reading Vogue and seeing the latest handbag on that beautiful model". Actually, we hear the opposite and woman and teens want to portray what they see in those ads, which leads us to believe that Chanel marketers are doing just the right amount of advertising to their targeted consumer. Discount retailer, Target is known for their Massimo brand that caters to most middle class consumers. When a consumer first looks at a target ad or commercial, they see a little of everything target offers, including a few handbags.
However, more marketing importance is emphasized to their electronics and other products they offered at low prices. Maybe, for this reason target does not offer too much variety in their handbag selection. Marketers at target rely more on in store advertising, which is a great idea because it causes consumer's to get stimulated. For these reasons, we can conclude that marketers are not offering too much selection on Massimo handbags. The Salvation Army, like the one located off El Toro in Lake Forest, does not market any products including handbags. Although, the Salvation Army has a website to inform their followers, consumers, and donors about their core values they don't market their donated goods. Overall, marketers, whether it is a high quality purse, mediocre quality purse, or just enough to get by purse, have not over exposed handbags. Just ask any woman.
2. Chanel stores are located in high-income areas like shopping malls, department stores, and airports in major cities such as: Prince Building in Hong Kong, The Chanel jouaillerie, Place Vendôme, Paris, and Rodeo Drive, Beverly Hills. Since 2009, China's total consumption of luxury goods has increased to $9.4 billion; therefore Chanel along with other luxury brands are making their appearance in second tier cities. These cities are considered second tier because that is where coal, oil, and real estate development is thriving. Chanel is geographically placed in these locations because of the foot traffic, expensive real estate, and purchasing power surrounding these cities. Currently, Chanel is estimated to be worth $1.8 billion and has a market share of .8%.
Chanel handbags are targeted to women who range from 30- 55 years old. These ages include Generation X, and baby boomer. They also include middle aged, married or divorced woman without dependent children who own a home, and are most satisfied with their jobs. At this age woman have careers, are married or divorced, and start ageing in which they put more effort in looking youthful. Chanel's focus is on wealthier sophisticated customers who are working professionals and high-income earners. Consumers that purchase Chanel handbags are people who have set high standards for themselves and are considered high achievers. They are in a life cycle stage where they are successful in their careers; demonstrate high performance, which allows them to reward themselves with high valued products. These consumers are image conscious and therefore buy name brands that increase their prestige.
The most recognized personality traits that Chanel markets to are sophisticated, classy fashionistas. For many women, these traits represent high status and charm. Woman usually wants to carry a bag that represents their personality, so woman who are seeking to look sophisticated and classy buy Chanel handbags. Marketers of Chanel handbags appeal to consumer's exterior motives, for example, putting an emphasis on what kind of woman you represent by what you wear. Also, marketers who are looking to win over younger customers advertise in high fashion Magazine like Vogue, with younger celebrities modeling Chanel like actress Natalie Portman. The target segment who buy Chanel handbags seek benefits like being associated with high status, recognition, acceptance, and fulfillment of Maslow's self esteem need. Also, other benefits include, satisfaction of owning a rare commodity, pleasure of looking and feeling stylish, and having what other woman envy. For this segment, all these advantages come with the purchase of a luxurious Chanel handbag.
Target Corporation, which include brands like Cherokee and Mossimo have about 1,500 stores nationally, with at least one in every state except Vermont. They decided not to open a Target store in Vermont because the people of Vermont are not "box store" friendly. The first Target store was opened in St Paul, Minnesota, which is considered, a suburban city. After a few years of success Target expanded to the Western states like, California and Texas. Target's geographic trend seems to be opening stores in large cities but also small suburban cities. Recently, target has expanded internationally to Canada. Target is known as an upscale trendy discount retailer with the slogan, "Expect more-Pay less". As result they attract younger, more educated, and affluent customers. These customers are attracted to Mossimo handbags, which are trendy, hip, and innovative at low prices.
The majority segment of their customers is women and the median age of customers are 41 years of age. This target segment consists of Generation Y and Generation X. About less then half of this segment of consumers have children and have completed college. This shows, that a lot of women have other expenses, like putting their kids through school, which is the reasoning behind buying a reasonable priced handbag at Target. Consumers who buy Mossimo products, like handbags, at target stores have an average income of $63,000. Also, these consumers are in the life cycle stage of being young married or divorced with children in which their liquid assets are low, dissatisfied with the amount of money saved, and like advertised products. This makes sense, why they shop at one of the largest discount retailers for their trendy handbags. Or, consumers are middle-aged married or divorced with or without children who have a better financial position, wives work, and their children are beginning to get jobs. Mossimo handbag purchasers, like advertised products and look for stylish products at a reasonable price. In most part, this segment will purchase products based on price and not quality.
Also, this segment of customers will go through handbags quicker because of mediocre quality, but do not mind. Moreover, these customers buy more than one of the same products in different colors in one purchase because of the bargain. In addition, this target segment purchases handbags at target because they don't want to care if they loose or get a handbag stolen. People who buy handbags at Target stores, seek benefits like looking fashionable but not spending the high prices designer stores offer, getting more for their buck, and not having to babysit their purse everywhere they go. The original founder of the Salvation Army, William Booth, started by helping out addicts, prostitutes, and the poor. The Salvation Army has been around since the early 1800's and now operates in 125 countries. Internationally, they are located in poor countries like China, Africa, and Mexico. They use the proceeds from the store to fund The Salvation Army Adult Rehabilitation Center; this helps out the community because drugs play a large role in poverty all over the world.
Geographically, the Salvation Army stores are placed in bigger cities that are close distance to freeways; perhaps because it is easily found and with a good amount of foot traffic. The age groups that shop at The Salvation Army for products like handbags range from the ages of 16-55 years old. Teens shop there because their parents might not have the money, or they are low maintenance and just want whatever handbag or product. In recent years, shopping at the thrift store for unique, lower cost products has been a trend for teens. Some teens, whether their parents have money, use their allowance to buy a Target Mossimo brand purse at the Salvation Army for half the price at the discount retailer. Since the products are donated, you can even find a luxury brand handbag at a very low cost; although it is rare and consumers that shop there don't go in with the expectations of buying a luxury handbag. This target segment commonly consists of people of all ethnicities that are considered poor, in the social class bracket. In some cases, a consumer that shops there is an, unemployed, uneducated, has a family or divorced. Many single parent families with low income shop here for their children's clothes and accessories, like handbags.
This segment of people are not looking for the latest trend in fashion, they are looking to fulfill their basic needs. Also, you will mostly find women or mid teens buying a handbag at The Salvation Army. Although, there are some mid class income consumers that shop there to help out the organization, most of this target market consists of low-income individuals. Moreover, this target segment is more likely to conform to any style, color, or accessibility of the handbag or product. They give little importance to fashion, and are motivated by low cost. Customers that shop at The Salvation Army for handbags seek benefits like saving money, stretching their money, conformity, and pleasure knowing their money goes back to the community. Overall, these three segments of customers consist of different characteristics of people, personalities, ages, and benefits they seek. Given that, it is likely that these 3 distinct markets of customers will not be shopping for handbags at the same locations.
3.Chanel's products are targeted to different markets and they are all unique; although this brand is mostly known for their collections. They have different products to offer to diverse markets. Chanel offers:
-Haute Couture Line
– Ready to wear
-Resort line
-Men's and Children's collection -Fragrances
-Accessories (handbags, jewelry, watches)
-Footwear
-Skin care
-Make up
sports gear (surfboards, tennis rackets, raft boats, gold clubs ect) People mostly know Chanel for their fragrances , clothing and bags. Chanel's product mix have made them successful because they are specially targeted to women.The market segments for Chanel are mostly women, they have knowledge about the brand and they know that they have good quality products. Chanel's geographic segmentation is limited since this brand is expensive and exclusive, their products cannot be afford and available to everyone. Retail Stores are mostly located in main cities such as: New York, Beverly Hills, Miami, Madrid, Tokyo, Paris, etc. Chanel is a brand that offers more than just clothes , it has become a brand that sells everything women need but now they are showing their new lines which will be for men and children. These new brand will be successful and it will Chanel a variety of new customers.
Product
The Chanel product is differentiated by quality. It is positioned as a top quality product. They assure customers that the products are based on up-to-date development and knowledge about healthy skin. Keeping the French touch with all the products appear to be a crucial objective since it is trough the association of Paris' whole fashion world that Chanel is positioned in consumers' minds. Thus, most of the Chanel products bear French names, such as Activateur Jeuness for ageing skin care, Bronze Universe lfor a make-up or Masque Pureté Express for a facial mask. The product comes in simple and discreet though high- quality packaging giving consumers the impression of a high quality product that contrasts with lower quality brands which are masked with an ornate façade. This minimalist packaging is at the same time consistent with Chanel's image of stylish simplicity. Price
It is clear that in order to maintain the image of a top-quality luxurious product Chanel must provide their products at top-scale prices; clearly the strategy of "more for more". A Chanel product is not likely to be found discounted or available as a special offer as this would not at all be consistent with the image. Prices on handbags range from $2000-$5,000 depending on the type of leathers, crocodile leather can be worth up to $26,000. PlaceTo keep up the image of a top-quality product Chanel must distribute through high dealers so that it is made sure that the product comes with superior service. Chanel therefore sells selectively to 420 retailers worldwide, including among others Harrods, Jenners and The Perfume Shop. As it was pointed out before it is of special importance for the image not to loose touch with the French origin and so 30% of the retailers Chanel sell to are based in France.
Promotion
Chanel exclusively advertises in fashion related high quality media, magazines such as Elle and Vogue.Their adverts are quite minimalist and simple, which is again consistent with the image of exclusive simplicity, suggesting at the same time that the minimal lettering and the double C logo stand for themselves. And indeed over the years Chanel has achieved such a strong position that the very name of Chanel is immediately associated with luxury, perfection, art and design and the whole French Haute Couture and Prêt-a-Porter culture. They also advertise. Chanel also advertises by doing events like their runway shows that hundred of celebrities and media attend. In addition, they advertise their collection online, on their website. Although, they do not list prices on the website you can see slideshows of there collection. Chanel uses celebrities for advertising, which involves signing up celebrities for campaigns, which consist of all sorts of advertising including, print advertisements. Lastly, Chanel promotes their upcoming events and latest styles on their social media sites.
Distribution
Chanel products are manufactured at Chanel factories in Paris France where they use high tech technology systems like EDI, so logistics people can better track and handle distribution. Chanel handbags are then distributed to 310 Chanel boutiques; 94 in Asia, 70 in Europe, 10 in the Middle East, 128 in North America, 2 in South America, and 6 in Oceania.
Targets Marketing mix
Target offers an extensive selection of different product lines, which
include:
Products
* Women's, Men's and Children's Fashion and accessories
* Baby Equipment
* Home Accessories
* Furniture
* Electronics
* Toys
* Outdoor sports and fitness equipment
* Bath and bedding supplies
* Luggage
* Patio and lawn care products
* Gift cards
* Gifts
* Entertainment products
* Pet supplies
* Health and Beauty Aids
* School and office supplies
* Jewelry and accessories
* Automotive accessories
* Holiday and seasonal items
* Consumables (food items).
Target not only offers a variety of product lines but services as well, including:
* Food Restaurants
* Optimal
* Target Photo
* Pharmacy
* Portrait Studios
* Health Clinics
* Club Wedd Registry
* Target Baby Registry
* Target Lists-online and in store
* Super Target Recipes
* Target and Target Visa credit cards
The Target product mix includes many of their own private label brands including Archer Farms, Choxie, Circo, Embark, Gilligan & O'Malley, Kool Toyz, Market Pantry, Merona, ProSpirit, Room Essentials, Target Limited Edition, Trutech, and Xhilaration. They also sell merchandise under licensed brands including C9 by Champion, ChefMate, Cherokee, just to name some. The services provided by Target include amenities offered in store and online. Not all services are offered in all stores or online. Target is continually improving on their services by expansion, partnerships and innovative ideas. In 2005 Target partnered with Yahoo to form Target Yahoo Photo. Since then they have dropped Yahoo and are partnered with Kodak and Shutterfly. This digital photo service is offered both in store and online and allows the user to manage digital and camera phone images.
Also, they have the option of ordering printed copies of their photos or having the photo applied to calendars and other various items. In 2006 Target entered the $4 generic drug market. This allows pharmacy customers the ability to purchase certain generic drugs for $4. They have also introduced a Clear Rx program into their pharmacy departments. This is a newly designed prescription bottle that allows for an easier to read label to help prevent Medicinal mix ups. Some stores have partnered with Starbucks and now have Starbuck coffee cafes in store. Target also maintains a variety of gift registries for guests and their potential gift purchasers. You can access registries online and in store. Optical centers, portrait studios, and health clinics are located in select stores at the present time. Target lists is a service where guests can make lists varying from grocery lists to wish lists and are available in store and online. Target gift cards are a popular gift idea. In 2006 Target issued and redeemed over $1.5 billion in gift card transactions.
2. Price. Target offers discount prices for quality products and services. It should go without saying that Target needs to know their competitors prices so they can price their products and services accordingly. Target runs weekly sales and also offers clearance items.
3. Distribution. Target merchandise is provided through their own distribution network or through third parties, such as some select food items. Target.com orders are filled by their own distribution network, third parties, or shipped from the vendor. Target currently has 26 regional distribution centers and 5 import warehouses. Target also has 1 Target.com Distribution Center. Items are transported by truck from the warehouses to stores. Target.com items are shipped directly to customers from the Target.com Distribution Center or directly from the vendor via UPS, Fed EX or the USPS. Target offers 1-day, 2-day, and standard shipping options. Products and services are sold directly to the ultimate consumer through Target stores or the Target.com website.
4. Promotion. Last year Target spent over $1 million in advertising. This consisted of mainly newspaper circular and television commercials. Each week Target circulars are delivered to 50 million households. Their weekly ad is also posted on the Internet for viewing. In addition they send emails to their customers who sign up for online promotions. Target is also sending direct mailings to their best guests. They are also incorporating an in-store network called Channel Red. With newspaper usage declining, Target would be wise to invest some of their promotional dollars in Internet advertising such as banner ads. Target should also expand their mailings to reach more potential customers. They also use social media sites to promote daily deals and coupons.
Related Topics