Caring Nurses Can Make a Difference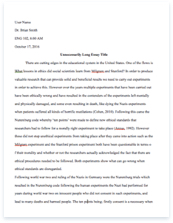 The whole doc is available only for registered users
OPEN DOC
Pages: 6
Word count: 1283
Category: Nursing
A limited time offer! Get a custom sample essay written according to your requirements urgent 3h delivery guaranteed
Order Now
Caring and nursing are often closely related. Most people choose their career as a nurse because they want to take care of others. Caring allows a person to be treated in a holistic way, instead of just treating a patient's symptoms or even just fixing the patient's problems. The client interviewed for this paper was treated by caring nurses and made a significant impact on her treatment. Client's History
SM who is 33, living in a large house with her husband, her daughter who is preschool age, and three others. She had a long medical history which includes two bouts of cancer and side effects from that treatment, including hepatitis C from a blood transfusion as child and a history of surgeries, including bone biopsy, tumour removal, tendon surgeries, and laparoscopic surgeries for acid reflux. When she was 32 years old, she was experiencing physical distress and ended up diagnosed H1N1. She was hospitalised for 10 days and is still recovering 18 months later. Her case was quite severe, and left her with decreased heart function. At the time, her family support included her husband, her parents who live close by and friends from her church. Nursing Roles in SM's Care
There were triage nurse who assessed her situation, took her vitals, they asked all of her symptoms and ask the doctors. On a subsequent visit, when the symptoms was still occurring, the triage nurses asked more probing questions to clarify the client's problem. In this case, the nurse decided that she should wear a mask. Client SM had a friend, who is an RN, who sat with her in the emergency room. This friend added more observations than the nurses who were working. She was able to answer the doctor's questions with more medical knowledge than the client could have. Once SM was admitted, nurses came by more frequently to see if she needed anything and took her temperatures often. Their close observation helped them notice a fever, which when accompanied with a cough was a strong indicator for H1N1. Due to this observation, the doctor ordered an H1N1 swab. While the staff awaited the test results, the doctor diagnosed SM with pneumonia and congestive heart failure. The nurses who treated her continued to tell the client what kind of doctors were being consulted, what kind of tests had been done, what kinds of medication were being prescribed. Once the H1N1 diagnosed was confirmed by the test result, the nurses moved SM to an isolation chamber. The nurses did their best to maintain her care even though isolation made it very difficult. Examples of Nursing Skills
When SM spoke with the triage nurses second time, they used the therapeutic techniques entitled focusing "Helping the client expand on and develop a topic of importance" (Kozier, Erb, Berman, Burke, Bouchal & Sandra, 2004, p. 349). Through further questions and clarification, the nurses were able to better prepare the doctors and other nursing staffs for the nursing care. Their clarifying questions helped determine the severity of the problem. Questions like "How long have you had trouble breathing?" and "Have you had any cough at all?" helped point the diagnosis toward H1N1.
Once SM had been confined to isolation, the nursing staff employed empathy in their relation to her. They took extra time to visit her and sit with her because they understood the difficulties of isolation. The nurses' empathy helped SM feel more comfortable and relaxed while she was in the hospital. The nurses were very accommodating for any visitors who came for SM. They gave the visitors the gown and mask required to visit someone in isolation. Social Support Network
Before SM was admitted by the hospital, she had a friend who is an RN with her in the ER. This friend was able to observe SM's vital more frequently than the triage nurse could, and was also able to present her observations to medical staff with credibility. Without her help, it is possible SM could have been sent home without proper treatment. While SM was in hospital, her family and friends came to visit her, encourage her and pray with her. One study has shown that "Greater intrinsic religiosity independently predicted shorter time to remission" of depression (Koenig, George & Peterson, 1998). If nothing else, the faith community was helpful toward SM's attitude about her situations. Concept of Caring in Nursing
Caring can be shown in acts that are helpful, supportive and facilitating toward or for another individual or group with obvious or expected needs (Kozier, Erb, Berman, Burke, Bouchal & Sandra, 2004, p. 337). Caring allows nurses to interact with clients as whole people who need healthy interaction. "Caring is a science that encompasses a humanitarian, human science orientation, human caring processes, phenomena, and experiences. Caring science includes arts and humanities as well as science. A caring science perspective is grounded in a relational ontology of being-in-relation, and a world view of unity and connectedness of all" (Watson, 2003). Caring should be the foundation of all that a nurse does, because "caring makes a difference to the patient's sense of well being. Caring may occur without curing but curing cannot occur without caring" (Watson, 2003). Caring can produce variety of results, some very visible and some less visible. Visibly, "Caring can promote self-actualization, promote individual growth, preserve human dignity and worth, augment self-healing, and relieve distress" (Kozier, Erb, Berman, Burke, Bouchal & Sandra, 2004, p. 388).
Less visibly, "caring may not evoke a tangible outcome. It may not be a means to an end; it may be regarded as an end in itself. The goodness of caring is often found in the process itself" (Kozier, Erb, Berman, Burke, Bouchal & Sandra, 2004, p. 338). In the career of nursing, opportunities to care comes with every interaction between a nurse and a client. Empathy is a practice of caring through which "the nurse enters the world of the patient in order to come to know the patient as a caring person, and that it is from this "epistemology" that the caring of nursing unfolds" (Schoenhofer, 2002). One study has shown "nursing care can be implemented more successfully if nurses find out what is important to each client and use those priority during the implementing phase of the nursing process" (Essen & Sjoden, 1995, p. 266-276). When a nurse individualizes care, it gives the client better chance of recovery and makes the medical treatment more effective. Conclusion
It is clearly that in the client's case, caring makes a difference. Though the caring of her friend who is a nurse, the medical staff took her case more seriously. The caring observation of the medical staff pointed them in the direction of right diagnosis. Many studies have shown nurse who practise empathy and other forms of care increase the patients' chance of recovery. In a very busy hospital or clinic, it can be difficult to take individual care of clients, but true caring make a significant difference.
References
Essen, L., & Sjoden, P. (1995). Perceived occurrence and importance of caring behaviours among patients and staff in psychiatric, medical and surgical care. Journal of Advanced Nursing, 21, 266-276. Koenig, H.G., George, L.K. & Peterson, B.L. (1998). American Journal of Psychiatry. Retrieved from: http://ajp.psychiatryonline.org Kozier, B., Erb, G., Berman, A.J., Burke, K., Bouchal, S.R., & Hirst, S.P (2010). Fundamentals of Nursing: Concepts, process and practice. Canada. (Custom edition for the University of Manitoba).Toronto:Pearson Schoenhofer, S. O. (2002). Choosing personhood: intentionality and the theory of Nursing as caring. Holistic Nursing Practice, 16(4), 36-40 Watson, J. (2003). Jean Watson and the theory of human caring. Retrieved from http://www.uchsc.edu
Related Topics