Candidate Perfomance Evidence Record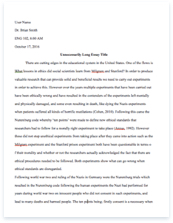 The whole doc is available only for registered users
Pages: 4
Word count: 903
Category: Dementia
A limited time offer! Get a custom sample essay written according to your requirements urgent 3h delivery guaranteed
Order Now
1. Outline the most common medications used to treat symptoms of dementia. Risperidone is used for delusions and hallucinations. Antipsychotic drugs can be used for up to 12 weeks. Antidepressants sertraline and citalopram are generally used for symptoms of aggression and agitation in people with dementia. Anti-Dementia Drugs Memantine is a safe treatment, with benefits for daily living and memory. Onepezil, rivastigmine and galantamine – are known as cholinesterase inhibitors. Rivastigmine and donepezil may help behavioural and psychological symptoms in dementia and help delay their onset. Sleep disturbance zopiclone or zolpidem can be used as they don't generally make people feel unwell. Instead of sleeping tablets people may be given trazodone which is a sedative antidepressant.
2. Describe how commonly used medications affect individuals with dementia. Possible side-effects include: sedation (drowsiness), parkinsonism (shaking and unsteadiness), increased risk of infections, increased risk of falls, increased risk of blood clots, increased risk of stroke, worsening of other dementia symptoms, increased risk of death. Drugs used to help people with dementia can cause serious side-effects, especially when used for more than 12 weeks. Antipsychotics drugs used to help dementia patients should be monitored and stopped after 12 weeks, except in extreme circumstances. These drugs do help around half the people affected with dementia. Consultation with your doctor should be taken before stopping these drugs. Possible side-effects include:
sedation (drowsiness)
parkinsonism (shaking and unsteadiness)
increased risk of infections
increased risk of falls
increased risk of blood clots
increased risk of stroke
worsening of other dementia symptoms
increased risk of death.
The side-effects of these antipsychotic drugs may be at the expense of a person's quality of life.
3. Explain the risks and benefits of anti-psychotic medication for individuals with dementia. The most common risks to individuals with dementia that take anti-psychotic medication are: less able to make own choice, emotional instability, irritability, restlessness, loss of inhibitions, risk of stokes, risk of pneumonia. The benefits of taking anti-psychotic drugs are: increased sleep, able to make own decisions, less likely to have aggressive moments, be more co-operative, more aware of their environment and people, participate in daily living such as leisure activities and social interaction.
4. Explain the importance of recording and reporting side effects/adverse reactions to medication. It is important to record and report side effects/adverse reactions to medication so that the individual's future treatment/condition is cared for in the right way; Records and reports should include; the individual is taking the medication safety, clinical changes are monitored, the pain of the individual is controlled, any mental ill-health can be supported. By doing this, accurate judgments can be made and the stability of the condition can be achieved. All reports/records should then make all parties aware of the individuals increased condition.
5. Describe how 'as required' (PRN) medication can be used to support individuals with dementia who may be in pain.
Treatment rarely provides continuous relief to individuals who cannot express themselves verbally. An individual may have been in pain for some time before the signs are recognised as older people normally don't show or express pain as much as younger people. Pain control drugs should be administered as prescribed by a doctor and should give the individual relief from pain, bring back some stability, reduce aggressive behaviour, enable the individual to sleep or rest and ultimately give back some control over their own lives.
Understand how to provide person centered care to individuals with dementia through the appropriate and effective use of medication.
1. Describe person-centered ways of administering medicines whilst adhering to administration instructions.
Person centered care is taking the persons wished in to consideration this applies to the administration of medication as it does to the way they want to live their lives. An individual may want to take their own medication. By providing the right tools, for example a Nomad system can help the individual administer their own medication. They may just want to take tablets and have any liquid medication administered to them. Prompting an individual may be all that they require. A career whether they are professional or a family member should be able to answer questions about the medication the individual is taking. Giving the individual a choice should help the individual's privacy and dignity. Risk should be weighed against an individual's choice and control when undertaking the initial assessment.
2. Explain the importance of advocating for an individual with dementia who may be prescribed medication.
To be an advocate is an important and privileged position as you will be speaking for an individual's future quality of life. It's important to speak for them, not to prevent them from being medicated, but to make sure that the treatment is in their best interest. An advocate has to consider the risks of taking the medication (possible negative effects), does it violate the person's rights or any wishes they might have expressed in the early stages of dementia, and what are the possible negative effects if the medication is not given. Should the medication be stopped if there are any significant clinical changes in the individual's behavior? Above all, a patient's rights have to be respected.
To be deemed current and authentic this record must be appropriately signed and dated as set out below:
I confirm that the evidence listed is my own work and was carried out under the conditions and context specified in the standards.
Related Topics