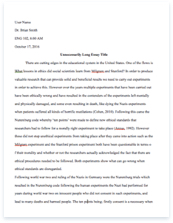 The whole doc is available only for registered users
Pages: 2
Word count: 416
Category: Brand
A limited time offer! Get a custom sample essay written according to your requirements urgent 3h delivery guaranteed
Order Now
Frame of Reference: Consumers associate the brand Maruti Suzuki brand with economical, reliable and affordable car. Although it has now ventured into big luxury cars as well but M-800 had dominated the Indian car market since it was launched in 1984. Maruti enjoyed beingthe only small car manufacturer till year 1996, when Hyundai launched Santro. Santro's frame of reference relates to affordable yet a smart, trendy car which gives a pride of ownership as it tag line once said : 'Santro Waale Hai" POP & POD:
The center circle in the diagram below highlights the points-of-parity that a customer expects from a Maruti and a Hyundai car.
FRAME OF REFERENCE:
Economical, reliable small carDepiction through Venn Diag.
Maruti Suzuki is the most trusted automotive brand in India . As per 'The Brand Trust Report, India Study 2012', complied by Brand Trust Advisory, Maruti Suzuki is followed by BMW, Hero Honda, Toyota and Honda. Whereas, Hyundai reflects ecofriendly and smart cars and a pride. Good Mileage & extra features at competitive prices
Most trusted car, excellent after sales service
POPs:
Value for money, easy to drive, better power and fuel efficiency.
Maruti Suzuki's PODs
Hyundai PODs
Eco-friendly car
High on style, smart and trendy car for gen next.
TATA MOTORS and MAHINDRA&MAHINDRA
Frame of Reference: Relaible and promising passenger and commercial vehicle
POP and POD:
Points of Parity includes strong, spacious, trustworthy and adequately priced vehicles along with high fuel efficiency and moderate style and comfort. POD for Tata: Trustworthy, sustainable and high on quality
Mahindra and Mahindra: Rugged, fuel efficient, pioneer in utility vehicle
FRAME OF REFERENCE:
Passenger and Commercial Vehicles
Depiction through Venn Diag.
Mahindra POD
TATA POD
Pioneer in Utility Vehicle best suited for rough use
Rugged Utility Vehicle, fuel effecient
Sustainable and Environment friendly
Trustworthy and High on quality
POPs:
Strong, Spacious, Trustworthy, fuel efficient, moderately stylish and comfortable
General Motors and Toyota
Frame of Reference: High end luxury cars
POP: Extra features, extended warranty, good mileage, spacious, sleek looks, pride and brand assurance POD:
General Motors: Wide range luxury cars ranging from medium to high end budget, innovative technology, promising experience, superior quality Toyota: Driving technology, durability, highly reliable and high end model at competitive price
FRAME OF REFERENCE:
High end Luxury Cars
Depiction through Venn Diag.
Assuring pride at competitive price, longevity
High Reliability and innovative technology
Superior quality and technology luxury cars
Wide range and variety suiting to all budget types
POP:
Extra features, spacious, good mileage, price and brand assurance, extended warranty, sleek looks
Toyota POD
General Motor POD
Related Topics