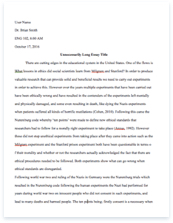 The whole doc is available only for registered users
Pages: 4
Word count: 794
Category: Brand
A limited time offer! Get a custom sample essay written according to your requirements urgent 3h delivery guaranteed
Order Now
A brand represents a "name, term, sign, symbol, or design, or a combination of them intended to identify the goods and services of one seller or group of sellers and to differentiate them from those of competition." Without a recognizable brand, a product is but a mere commodity. It's more than just a name, term, symbol, etc. – a brand is everything that one company's particular offering stands for in comparison to other brands in a cate-gory of competitive products.
As the value, or equity, of a brand increases, various positive outcomes result: – achieving a higher market share
– increasing brand loyalty
– being able to charge premium prices
– earning a revenue premium, which is defined as the revenue differential between a branded item and a corresponding private labeled item
Brand equity exists to the extent that consumers are familiar with the brand and have favorable, strong, and unique associations with the brand. Brand equity has two main forms of consumer knowledge: brand awareness and brand image.
Brand awareness: when a consumer thinks about a product category and a brand name comes to mind. Awareness is the basic dimension of brand equity and has three dimensions: – Brand recognition: consumer is able to identify a brand if it is presented to them on a list or if hints/cues are provided. – Brand recall: consumer can retrieve a brand name from memory without any reminders. – Top-of-mind-awareness (TOMA): brand is first that consumer thinks of when asked about product category.
Brand Image: the types of associations that come to mind when contemplat-ing a particular brand. Brand Association is simply the particular thoughts and feelings that a con-sumer has about a brand. ▪ Associations can be based on attributes (product-related and non-product-related), benefits, and overall evaluation (atti-tude). ▪ Associations derived from brand benefits stem from functional, symbolic, or experiential needs. ▪ Four main kinds of associations are type, favorability, strength, and uni-queness.
Enhancing Brand Equity
Efforts to enhance a brand's equity are accomplished through the initial choice of a positive brand identity but mostly through marketing and marcom programs that forge favorable, strong, and unique associations with the brand in the consumer's mind.
Enhancing Equity via Leveraging – brand associations can be shaped and equity enhanced by leveraging positive associations already contained in the world of people, places, and "things" that are available to consumers.
Leveraging Associations from other Brands – alliances between two brands can enhance both brands' equity and profitability. o Co-branding: two brands enter into an alliance that potentially serves to enhance both brands' equity and profitability. Brands that enter into alliances do so on grounds that their images are sim-ilar, that they appeal to the same market segment, and that the co-branding initiative is mutually beneficial. Most important re-quirement for success is that brands possess a common fit and that the combined marcom efforts maximize the advantages of the in-dividual brand while minimizing the disadvantages.
Leveraging Associations from People – aligning a brand with peo-ple, such as employees or endorsers, can be both advantageous and disastrous as the brand is linked with their reputation. Companies that cannot manage the reputation of the people with whom they have linked their brand may suffer if the person becomes discredited. Leveraging Associations from Things – events and causes provide opportunities for linkages with brands. Leveraging Associations from Places – the channel through which a brand is carried (Wal-Mart vs. Nordstrom) or country-of-origin both serve as possible associations through which a brand can enhance their image. "Made in" labels have varying influence on consumers de-pendent upon the associations of the target market with the particular country.
What Benefits Result From Enhancing Brand Equity?
Brand Loyalty determines the long-term growth and profitability of a brand – insulates the brand from price competition – consumers expectations and adoption of brand extensions influence their loyalty
The American Marketing Association defines brand loyalty as: 1. "The situation in which a consumer generally buys the same manufacturer-originated product or service repeatedly over time rather than buying from multiple suppliers within the category" (sales promotion definition). 2. "The degree to which a consumer consistently purchases the same brand within a product class" (consumer behavior definition).
Source: onetooneglobal.com
Brand perceptions are shaped by functional experiences (i.e. speed, quality, reliability, ease of use) as well as emotional experiences (i.e. make me feel better, improve my performance, make my life/job more gratifying or easier) the customer associates with the product and company.
Brand experiences and perceptions are developed over time through a variety of sources, including:
• Previous experience with the brand
• Interactions with sales, customer service, and other employees
• Recommendations from friends and colleagues
• Reviews by reputable sources
• Advertising
Related Topics