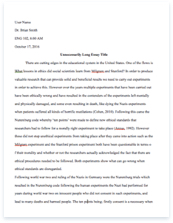 The whole doc is available only for registered users
OPEN DOC
A limited time offer! Get a custom sample essay written according to your requirements urgent 3h delivery guaranteed
Order Now
Bradley Stonefield reached out to Atwood consulting regarding the start of a limousine business. Mr.Stonefield is opening a limousine service and it will be named Landslide Limousines, and focus on providing first-class transportation. Mr.Stonefield's goal is to have 25 employees within the first year, so that is the number I would like to use for any planning. Employment laws are very much important for all type of business. The employment laws dictate and guide the employers about how they can treat their employees. Both state and federal employment law make sure that the rights of the employees remain protected. Following are the some national employment laws as well as specific Texas laws that the organization must follow: The Age Discrimination in Employment Act of 1967
The Civil Right Act of 1964
The Immigration Reform and Control Act of 1986
Occupational Safety and Health Act
The Texas Labor Code Anti-Discrimination Provisions
The Texas Minimum Wage Law
The Age Discrimination in Employment Act of 1967
The 1967Age Discrimination in Employment Act (ADEA) protects the rights of individuals who are 40 year old or above from employment discrimination based on age. This particular act covers employees as well as those that may be applying for employment. According to this act, it is illegal to discriminate an individual because of his or her age with respect to any condition, term, or privilege of employment, including, promotion, hiring, job assignments, training, layoff, compensation, firing, and benefits.
Way for an organization to communicate to their employees is to be open and honest and let what is going on see the best. Good communication throughout a business remains an integral part of a company's culture. Effective communication skills keep a strong running smoothly and strengthen relationships with employees. Oral communication makes up the bulk of business communication today. Given the collaborative nature of businesses, the ability to work efficiently with a team makes oral communication imperative for success. Voicemail, phone calls, meetings, and client interactions all require finesse with the spoken word. Effectively communicating orally requires knowledge of the topic at hand, critical thinking ability, and great interpersonal skills. Those skilled with oral communication are also typically good listeners who pay attention to verbal and nonverbal communication clues. When it comes to communicating expenses the best way is to show data sheets with an explanation of what the current rates are for insurance or dental, etc.
Related Topics