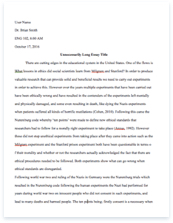 The whole doc is available only for registered users
A limited time offer! Get a custom sample essay written according to your requirements urgent 3h delivery guaranteed
Order Now
In this comparative essay I will be comparing the lives of the children in the film, Born into Brothels, to the lives of the children who are born in Ingersoll, Ontario. Throughout this essay I will talk about the children who grew up in Calcutta, India and relate them to my life growing up in Ingersoll. The three main things I will be looking at and comparing in this essay will be, the importance of money, free will, and how they appreciate the little things in life. The importance of money in India is seen as a huge part that is a part of their everyday life. Tapasi states in the film that "..nobody here understands anything but money." (57:28). This statement is also the same here in Canada or any other country. No matter where you go, money seems more important to man than anything. Everyone is so greedy, and only cares about what the easiest way to get money is. This importance of money is also causing corporations and people to have no morals because they are only focusing on what is the most efficient way to get money, no matter how illegal or wrong it may be.
In my life money is very important, my parents work 6 days a week, 8 hours a day so we get to have the luxuries and get to participate in certain special activities. Working that often can harm the family a little bit because you don't see them as often. In some people's eyes they wouldn't care so much because it's earning money but family is more important than riches. Throughout Born Into Brothels the children are not given a lot of freewill, their parents decide everything for them even though they do not have the kids best interest in mind. This concept occurs a lot today in society, parents want what's best for their kids but sometimes what the parents decide are not what the kids want to pursue. This can be shown through the decisions of schooling, and what occupations the kids have their minds set on becoming. This is shown in my life by my decisions for university. I have my mind set on a program at Ryerson University that I could really benefit from before I am going to medical school. It is a preparation course, that is an over view of medical physics where I have a guaranteed opportunity where throughout my schooling I will be working alongside an actual radiologist.
My mother on the other hand has her heart set on me attending Wilfred Laurier University, meanwhile it is a business school, and does not have any of the programs that I will benefit from. In Born Into Brothels, you can see that even though the children have grown up with nothing they still appreciate the small things that they are given in life. Tapasi, who is a young girl, said that she would still be happy even if she was poor. In the film, you can see that even though the people of India do not have many things they are still generally happy and they aren't as miserable as you think they would be. When you think about happiness, you generally think about having riches and a lot of things. This film really shows how to appreciate the little things in life and that happiness is not all about what materialistic things you possess. It is about how you look at the things in your life and how you appreciate what you have.
I am really grateful for all of the things I have in my life, from the house I live in to the people I share it with. I am even appreciative for the smallest things that life has given me, such as the food I am given to eat every day and the water that I can easily access at the twist of the tap. In conclusion, I may live on the opposite side of the world from India, and may live a completely different life but we do have many similarities in the lessons we learn. Those lessons being, from the smallest of things such as appreciating everything life has given you to respecting your elders. We have the same evil characteristics in our societies, such as the greed for money and the selfishness people possess to receive what they want.
Born Into Brothels Notes
Setting & Surroundings
– Dark
– Dirty
– Crowded
– Loud
– Poverty
– Lots of children
– Rodents
– a lot of traffic (everyone's moving)
– Prostitution
– Many illegal activities constantly occuring
– Chaotic
– Filthy
– Explicit language around the young children
Avijit(11)
– Gets upset when he is called fat
– He likes to draw pictures to express what he is feeling inside.
– He puts his thoughts into the colours on his paintings and drawings.
With this he can better show his emotions with the use of colours throughout the picture.
– He has won many awards for his paintings and drawings.
– He is a very talented young artist
– His parents sell liquor in their home illegally. This attracts the drunks of the town. The men will go there to drink and then go find the prostitutes to spend time with. – Sometimes some men drink and don't end up paying. When this occurs Avijit has to go after them and be mean to get their money. – His father is almost 40, and he married Avijit's mother when he was 2.
– A man got his father addicted to smoking hash after he married Avijit's mother. Apparently his father used to be a very good dad,overweight , very strong, well known, but now his father just smokes all day because the mother has left them. – Even though Avijit's mother is gone and his father is now a terrible person, Avijit says " I try to love him a little" 35:47 – He used to want to be a doctor, then he wanted to become an artist. – "There is nothing called 'hope' in my future" 1:02:51 – He wants to be good but he has no guidance in his life. Auntie is very worries that he will grow up into a bad person, which will be very unfortunate because he is a very talented little artist. – Avijit went to Amsterdam to represent the photography program and his class. – In the end of the film he returned to Calcutta and chose to enter the Future Hope school. Gour(13)
– He doesn't like it when his name is mispronounced, and people end up saying "garu" or "cow" – He is thin and tall.
– When they go to the zoo, you can see that he likes the animals, and he does not like when they are mistreated. (e.g. when people feed the elephants plastic bags) – In the film he went out at night to take pictures but forgot to put the flash on, so they all came out blank. He claimed that he forgot his camera doesn't have flash. This shows that the little boy is silly, and forgetful. – He is also very sympathetic and really cares about his peers. "I wish I could take Puja away from here" 26:40 – In the end of the film he still lives at home but he has the hopes to go to university. Puja(11)
– She is a small girl
– She claims in the introduction that she is 10.
– She really likes taking pictures, but doesn't care for the editing of the pictures. – When she takes pictures in public she feels shy.
– Puja lives with her grandma because mother cannot take care of her.
– Her father tried to sell her, and sister saved her from being sold.
– When talking about her family she states "I worry that I might become like them." 17:09
– The women in her family come from a line of prostitution and unfortunately she is heading in the same direction.
– She is a very sharing little girl.
– Father beats mother, for not giving him money for his drinking
– In the end of the film, her mother withdrew her from the Sabera school. Suchitra (14)
– The introduction says that whatever she gets she quietly takes it. – She doesn't fight with anyone.
– She does not mind being bad mouthed; she knows it will happen when you are learning how to do something well.
– Her mother is dead, so her aunt takes care of her.
– Her aunt wants to send her to Bombay to work in the line, so she can make money off of her.
– In the end of the film her Aunt didn't let her leave the brothel. Tapasi (11)
– "I never really think about being rich" 9:02
– She thinks that she could be happy even if she was poor.
– She says "One has to accept life as being sad and painful… that's all" 9:20
– People yell at her and call her cruel names.
– She wannts to do something with sewing and photography when she becomes older.
– Her goal is to make a living so she can take care of her sisters and herself when her mother isn't able to take care of them anymore.
– She says a very true statement which is "Nobody here understands anything but money." 57:28
– In the end of the film she ran away from home and went to the Sanlaap school for girls. Manik (10)
– He gets mad when he gets beat by his father and peers. – He never bothers anyone.
– He is the brother of Shanti.
– The police would take his mother when he was young.
– His father would take him to court to get his mother back
– In the end of the film, his father would not let him go to school Kochi (10)
– She is a small, quiet girl
– She is shy with camera and when she takes the pictures.
– She does dishes, brings tea and does errands for her family. As well as mops twice a day and does the porch too.
– She sometimes does shopping in the evenings, until 11 pm she has to get curry or rice if they want it.
– She wants to receive an education and leave.
– She is very curious of what she could possibly become in the future if she received schooling.
– She has never said "no" in her life, so she will not be able to say no to anyone in future
– She has a very hard life that consists of working from 4 am cleaning houses; she works so hard and has no time to rest.
– She makes her money cleaning.
– Her mother is temperamental, she has lost 6 sons and her husband, and has tried to commit suicide by jumping off the Howrah Bridge.
– Her grandmother is trying to enroll her in school.
– In the end of the film she chose to stay at Sabera and is happy and doing well. Shanti (11)
– She likes to get her way if she doesn't, she gets mad and runs away.
– She is the sister to Manik.
– Manik beats her up all the time.
– Her mother is very worried about her future.
– Her mom is a prostitute and when she is working the go on the roof and play. – In the end of the film she left the Sabera school on her own accord
Related Topics